" There are two things that make Brugge a great city to live in. First of all it's quite easy because everything is so near. There are lots of special little shops, but also the typical shopping mall stores like H & M, New Look and Zara. Though I myself lately prefer to visit the smaller and not-so-well-known shops ;) Second, Bruges has some wonderful parks and quite a lot of nature in comparison to other cities, like Antwerp for example. "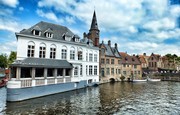 Shop
One of my absolute favourite stores is Think Twice (Sint Jacobsstraat 21). It's a lovely secondhand store where they only sell real vintage clothing from the '60s, '70s, '80s and '90s. Their prices are very affordable, and every six weeks there are sales to make room for another collection. And the great thing is: the two last days before a new collection arrives, EVERYTHING in the store costs only €1!! Gotta love this shop! ;) We also found a tiny shop – it's called t Apostelientje [Balstraat 11, 8000 Brugge, Belgium] where they sell handmade shoes: you can choose the leather, colors and materials yourself; it's wonderful and they absolutely look amazing!! (I think I'll get myself a pair of those ;) ) You should definitely visit their shop (Balstraat 11) or their website ;). They're specialized in lace, and the majority of the items they sell is handmade. Definitely worth seeing, I'd say.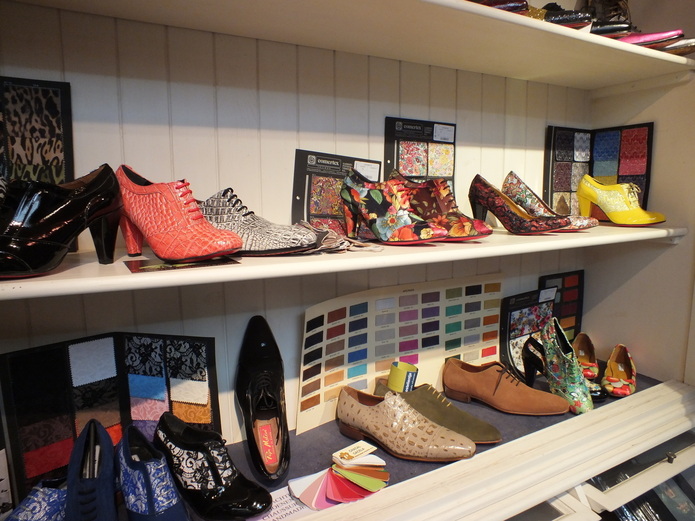 Honestly, there aren't very many stores that sell only craft supplies, but if you look around, there are things which you can make something out of everywhere. You just have to keep your eyes open and use your imagination. But if you're looking for a store that sells specific craft supplies, there are only two I could recommend; first of all De Banier [Katelijnestraat 67, 8000 Brugge, Belgium]. It's a relatively big store, and they sell a wide range of different craft supplies. The address is Katelijnestraat 67, definitely worth visiting!
And there's also this printing house called De Schacht [Katelijnestraat 49, 8000 Brugge, Belgium] where they have a lot of materials and tools for the drawers and painters amongst us. Both shops even give workshops every now and then. In Bruges I found quite a few places where they sell handmade chocolate and marzipan rolls, and some stores where they even have handmade jewelry. Sometimes, when the weather is nice, a few artists sell their drawings, paintings and/or other works along the streets. Sometimes they really sell wonderful things, as you can see on the pictures I took.
Eat & Drink
There are really lots of restaurants, and I haven't tried most of them to be honest. But there are two food related places you really should visit if you have the chance: the first one is a bakery/tearoom called St. Salvador [Zuidzandstraat 10, 8000 Brugge, Belgium]. They don't always have it, but their frangipane pie is delicious! ;)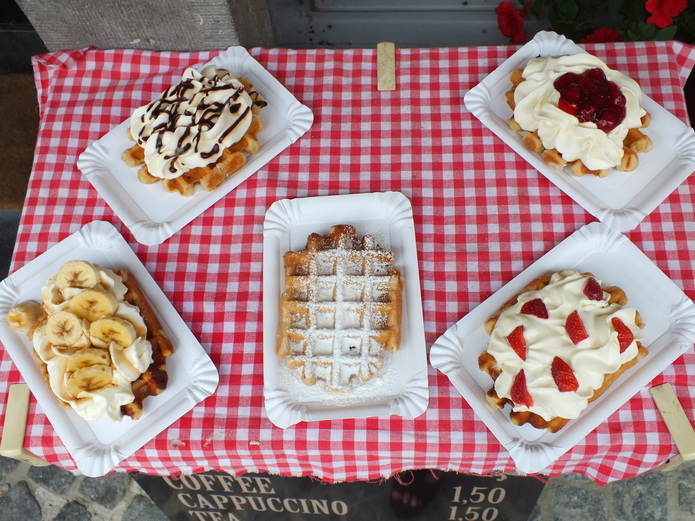 And then there's Confiserie Zucchero [Onze-Lieve-Vrouwekerkhof-Zuid 18, Brugge], which is NOT just a regular candy shop. They make the candy they sell by hand, and as you go in the store you can even see how the it is made! How cool is that?! (Watch the pictures!) There's even the possibility to order personalized candy for births, weddings and other occasions.
Craft
To be honest, I myself always craft at home. But I'd definitely recommend the Astridpark [Brugge, 8000 Brugge, Belgium] because I think it's a wonderful place to sit down for a while. You're surrounded by green, there's a fountain and a kiosk… It's a bit fairylike, and that's why I like to stroll around there.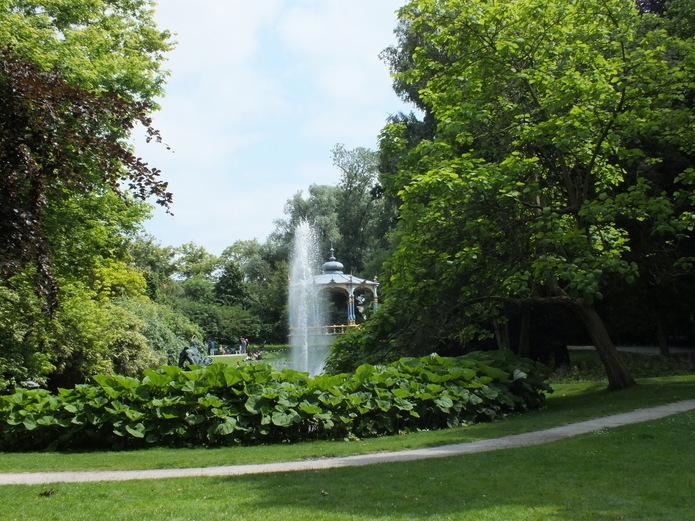 If you want to make crafty friends, I'd say: just hang around in stores where they sell craft supplies, haha ;) But crafty people can be anywhere really, maybe you'll find them in alternative little stores as well, like thrift stores or record stores… I'm actually not really sure. Unfortunately there are no craft clubs. Or at least, none that I'm aware of.
See Something Special
There are also two Kerstfeeërie [Breidelstraat 4, 8000 Brugge, Belgium] stores of the German brand Käthe Wohlfahrt settled in Bruges (Walplein 12 and Breidelstraat 4). In these shops you're surrounded by handcrafted Christmas decorations all year long. De Witte Pelikaan [Vlamingstraat 23, 8000 Brugge, Belgium] is another great store for Christmas and Easter decorations. I obviously love Christmas ;).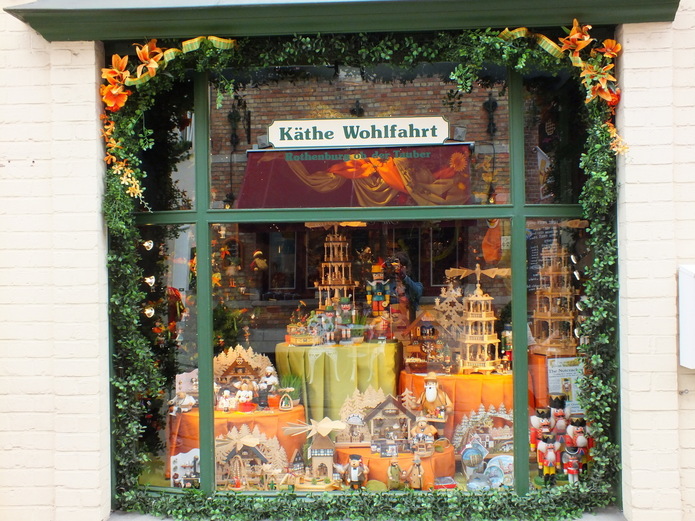 If you want to go for something typical: head to one of the many souvenir shops in town. Or treat yourself a waffle with whipped cream and powder sugar, and take some delicious Belgian chocolates and beer home with you. But in the end, even a postcard from all the places you've been (including Bruges) is always nice as well ;).
Special thanks: I wouldn't have been able to write this without the wonderful Mieke Vandierdonck, who lives in Bruges and showed me a lot of places I hadn't seen before. Thank you, my dear friend.
Inspiration
If you look around, there's inspiration to find in a lot of places. I even think it depends in the first place more on your own mindset than the places you visit, but of course it can be helpful to look around at some lovely places . Almost everywhere in the center of Bruges you're surrounded by wonderful architecture, typical houses, small streets.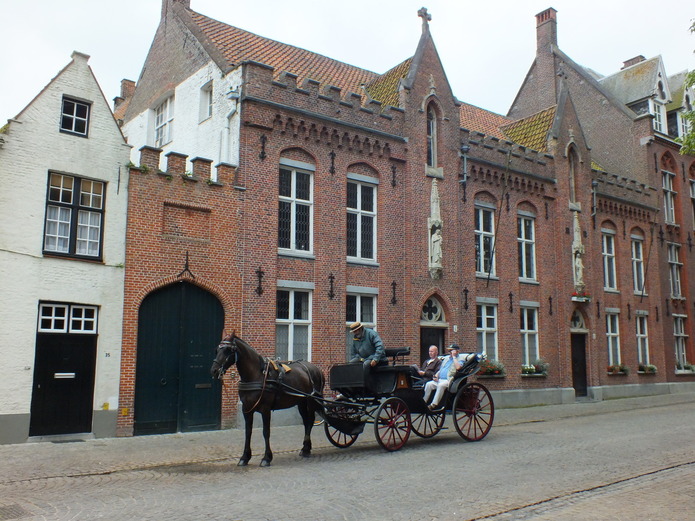 The Beguinage [Wijngaardstraat, 8000 Brugge, Belgium] and the Minnewater [Minnewater, 8000 Brugge, Belgium] are both places worth visiting as well. You should definitely take photos of the Minnewater, the Concert Building and the Market Square with its Belfry. Or maybe you could find inspiration while watching a gig, a play or musical at the Concert Hall, which is the reddish building well known for its unique architecture.