" Ghent is a great place to live because of the variety of people who live in the city. It's a great mix of university/college students and the livelong habitants of the city. It's a rather small city where schools, museums, shops and history come together. And let's not forget the many awesome festivals the city organises! "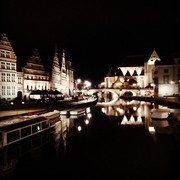 Shop
Pur Sens [Meersenierstraat 3 9000 Gent] is a small boutique I recently discovered with ecological clothing, shoes, jewellery and home-ware. For more design home-ware I love to go to Huiszwaluw [Huiszwaluw Hoogpoort 3b 9000 Gent]. If you are like me and love to upcycle clothes or make costumes you can always go to some amazing and quite cheap thrift stores. Two of my favourites are Think Twice [9000] and Ateljee [Hooiwege 40, 9940, Belgium].
If you want to buy craft supplies I would recommend Veritas [Woodrow Wilsonplein 4/128, 9000 Gent, Belgium]. It's a retail but they have the basics for knitters/crocheters, jewellery making and since a year they also have the basics for people who love to sew. I buy my knitting wool at a place called Phildar [Langemunt 6, 9000 Gent, Belgium]. Don't be fooled by the clothes and the old people shopping there. In the back of the shop they have a nice collection of quality wool for a nice price. For people who like to paint/draw the best store to go to is the Schleiper [Onderbergen 31, 9000 Gent, Belgium]. They have a great range of everything you need for any kind of paper art or sculpting.
Every three months there is a craft market in a community centre a bit outside the city centre. It's called Le'ts LousArt and creative people can sell their handmade products in a nice and cosy space. If you are a crafter/artist with special attention the environment and work with recycled or sustainable products you can sell your crafts at the Eco urban crafts market. And if you are really want to try you can ask local stores if they want to sell your product. I know of a friend who sells her jewellery at a shop called cream.
Eat & Drink
For lunch I really love to go to the Vooruit's [Sint-Pietersnieuwstraat 23, 9000 Gent, Belgium] arts centre. Again a building with a great history and a great bar/café. A new and hip place to go is Balls & Glory [Jakobijnenstraat 6, 9000 Gent, Belgium] where they serve homemade meatballs. For a vegetarian lunch you have to be in the Greenway Foods [Nederkouter 42, 9000 Gent, Belgium]. Getting a good pizza is always an option living in a multicultural city. Eat Love Pizza [Ajuinlei 10, 9000 Gent, Belgium] and Al Castello [Geldmunt 2, 9000 Gent, Belgium] are my favourites. Ghent also has lovely Turkish restaurants Ankara Bvba [Oudburg 44, 9000 Gent, Belgium] is one of them as is Gök Palace [Sleepstraat 108 - 9000 Gent].
I have to recommend a bakery called Himschoot [Groentenmarkt 1, 9000 Gent, Belgium]. For they have the best bread and pastries. If you stay awake long enough an you are close by, you can smell the amazing scent of fresh baked bread. Try their Mastellen: a round soft dough sandwich with cinnamon. Julie's house [Kraanlei 13, 9000 Gent, Belgium] has wonderful cupcakes and pies and you can even go there for breakfast. Being hip in Gent you need to have a coffee or a homemade iced tea with or without a piece of cake in Café Labath [Oude Houtlei 1, 9000 Gent, Belgium], Simon says or the mokabon.
Again the Vooruit [Sint-Pietersnieuwstraat 23, 9000 Gent, Belgium] would be a great place in the evening for getting a drink, before/after catching a play or a concert. Close to the Vooruit is the Marimain [Walpoortstraat 17 9000 Gent, Belgium]. A dark, brown bar in the winter, a great place to sit outside in the summer. Lovers of cocktails have to go to Jigger's [Oudburg 16, 9000 Gent, Belgium]. The bartender has been chosen the best barkeeper of Belgium twice.
Craft
I craft almost everywhere in Gent. If not knitting at my place I would be at the park, the Vooruit [Sint-Pietersnieuwstraat 23, 9000 Gent, Belgium] (where you get strange looks and looks of approval). I know if you would do the research you would come up with some local knitting/crochet groups but I have never been in one.
If you like to sew or get more feedback on you sewing, knitting or crochet you have to go to the Boho Cafe & Naaiatelier [Vrijdagmarkt 26, 9000 Gent, Belgium] where they offer workshops for children and adults.
The chance of bumping into someone who is doing something crafty or has a crafty hobby is quite big. Because the city is an extremely hip place and there are many art students. Also the people of Gent are known for their environmental consciousness and are taking matters in to their own hands, you will see a lot of artsy people. And do talk to them, because who doesn't love a fellow crafter!
See Something Special
I don't think I didn't left anything out. For foreigners the whole city of Gent is quirky.
Of course you have to try the waffles, chocolates and many many beers Belgium and thus Gent counts. But also candies like Gentse neuzen or cuberdons (noses of Gent), mustard and a drink called RoomeR. If you don't want to eat/drink your souvenirs you could buy a black & white noose (something to do with the great history of Ghent), an image of Emperor Charlemagne or some lace. But I think you should go for the more edible things.
Inspiration
The city of Gent is over a thousand years old, so the lovers of architecture will have a lot to see. The 'three towers': The Saint Nicholas' Church [Cataloniëstraat, 9000 Gent, Belgium] a romanesque church of 1100. The Belfry tower and the Saint Bavo's Cathedral [Sint-Baafsplein, 9000 Gent, Belgium] with The adoration of the mystic Lamb painting of the brothers Van Eyck are a must see and photograph! Gent also has many museums. The one I really like are modern art museum (S.M.A.K. [9000]) and the museum for classical art (MSK Museum voor Schone Kunsten [Hofbouwlaan, 9000 Gent, Belgium]). But also the one for cultural heritage is great if you want to learn about living in the past in Belgium.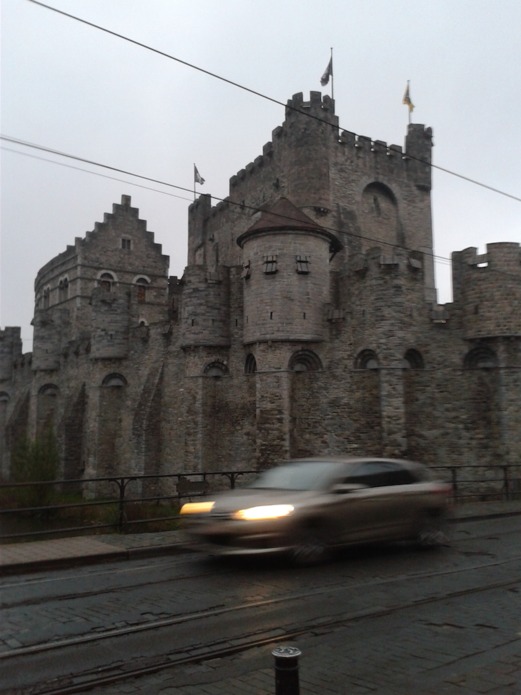 Walking through Gent is amazing, the old buildings are accentuated with lights and has a homey feeling. Also walking in the neighbourhood called 'Patershol [Corduwaniersstraat, 9000 Gent, Belgium]' is a great attraction. It's a lovely medieval quarter with a lot of small alleys and great restaurants. In the summer it's great just to sit at the quay of the Leie (Korenlei [Korenlei, 9000 Gent, Belgium]/Graslei) and enjoy the warm weather and an ice-cream. Or take a boat trip on the Leie and enjoy the city from a different kind of view.
Take as many pictures of Gent as you can! The lovely architecture, the Castle of the Count [Sint-Veerleplein 11, 9000 Gent, Belgium], the new city hall (which you will love or hate), the 'graffitistraatje', the beautiful Citadelpark [Gent, 9000 Gent, Belgium] and Muinkpark [Muinklaan, 9000 Gent, Belgium] are great opportunities to take photos. And don't forget our 'Mad Meg' (in Dutch Dulle Griet) - a big red medieval supergun.