" The best thing about living in Victoria is the laid back vibe. Being the Capitol city of BC, there is a enough infrastructure to support the amenities of living in a bigger centre, but being on an island makes it more isolated and makes it feel like a small town. Any time I hang out downtown, I run into people I know around almost every corner. Its a naturally beautiful place surrounded by ocean, and there is a thriving art community. There is so much to enjoy! "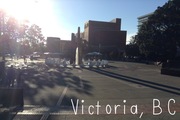 Shop
My favourite places to shop are all downtown, and the best thing about downtown, is that you can walk across it in 15 minutes! The Milkmans Daughter [1713 Government St] is an amazing boutique selling silk-screened clothing and accessories, books, and housewares. The best thing is that they sell fat quarters and quilting kits with the leftovers from their amazing silk screens! You can check out their much tinier sister store Smoking Lily [569 Johnson St], and a lot of other wonderful shops on lower Johnson Street, like Baggins [580 Johnson St] (which has a great selection of Vans and Converse shoes-they even do custom prints!) I will always pop into Silk Road Tea [1624 Government St] on Government Street for some free samples and to stock up on my fave teas! They also sell absolutely lovely natural bath and skin care products. I also can't avoid Sitka [570 Yates St] Surfboards. They make and sell the most lovely clothes and accessories with west-coast outdoorsy appeal.
I'm a pretty serious knitter, so on my personal crafty supply hunting expeditions, The Beehive Wool Shop [1700 Douglas St] is the best place to go to stock up. Located on the main floor of a creepy Freemason building, they carry all the best yarns, and their staff is super-helpful when I'm trying to get a new project going.
I also love the Button & Needlework Boutique [614 View St] in Trounce alley. I could spend hours combing through skeins of embroidery floss, yarns and so many beautiful buttons!
The Regional Assembly of Text [560 Johnson St #116] is another must for supplies. They carry great cards, journals, stationary, stamps and envelopes and even have typewriters you can use in the shop to write a (very hip-looking) letter to a friend!
I also have to mention a place on Fort Street called The Makehouse [833 Fort St]. They give classes on sewing, sell patterns and notions, and you can drop in and do your sewing there on one of their machines. There is so much local-goodness going on there, it has the feel of an art collective.
A lot of people sell crafts in Bastion Square [575 Yates St], or the causeway, but a really great place to buy and sell crafts is through Migration Boutique. Their stock of jewelry, clothing and accessories is expertly curated.
Eat & Drink
My favourite place for lunch is Pig BBQ Joint [1325 Blanshard St]! Beer on tap or a Boylan's soda and a brisket sandwich is definitely my happy place! Also Red Fish Blue Fish [1006 Wharf St] in the inner harbour has great fish and chips. I usually go for dinner with my man at the Tapa Bar [620 Trounce Alley] in Trounce Alley. Share plates and Sangria FTW!
I have several favourite cafes, but Union Pacific Coffee [537 Herald St] is my favourite place for a coffee and a treat. Their quiet patio in Dragon Alley is a great place to regroup after bopping around town all day. I'm also a fan of Bean Around The World [533 Fisgard St] in Chinatown. The least ambiance/BEST coffee award goes to Discovery Coffee [664 Discovery Street] on Discovery Street. (You can buy this coffee at many places around town though as they do in-house roasting. I suggest Street Level Espresso on Fort Street!) Seriously, this coffee is an experience!
Veneto [1450 Douglas St] is my favourite place for a cocktail. You'll pay $10 for a cocktail made with top-shelf liquor and house-made garnishes and, even if you're a cheapskate, you will not regret it.
Craft
Garrick's Head Pub [1140 Government St] has a nice cozy spot by the fireplace, and Phillips [2010 Government St] Blue Buck on tap. I'm more of a craft-in-my-living room type of gal, but I've always had fantasies of bringing my knitting to that spot and hunkering down for a couple hours.
The aforementioned Beehive Wool Shop [1700 Douglas St] and The Makehouse [833 Fort St] are great places to meet fellow crafty folks.
See Something Special
As one of the older cities in BC, there are many reports of hauntings in the city. (I swear I even experienced one myself when I was working at Murchie's on Government Street!) For the true believers or architectural nerds among you, I would recommend going on one of the city's Ghost Walks: A guided tour of all the interesting old buildings in Victoria, complete with ghost stories!
Don't leave Victoria without Maple Syrup (cause c'mon guys, it's Canada!), a pound of beans from Discovery Coffee [664 Discovery Street], a growler of microbrew, and a pocket full of beach glass!
Inspiration
I draw a lot of inspiration from history, so to get inspired, I head to The Royal BC Museum [675 Belleville St]. It is absolutely the best museum I've ever been to. It's set up as an immersive experience into BC's natural and human history. You can walk through the streets of old Victoria, get right up close to our indigenous people's culture, explore the coastline, and survey the depths of the ocean.
As far as non-craft related attractions, I'd recommend beer tasting at one of the many local microbrews (Phillips [2010 Government St] is my fave!), swimming and hiking at Thetis Lake [View Royal, BC, Canada] (a little out of town, but you can get there by bus!), and cycling on the Galloping Goose [Galloping Goose Trail]. (A Trail network that spans the entirety of Sidney, Victoria, Saanich and the Western Communites) It is a gorgeous way to see the local sights at a relaxed pace. Also The Beacon Hill Park [] petting zoo is a great place to go in the summer for some goat-snuggles! Munro's Books [1108 Government St] on Government Street is the most charming book store I've ever been to. It is located in an old bank building, and it's so gorgeous you might not ever want to leave! Cherry Bomb Toys [1410 Broad St] is another local gem! They are stocked with vintage and collectible toys, and have lots of great arcade games (that still cost a quarter to play!) I've also been known to dig through lego bins and old GI Joe parts for fun jewelry pieces!
Victoria is a beautiful city, and there are great places to take photos all around town. Our itty-bitty Chinatown is the oldest Chinatown in Canada and the second oldest in North America after San Francisco, and is a great place for pictures! The Gates of Harmonious Interest marks the entrance to Chinatown, and further down the street you will find Fan Tan Alley. It's only big enough for two people to walk down it side by side and has some really cute shops.