" The best thing about living in Toronto is the multicultural atmosphere all around. At any given time, you can hear several different languages spoken, find restaurants from around the globe and shop for eclectic items with ethnic flare. To top it all off, downtown offers a great mix of bustling city and lakeside retreat at the Toronto islands. "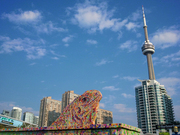 Shop
You can never go wrong with Kensington Market [Kensington Market] and Queen Street West but for those of you on the East side, The Beach [The Beach] area is also a great option for craft supplies. There are tons of shops that offer a wide range of fabrics, beads, yarns, papers and all of the tools needed for crafting.
City of Craft organizes events for crafters to sell their work. The One-of-a-Kind Show allows crafters to rent a space for the duration of the show and shops like Blue Banana [250 Augusta Avenue] in Kensington Market offer space rental in the shop for anything you wish to sell. Wise Daughters [Dundas Street West] is much like Blue Banana in terms of craft sales but also offers courses for learning and perfecting different crafting skills.
Eat & Drink
I absolutely love picnics by the lake! As for eating out, I like to try new places every time but some of the places that I know will always have great food are Oliver & Bonacini [33 Yonge Street] on Front Street, KI [181 Bay Street] on Bay Street, Gonoe Sushi [1310 Don Mills Road, North York] on Queens Quay West, El Trompo [277 Augusta Avenue] in Kensignton Market, Thai Express [505 University Avenue] and Spring Rolls [40 Dundas Street West] (many locations around the city).
Craft
Most parks are craft-friendly with seating, tables or quiet areas surrounded by plants and trees. In the financial district, buildings like the Brookfield Place (181 Bay Street) have a bright and spacious atrium with seating, cafes/restaurants, so they work nicely as well. For anyone wanting something different, there's The Knit Cafe [55 Roncesvalles Avenue], which is a café/yarn shop that offers space for knitting and classes. Finally, for anyone wanting sewing space and equipment, there's The Make Den [1244 Bloor St W], which has everything needed for any sewing project.
Like most cities, we have Stitch n Bitch and several Meetup craft groups like Beading Toronto, for anyone wanting to make jewelry with creative people. City of Craft is a group that tries to connect the crafting community in the city and Toronto Craft Alert keeps everyone in touch with what's going on in the city in terms of crafting events, trends and news.
All of the places mentioned above are great for making crafty friends and places like Harbourfront Centre [235 Queens Quay West] or Design Hero where they offer crafting courses for every skill level. Also, twice a year we have the One-of-a-Kind Show, which is a great way to meet other crafters from all over the country.
See Something Special
Kensington Market [Kensington Market] has a lot of quirky things to see, Casa Loma [1 Austin Terrace] is a castle on a hill in the middle of the city, Graffiti Alley (lots of beautiful street art), The Bata Shoe Museum [327 Bloor Street West], Honest Ed's [581 Bloor Street West] (looks like an old casino but it's really a huge discount store), PATH (a huge underground shopping area that spans approximately 28 Km), The Distillery [The Distillery District] holds the old architecture from the 1830's but also has interesting modern sculptures dotted around for added visual interest. Finally, no trip would be complete without a visit to the "Doll House", which is basically someone's home covered in hundreds (if not thousands) of dolls and toys.
I suppose Canadian maple syrup, ice wine and Inukshuk sculpture (Aboriginal structure commonly found throughout Canada) are the top choices for souvenirs. You can get something fun from the Art Gallery of Ontario [317 Dundas Street West] or the Royal Ontario Museum [100 Queens Park], but for items that are a little more quirky, take a stroll through Kensington Market [Kensington Market] or get a random gift from Tim Hortons [1195 Danforth Avenue] (Canada's #1 choice for coffee on the run).
Inspiration
My inspiration usually comes from my travels abroad but Toronto can certainly bring something unique from any country out there. All I have to do is travel to the various districts (Chinatown, Little Italy, Little Jamaica, Greektown). I also love going to the Toronto Islands [] (just an 8 minute ferry ride) and Scarborough Bluffs [Cliffside] for more nature-inspired crafting.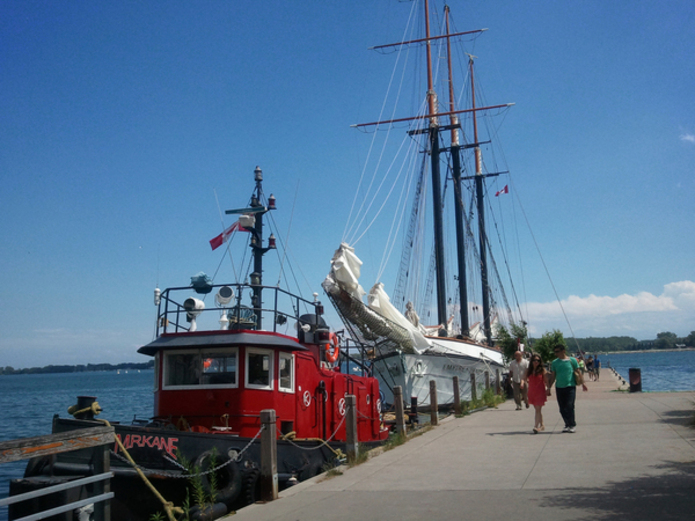 You can't go wrong with the CN Tower [301 Front Street West] and Rogers Centre [1 Blue Jays Way] for taking photos. The Brookfield Place building has a beautiful atrium, the Royal Ontario Museum [100 Queens Park] has a great mix of old and new architecture, Harbourfront [235 Queens Quay West]/Queens Quay [Queens Quay W] has a great view of the lake and ships/sailboats, High Park has a lot of greenery and animals, The Distillery [The Distillery District] is a trendy historical area that was featured in many famous blockbusters, St. Lawrence Market [92 Front Street East] has a lot of fresh produce and products to see and sample, Museum subway station has a fun design that kids love, Graffiti Alley is a great place for vibrant urban photography, Humber Bay Bridge is a great structure to photograph with downtown in the background, Kensington Market [Kensington Market] will always have beautiful classic cars, large murals and fun people to photograph, and finally, the U of T Campuses have a lot to offer in terms of architecture and nature.