" Despite being the second largest city in Denmark, Aarhus is a rather small, cosy city vibrant with students and student life and with a lot of focus on culture; 2017 saw Aarhus as the European Capital of Culture which shows that the small city can really hold its own on this front. Creativity is also a big part of everyday life here, and there are a lot of different craft-shops scattered around the city. Another great thing about Aarhus is its modest size, meaning that nature is just outside one's doorstep! "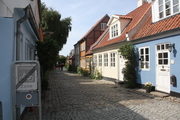 Shop
Walking down the main street, you will notice a lot of the usual high street shops. If you want more luxurious or personal items, I suggest you go to Latinerkvarteret [Latinerkvarteret, 8000]; a few streets situated behind the Cathedral. Badstuegade [Badstuegade, 8000] and Volden [Volden, 8000] especially have a lot of designer-shops, clothes as well as hand-made interior.
If you, like me, are truely, madly, deeply in love with embroidery, look no further than Broderi Moderne [Nørre Allé 45, 8000], the ultimate embroidery shop. They sell everything from threads to books and they have the most incredibly cool embroidery kits!
Another favorite shop of mine is Yarnfreak [Ingerslevs Pl. 2, 8000]. As the name suggests, this is the place to go for everything in the knitting- and crochet department. The shop itself is really charming in a very modern way with stuffed animals dressed in home-knit accessories. Tøndering Strik [Graven 3, 8000] is another really luxurious yarn shop situated in the old town centre.Also woth mentioning are Fandango [Gammel Munkegade 19, 8000], Strikkepinden - Og Den Lille Zebra [Jægergårdsgade 44, 8000], and Gazelle Garn [M. P. Bruuns Gade 44, 8000].
For hobby-supplies go to Hoffmann Hobby [Ferdinand Sallings Stræde 20, 8000], where they sell practically everything you could possibly need hobby-wise (if you can find it; the shop is arranged in a glorious mess), or else Panduro Hobby [Badstuegade 5, 8000] which is a bit more expensive, but which is almost guaranteed to tide you over, if you are desperate.
The old Rail Freight Hall now houses the very hip Godsbanen [Skovgaardsgade 3, 8000], which is a centre of cultural production. The site holds workshops, concert venue, a theatre and a cafe among other things, and a couple of times a year, Finders Keepers, which is a large market primarily selling handmade items, takes place here.
If you visit Aarhus at Christmas, make sure to visit the Christmas Market in Ridehuset [Vester Allé 1, 8000], where you can buy all sorts of handcrafted presents.
The street market on Ingerslevs Boulevard [Ingerslevs Blvd., 8000] takes place every Wednesday and Saturday. Here you can get your hands on some locally grown fruits and veggies, honey, cheese, bread and handicrafts.
Eat & Drink
Aarhus is a great place to eat! There are a lot of various sandwich shops scattered about the city, if you need to grab a quick bite on the go.
Otherwise there is Aarhus Street Food [Ny Banegårdsgade 46, 8000], where you will find 25 different food stalls. Vesterlauget [Vestergade 50, 8000] is another great place. They only have one "Meal of the Day" to chose from, but it's always very delicious and cheap, too.
If you want to go New Nordic, visit Nordisk Spisehus [M. P. Bruuns Gade 31, 8000] or Kähler Spisesalon [M. P. Bruuns Gade 33, 8000], and if you go for Michelin-stars, visit restaurants Substans [Frederiksgade 74, 8000], Gastromé [Rosensgade 28, 8000], Domestic [Mejlgade 35B, 8000] or Frederikshøj [Oddervej 19, 8000].
For coffee, food and inspiration, LYNfabrikken [Vestergade 49, 8000] is a great place to go. Based in an old factory building, this space has now been occupied by a number of small businesses sharing creativity and ideas. A coffee shop is situated on the top floor along with a roof terrace.
If you want Danish hygge in its purest form, go to Bülows Kaffebar [Jægergårdsgade 80, 8000]. Organic ingredients are in focus in both coffee, food and cake and the atmosphere is very cosy.
Café Under Masken [Bispegade 3, 8000] is quirky and artistic and cool. Peter Gift [M. P. Bruuns Gade 28, 8000] is cosy and friendly and has the knack of attracting different age-groups. To bond with your inner hipster, go to Mikkeller bar [Jægergårdsgade 61, 8000] where you will find a large selection of craft beer. Or take a stroll along the river, where there are loads of different bars, cafés and restaurants to chose from.
Craft
In summertime, you can go to Mindeparken [] and enjoy some sunshine (hopefully) while enjoying the splendours of the Queen's Summer Residence. On a grey or rainy day, Dokk1 [Hack Kampmanns Pl. 2, 8000] will accommodate you!
Yarnfreak [Ingerslevs Pl. 2, 8000] does KnitNights and Aarhus Public Libraries and Aros [Aros Allé, 8000] also occasionally house events.
The mentioned shops!
See Something Special
The Viking Museum [Sankt Clemens Torv 6, 8000] which is situated in the basement of a bank! Free to visit in the bank's opening hours.
Danish design, a beer from Aarhus Bryghus [Gunnar Clausens Vej 26, 8260 Viby, Denmark] or The spirit of Hygge!
Inspiration
Of museums, my favorite by far is Moesgaard Museum [Moesgård Allé 15, 8270 Højbjerg, Denmark]. This newly build beauty of a building houses archaeological and anthropological collections. Apart from being a truly inspiring museum, the architecture is amazing! If you don't fancy visiting the museum itself (you really should!), Moesgård [Moesgård Allé] is still a great place to visit. Situated about 9km from the centre of Aarhus, you can walk the way up to the museum roof top for the amazing view, take a lovely walk in the surrounding woods to the beach or go for hot chocolate in the charming Skovmøllen [Skovmøllevej 51, 8270 Højbjerg, Denmark].
ARoS Aarhus Art Museum [Aros Allé 2, 8000] is also a must-see. With the huge rainbow panorama made by Olafur Eliasson placed on the rooftop, Aros is a very modern museum, and although the museum houses a collection of Danish paintings from the last 300 years, their main focus seems to be on modern art.
Kvindemuseet or the Women's Museum [Domkirkepladsen 5, 8000] is a real gem. Focussing on women's history in society and new gender roles, you might just find yourself provoked by their daring and relevant exhibitions. If you want to really dig into life and soul of Danish culture, make your way around Den Gamle By [Viborgvej 2, 8000], which is an open-air museum set in actual buildings which have been relocated brick by brick to the museum. The eldest house dates back to 1550, and the latest attraction in Den Gamle By is a small town district from the 1970's. You can access most of the houses and have a look into the furnishings of the periods, buy cakes from the baker's shop and even buy haberdashery designed in the 70's in the Embroidery shop!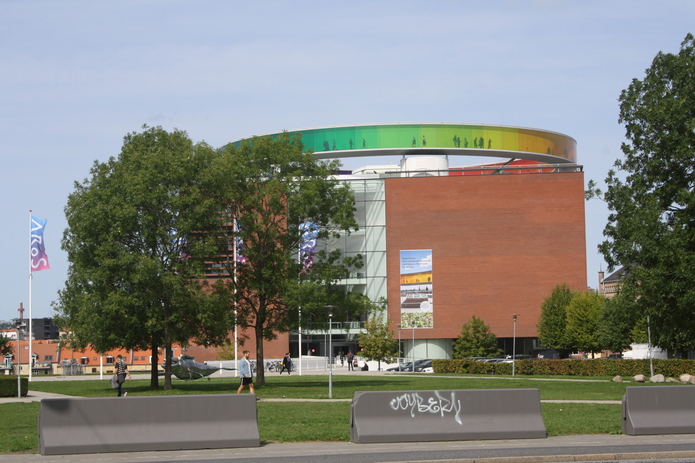 Down by the newly restored harbour front you will find the main library, Dokk1 [Hack Kampmanns Pl. 2, 8000]. This is a really great space and is especially handy if you are travelling with kids; they have play-rooms aimed at different age-groups, a special room for breast-feeding and next to this a lunch-room with high chairs. Apart from this, there is a great café (which also offers a large supply of high chairs) and a playground outside on the large terrace. The view from Dokk1 is amazing!
The typical photo opportunity-spots seems to be Your Rainbow Panorama in Arken, the view from one of the bridges crossing the rails. The harbour front and woods around Moesgård [Moesgård Allé] also offer great Kodak-moments!