" The best thing about living in Madrid is that it has everything you can imagine, it´s a big and metropolitan city. In Madrid you can see musicals, monologues, exhibitions, museums, football games, basketball games, theater, concerts... Anything you need you´ll find in Madrid. There is a lot to things to do and has a great nightlife. "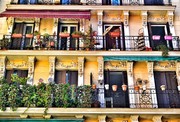 Shop
Almacén de Pontejos [Plaza de Pontejos, 2, 28012] is one of the most popular and oldest stores for craft supplies, and it is situated in the centre of the city, next to Plaza Mayor. BLACKOVEJA [Calle de Sagasta, 7, 28004] is a shop where you can buy mostly fabric and wool, but it has also other things like washi tape. They also do workshops such as sewing, crochet, patchwork. Delipapel [Calle San Mateo, 9, 28004] is a shop that has all the stuff above and supplies for scrapbooking. You can also do some workshops such as decorating your 100% handmade wedding, decoupage and decor for your walls.
Rastro Market [Calle Ribera de Curtidores, s/n, 28005] is really a must see in Madrid, every sunday you can see a lot of people buying and selling stuff. You can find everything you can imagine, from second hand things like furniture, pictures, clothing and old and used items from the fifties, to new stuff made in China.
Eat & Drink
One of my favorite places to eat is Madrid is Casa Julio [Calle de la Madera, 37, 28004], a small bar where you can eat croquets which have different ingredients like ham, blue cheese and mushrooms. It's not expensive and on the walls you can find newspaper articles where they have appeared and photos with celebrities who have been there. All the croquetas are made by a grandma.
El Jardín Secreto [Calle Conde Duque, 2, 28015] is perfect in winter, because they have a wide range of different hot chocolates and it's the most romantic restaurant I've ever seen in my live. San Ginés [Calle del Arenal, 13, 28013] is the most popular coffee shop where you can have really good "chocolate con churros". It's situated in the centre of Madrid next to Plaza del Sol. Las Bravas [Pasaje Matheu, 5, 28012] is the place where you can taste a really good brava sauce with potatoes, this is very typical and it tastes like heaven!
Craft
I like parks for crafting, where you can sit, relax and connect with the nature. There are two huge parks in Madrid I like to go, one is the Retiro Park / Parque del Retiro [Plaza de la Independencia, 7, 28001], the other is West Park (Parque del Oeste [Paseo de Moret, 2, 28008]). I don't think there is a particular place for making crafty friends, but whenever I'm on the subway and I'm crocheting there is always somebody that asks me what I'm doing and we start to talk about crafts.
See Something Special
I think the Rastro Market [Calle Ribera de Curtidores, s/n, 28005] is really quirky, there you'll find so different people selling and buying so different and strange things. Also the Fuencarral Market is worth seeing, it has a lot of stores for very different tastes.
I would say, if you can, some food like vine, jamón serrano, manchego cheese, olive oil, turron (sweet for Christmas). The food in my country is really really tasty and has a great quality.
Inspiration
I love to walk in the city, there is always something new to find out. I especially like the centre where there are really small and curious streets. One of the neighborhoods of Madrid I like to walk in is Malasaña [Malasaña], because is full of weird and secondhand stores and also has a lot of little and cute coffee shops. I also love to make picnics when it's sunny with my boyfriend and friends in Retiro Park / Parque del Retiro [Plaza de la Independencia, 7, 28001] or West Park / Parque del Oeste [Paseo de Moret, 2, 28008], I also love the musicians and the monologues. And of course the nightlife of Madrid, there are a lot of bars and discos with different music styles.
Temple of Debod [Calle Ferraz, 1, 28008] (situated next to Plaza de España), is an ancient egypt temple and is really beautiful to take photos of at dusk or dawn. Also, Oso y el madroño / Statue of the Bear and Strawberry Tree [Plaza Puerta del Sol, 28013] is a statue that represents Madrid, it's situated in Plaza del Sol and a must make to take a photo if you are in Madrid.