" It's Paris! The best thing about living here, is that it's Paris. It's a wonderful city and it's certainly not a cliché. It's inspiring with all its beautiful spots, its cultural and historical identity. What can I say? It's frenchy in all the best aspects. It isn't Tokyo nor New York but it definitely learn you elegance. "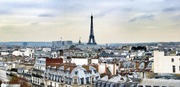 Shop
If you search fabric, you would find it in Montmartre [Montmartre, 75018] (Métro Anvers). You certainly already know this place, because it's in Amelie Poulain. Besides being one of the best panoramas of Paris, it's also the most famous fabric market. The two big franchises are Marché Saint Pierre [2 Rue Charles Nodier, 75018] and TISSUS Reine [5 Place Saint-Pierre, 75018] but all around there are dozens of little craft supplies and fabric stores where you would definitely find what you are searching for.
Furthermore, my favourite place is a little store near Châtelet called La Droguerie [9-11 Rue du Jour, 75001]. I go there when I need crafts especially for accessories. You will find anything from feathers to pearls.
Eat & Drink
In Paris we're fond of foreign food so you'll easily found some great burger spot : one of my favorite Le Camion [] qui fume the first food truck to settle in Paris. But if you want to eat a French specialty I recommend BREIZH Café [109 Rue Vieille du Temple, 75003]: it's known as the best Breton crêperie. It's not expensive and very tasty!
If you like sweet-savory I highly suggest the Charentaise, you'll love it.
Craft
The nearest public park is the best place to craft. When spring comes and the sun begins to show up, public parks in Paris are the best place where to escape from city life. I love to filled a big bag with craft supplies and I go to the park down my street La Villette [La Villette], I sit in front of the little river on the grass and spend my afternoon there.
See Something Special
Not mandatory but definitely funny, you could visit the Père Lachaise Cemetery [16 Rue du Repos, 75020]. Yes it is a cemetery, and yes I said funny. It's a place of pilgrimage for the fans of Jim Morison, you could see the sphinx statue on the grave of Oscar Wilde and kiss it, or celebrate the grave of the scientist who was the first to encourage humans to eat potatoes in Europe.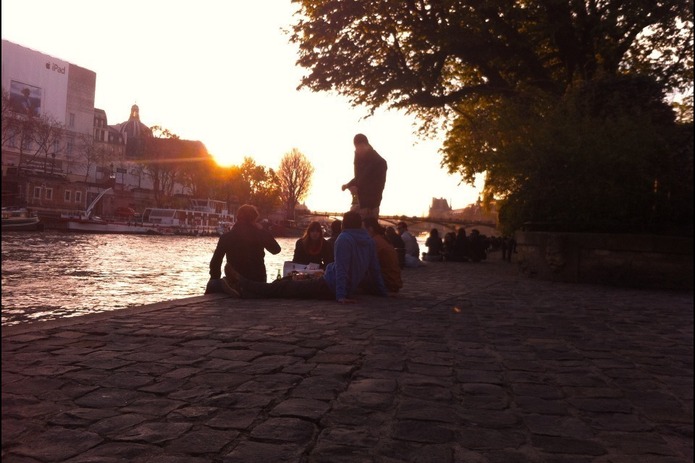 Obviously you will find really easily some materials souvenirs to come home with, like a little wired Eiffel tower and it's pretty cool - I do have one on my keys. But the most beautiful thing to take home with you if you're not a Parisian, it's the memory of a picnic on the banks of the Seine, on a mild summer night. Parisians go there every night from June to September (mostly) especially on Saturday. There would be a lot of people, laughing and drinking, there is always someone who brings his guitar, don't be afraid to talk to them: Parisians are actually friendly.
Inspiration
The metropolitain. You could say it's convenient because one take the subway every day, I prefer to say it's constant. There, inspiration strikes me without even trying. Sometimes it's a super style girl with clothes I want to reproduce. Sometimes it's only one little details of the outfit of a lady. Sometimes it's the story I imagine for this business man. Sometimes it's a color that charms my eyes. Sometimes it's just the feeling I'm in the core of the life in Paris.