" Toulouse, also known as the pink city for its brick walls is a very endearing city. When I arrived, I immediately fall in love with the meanders of its streets, the banks of the Garonne river where the students come to enjoy the first days of spring, or the bicycle path along the Canal du Midi connecting the town to the Mediterranean Sea since the seventeenth century. "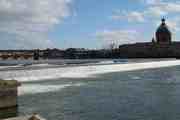 Shop
In Toulouse you have to spend time strolling through the markets, smelling the fragrances of the spices and choosing fresh vegetables for your lunch. My favorites are the Marché Victor Hugo [Marché Victor Hugo, Place Victor Hugo, 31000] (food, flower, local products -Place Victor-Hugo – Tuesday through Sunday mornings), where you can also have lunch in the small restaurants upstairs featuring fresh products and the Marché des Carmes [1 Place des Carmes, 31000] (food, place des Carmes, Tuesday through Sunday mornings) or the Marché Saint-Aubin (miscellaneous, place Saint-Aubin, Sunday morning).
As for shops, I love La Fleurée de Pastel [20 Rue de la bourse, 31000] or Terre de Pastel [629 Rue Max Planck, 31670 Labège, France] where you will find a variety of products from local pastelier know-how: silks, clothes, cottons, jewelry, watercolors, inks.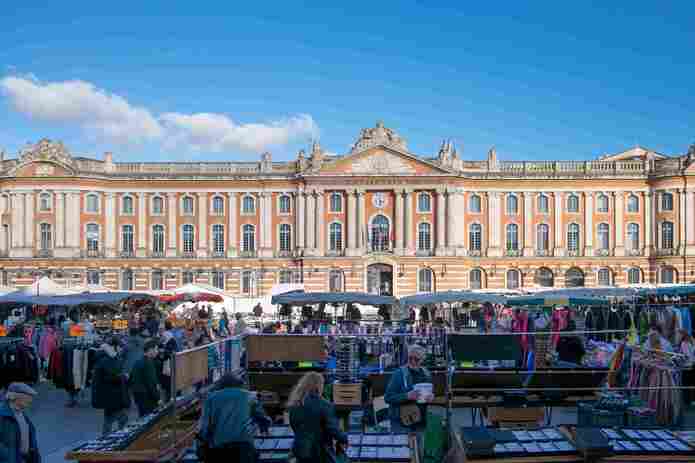 For crafts, my favorite place is Graphigro [11 Rue de Metz, 31000] where you will be able to find more than 20 000 products and everything you can dream of, ranging from paints of all kinds, pearls, feathers, masks to books, papers or boxes. I also like Midica [13 Place Esquirol, 31000] where the students of the nearby Beaux Arts school find all their materials. For its vast assortment of pearls I go to Fifi jolipois [11 Rue Cujas, 31000] and for thread or yarn to the Arrow Workshop [11 Rue Sainte-Ursule, 31000]. When I need fabric, my favorite place is Toto Toulouse [21 Rue Saint-Rome, 31000]. I buy my spray paints in the Eight Ball Store [52 Rue Pharaon, 3100].
Crafter can sell their handmade items in two fairs, The "salon des artisans d'art" held on beginning of December and the salon "tendances créatives" held mid October.
Eat & Drink
For lunch with friends I go to Les Complices [13 Place Dupuy, 31000] or to Au Poêle de la bête [56 Rue d'Aubuisson, 31000] or also L'ouverture: restaurant musical [40 Rue Pargaminières, 31000]. Be careful, usually you need to make reservation quite a few days in advance. For a vegetarian lunch I enjoy La Faim des Haricots [3 Rue du Puits Vert, 31000], and for a fancy dinner I love Restaurant le L [24 Place de la Bourse, 31000].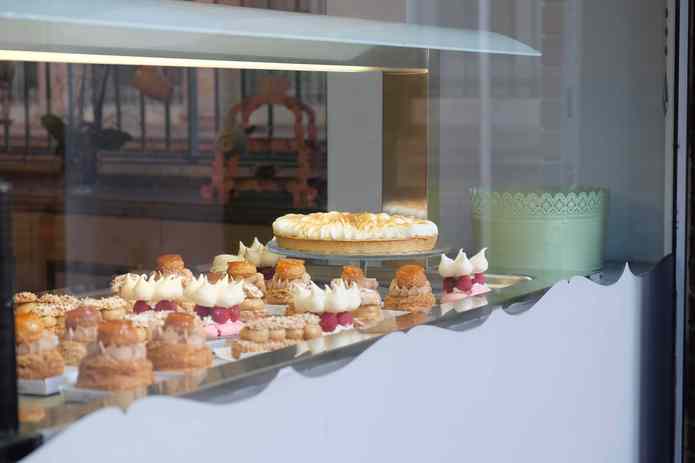 For lunch I like Les biquettes (9, rue réclusane, 31000 Toulouse), a grocery, where you'll find local products like cheese and sausage and buy wonderful sandwiches for five to seven euros. I buy sweets and artisanal biscuits at "Le paradis gourmand" (45 rue des tourneurs, 31000 Toulouse)
I also love two tea rooms : Pillon (23 rue du Languedoc, 31000 Toulouse) Perlette (2 place de la Bourse, 31000 Toulouse)
When I go out for a beer with friends I enjoy hanging out at Le Barboteur [18 Rue des Pénitents Gris, 31000] an artisanal brewery that opened a few month ago. In the evenings they sometimes organize quizzes and games.
Craft
To learn new techniques, you can go to the "grenier à idées" (19, avenue Jean Monnet, 31770 Colomiers) where you can take classes of seat repair, furniture restoration, framing, painting and drawing, pottery, watercolor and porcelain painting. You can also learn sewing in the Atelier Agapanthe [2 Av. de Verdun, 31330 Le Burgaud, France] in Le Burgaud close to Toulouse.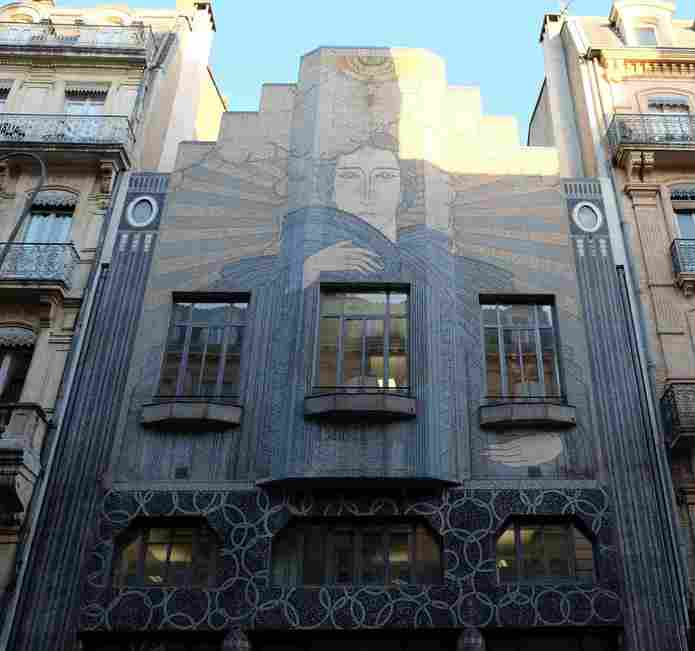 There's a website for meeting people to do things together like going out for walks, movies, or crafting.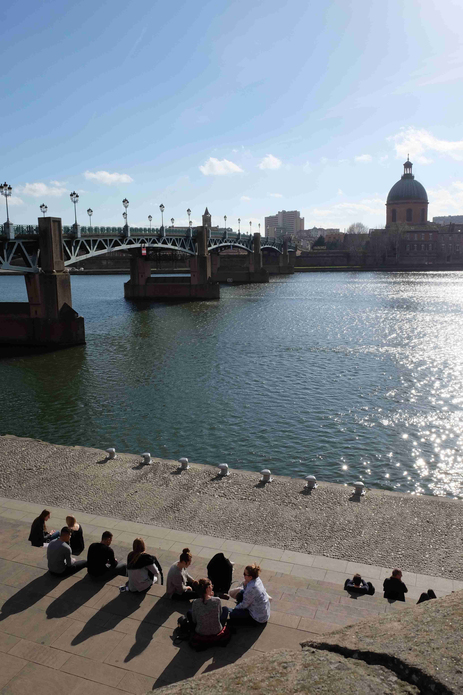 To meet people interested in crafting, the best is to go to the fairs I mentioned or to the "grenier à idées".
See Something Special
I also like to admire industrial style furniture mostly but from recycled parts and sold in the Atelier 31 [269 Route de Seysses, 31100], but often I just stroll in the town, admiring the old walls, arches and doors.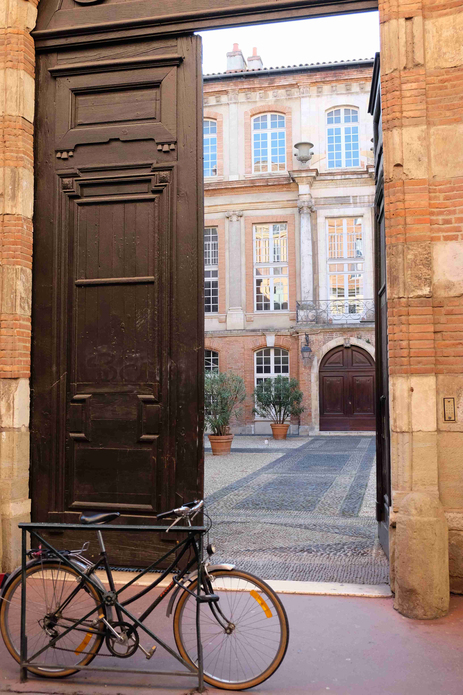 For souvenirs, pick up some chocolates from Maison Pillon [23 Rue du Languedoc, 31000], Criollo or Thuries, violet liquor, pastel colored clothes and vintage sweet from Le Paradis Gourmand [45 Rue des Tourneurs, 31000].
Inspiration
I find my inspiration mostly in Toulouse museums – they are modern, fun and organize lots of events, among which include writing contests and workshops. I love the recently renovated Muséum de Toulouse [35 Allée Jules Guesde, 31000] and its fun temporary exhibits, the Musée Saint-Raymond [1Ter Place Saint-Sernin, 31000] showing archeological finds from the surrounding region and it's beautiful garden in the center of the town where you can buy cheap drinks. With visitors, I often go to the Cité de l'Espace [Avenue Jean Gonord, 31500], where they enjoy lots of hand on experiments and Musée Aeroscopia [Allée André Turcat, 31700 Blagnac, France] retracing the aeronautical past of the town. I never forget to visit the museum shops.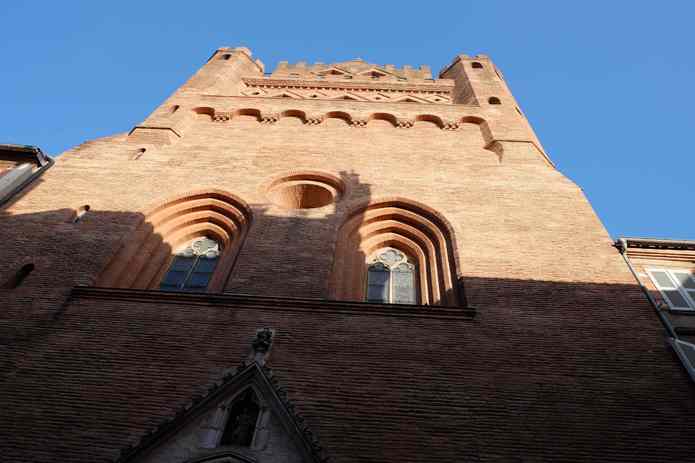 I like to write novels and participate in murder parties. In October there is a nice gathering of detective novel writers. One can meet well known writers, go to talks or award ceremonies and to a giant investigation written by one of them through the town with hundreds of participants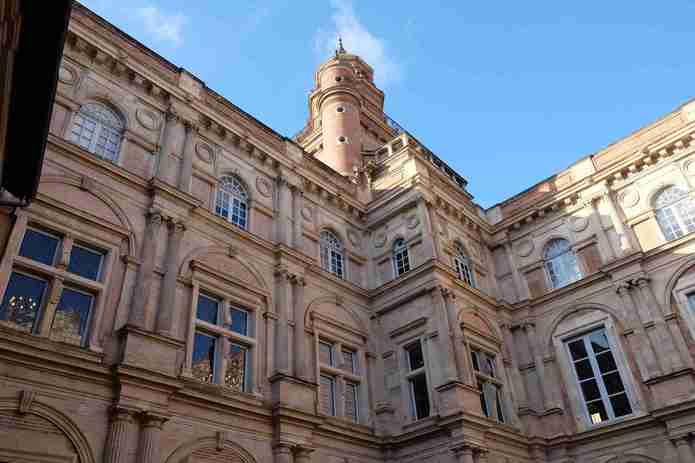 I like to take pictures from the bridges over the Garonne river, from the old town and of course from the well known Place Du Capitole [13 Place du Capitole, 31000] in the center of the town