" The best thing about living in Bakewell is the sense of community held throughout the town. We put on festivals and shows and try to help our local community by keeping the shops individual and independent. "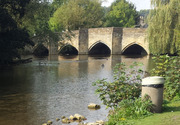 Shop
One of my favourite shops in Bakewell is Corvette Silo [The Pink House, Unit 5a, Kings Court, King Street] which sells a range of home goodies, fabrics and ribbons to craft with. They sell some really beautiful items and is worth a good look around; it may be a small shop, but they manage to get a lot in! In the same courtyard alongside Corvette Sillo is Baked Well [King Street] which invites people to paint and decorate pottery and a beautiful little bookshop which sells both old and new books.
The best places for craft supplies are Lady Fair [Matlock Street]; although it may seem dated on the outside, on the second floor there is small room filled with wool and sewing supplies. It is also worth visiting the market held on a Monday every week which has a few craft stalls including a fabric stall and another with items such as buttons, ribbons, sewing supplies and more.
The Ridgeway Gallery [The Old Tavern, Rutland Square] is a good place to see handmade items. Unfortunately Bakewell Arts and Design closed down recently which is such a shame because it housed some incredible artist work and encouraged people to get crafty.
Eat & Drink
My favourite places for lunch are The Upstairs Cafe [3 Market Street] and Lime Lounge [Bridge Street]'; both offer a wide range of tasty lunches. To eat out for dinner in the evening i would recommend Le Mistral [Bridge street] or Raja's [37 Wicker, Sheffield].
A cafe i love is Tiroler Stuberl [Water Street] an Austrian delight in the centre of town which specialises in selling Austrian sausages and you have to try the apple strudel! It is simply to die for!
The Pointing Dog and Duck [516, Ecclesall Road, Sheffield] is a brilliant place to grab a drink with seating both inside and out. They also serve food during both the daytime and evening.
Craft
The best places to sit and craft are the local park or on the far side of the river where it is lovely and peaceful.
Unfortunately as Bakewell is a small town, it does not have any craft clubs or groups but there are some in the nearby towns.
See Something Special
The Bakewell Pudding Parlour [Wye House, Water Street] is place you must visit when you are in Bakewell, many people think it is the Bakewell Tart, however, the traditional sweet is the Bakewell Pudding and it can be found at The Old Original Bakewell Pudding Shop [The Square] near to the Natwest bank.
You should take home a Bakewell Pudding!
Inspiration
To be inspired, you should visit Corvette Silo [The Pink House, Unit 5a, Kings Court, King Street], A G Gallery [Bridge Street], Chalet Home [Rutland Square]' and Bath Gardens.
My top non-craft related attraction is; Elliott Rose Apothecary [1 Portland Square] for all things smelly (in a good way). They sell wonderful soaps, lotions, oils and tasty tea to keep you revitalised while you're crafting!
A great place to take photos in Bakewell is by the river where you will find a very historic bridge and plenty of wildlife.