" Bath is a beautiful city - after all, it is a UNESCO World Heritage site. The town centre still contains some beautiful old architecture in the traditional yellow Bath stone and even new buildings are built to match. We have the Roman Baths right in the centre, the Pump Rooms and Bath Abbey. there are lots of cafes and probably the most popular place is Sally Lunn's, traditional tea rooms with a little museum in the cellars. Around Christmas time, people flock to the Christmas market around the abbey, which is full of little chalets filled with goods from indie vendors. All in all, it is a wonderful place to explore on foot, especially as it is fairly small. You can have both a glimpse of historic Bath and enjoy a spot of shopping in indie shops as well as large chains. "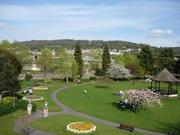 Shop
As a knitter, I love a bit of wool shopping, so the local yarn shops, Wool and A Yarn Story [], are the places to go. Recently, Anthropologie [1-4 New Bond Street] opened in Bath and I love that they feature products from local artists. Especially the ceramics are stunning. If you like cosy, old-fashioned book shops with a great selection, you have to stop by Toppings & Co [The Paragon]. They have everything you could possibly want and hold regular events with writers from the UK and beyond.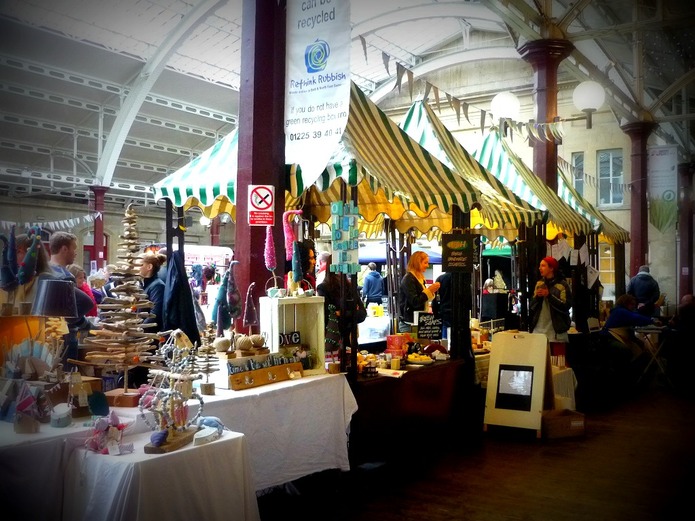 Knitters and crocheters will find supplies in Wool [19 Old Orchard Street] and A Yarn Story []. For a general selection of arts and crafts supplies, I recommend all local arts stores like Minerva Arts Supplies [12A Trim Street, City Centre]. The Makery [19 Union Passage] has a a fairly small selection of supplies, but if you are into craft workshops, it's the place to go.
The Artisan Market in Green Park Station [Green Park Road] features work from a wide variety of crafters and artisans. If you have a craft business, it is definitely worth checking it out. This is the most popular market for handmade, but there are also smaller craft markets, especially around Christmas time, including one hosted at the local library.
Eat & Drink
I am very partial to sushi and now there are at least three sushi bars to choose from in Bath. YO! Sushi [29 Milsom Street] in Milsom Place is a vibrant place and my favourite sushi bar, but you can also go to the low-key Yen Sushi [11 bartlett street, Lower Lansdown] further up in Bartlett Street. Bath has a number of good restaurants, including fish restaurants, a Thai restaurant and a number of good Indian restaurants. My favourite Indian is Jamuna [9-10 High Street] next to the abbey and you will get the best pizza at The Real Italian Pizza Co [16 York Street] (which, coincidentally, also makes the best gelato next door at The Real Italian Ice Cream).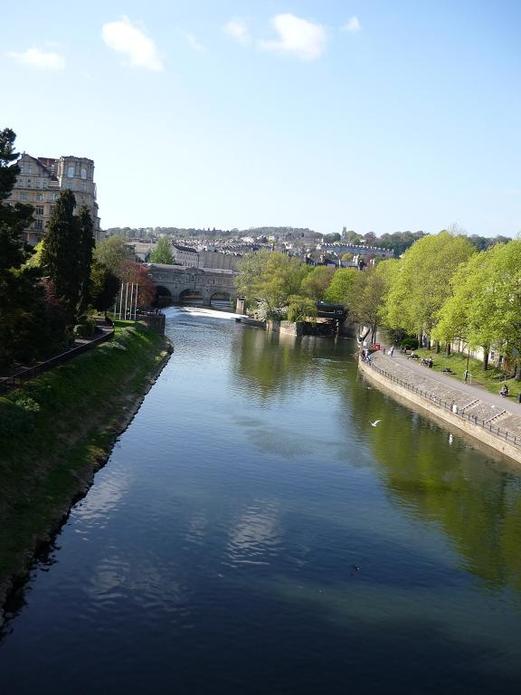 I seldom go out for a coffee or tea and cake, but when I do it is to the unpretentious little Java Coffee House [3 New Street, Avon] at Kingsmead Square where you get excellent hot drinks, baguettes and more. I thoroughly recommend the homemade cakes which I always find impossible to resist.
For a nice cocktail once in a while, I like The Porter [15A George Street] in George Street. It looks very new and posh, and the atmosphere is great. This is my number one place to go for drinks. If you are in George Street you will have a lot of bars to choose from. The Cosy Club [Unit R4, Southgate Shopping Centre, Southgate Street, Bath] in Southgate is my second choice. I am not much of a bar goer or clubber, so my knowledge of bars is very, very limited. The Cosy Club is, well, cosy and also serves excellent food throughout the day, so I enjoy it no matter if it's afternoon or evening.
Craft
Believe it or not, our knit club used to meet at The Porter [15A George Street], which is how I found the bar in the first place. There are nice, comfy seating areas with armchairs and sofas as well as separate rooms for groups. Perfect for crafting. If the weather permits, Victoria Park [] is ideal for al fresco crafting, especially in front of the Royal Crescent. It is a wonderful backdrop!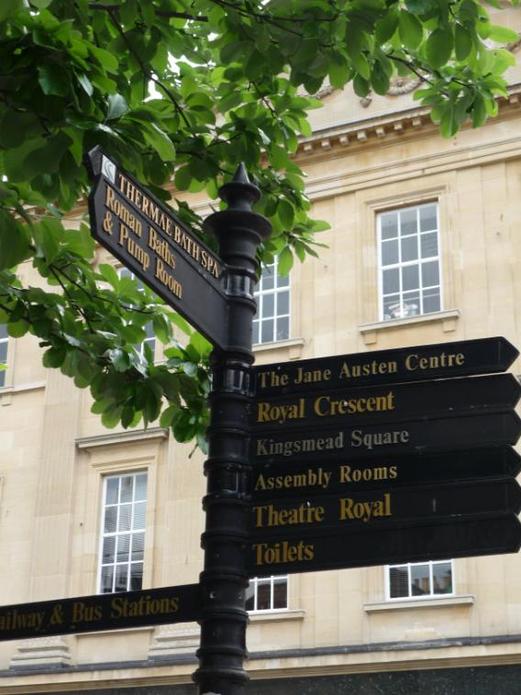 There are a few knitting and crochet groups, so it is best to search for your specific craft to find out if there is anything for you there. And if there isn't, why not start a group of your own?
Visiting the local markets is a great way to find people with similar interests. If at all possible, joining workshops is even better because you not only learn a new craft, but you get to know people who like doing the same things you enjoy.
See Something Special
Walk the little side streets of Bath and you will find cobbled streets and under appreciated nooks and crannies that often get overlooked. Search for signs of Roman history - a piece of an old stone wall, houses imitating Roman architecture. Even though I have lived here for some years now, I am certain I haven't seen even half of Bath's quirky bits.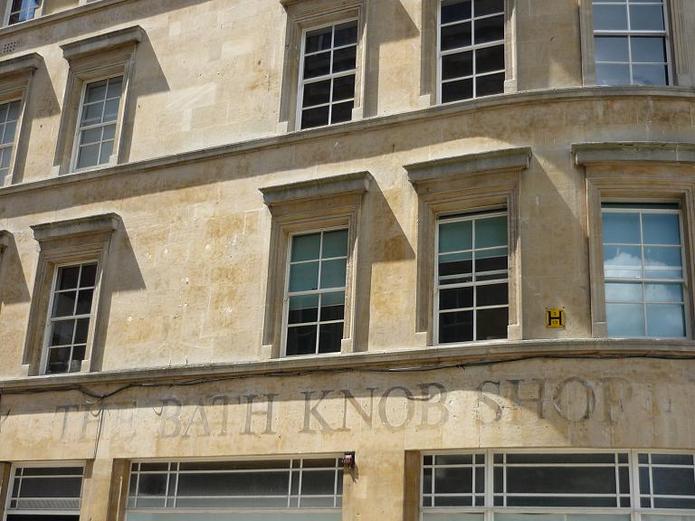 Have a Bath bun while you are here, and a Sally Lunn bun [4 North Parade Passage] for good measure. They are the city's signature bakes, I would say. Take lots of pictures, but most of all, take a part of Bath back with you in your heart.
Inspiration
The Roman Baths [Stall St] are definitely by far my favourite place to go. Especially the Great Bath is a beautiful place and if you are lucky, you might even see the two ducks who like to come and relax there on a regular basis. You will also encounter some Roman characters. If you have spent a whole day exploring the city, Thermae Bath Spa [The Hetling Pump Room, Hot] is the perfect place to unwind. It is a treat! I can recommend it unreservedly, whether you want one of their treatments or simply relax in the pools and steam rooms.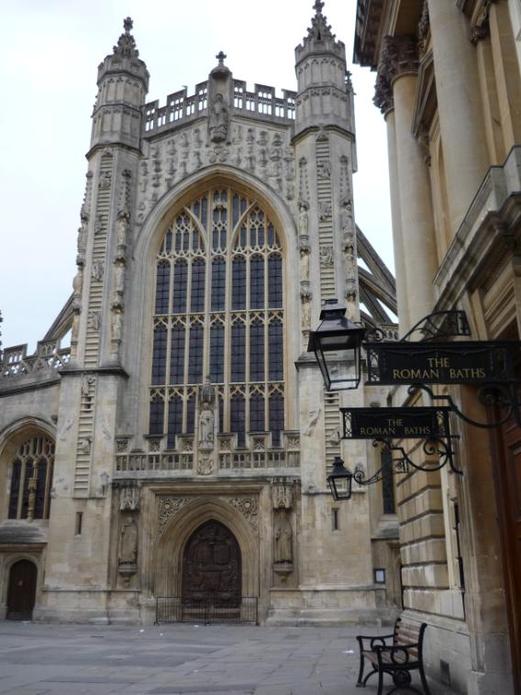 Bath has a number of museums, including small ones such as the Herschel Museum [19 New King Street] for astronomy enthusiasts. If you like fashion, check out the Fashion Museum [], visit The Museum Of East Asian Art [12 Bennett Street, Avon], and afterwards wander past The Circus [The Circus] and the Royal Crescent [Royal Crescent]. There is a lot to see!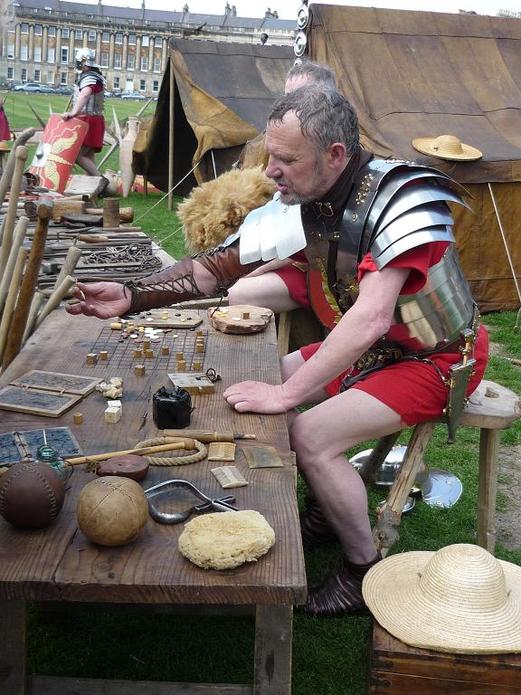 Even if I am repeating myself, The Roman Baths [Stall St] are a must! I have been there so many times and still come back with more photos each time. The architecture is beautiful and perhaps you can even have your picture taken with a Roman priest or craftsman.