" Although Chorlton is not a city, rather a small town 4 miles south of Manchester city centre, it could be said to earn its place as a Cut Out & Keep guide through its many attractions, vibrancy and popularity. It's well connected to the city centre and other areas and receives many visitors from close and far. (Thanks to Rachael McGowan & Kev Nolan for the photography) "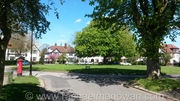 Shop
Chorlton is well known for its independent shops, treasured by the locals and visitors. On the food-front we have an amazing organic supermarket (Unicorn Grocery [89 Albany Rd, Manchester M21 0BN, United Kingdom]); good quality butchers (Frosts [12-14 The Square, Chorlton Place, Manchester]) and fishmonger (Out of the Blue [484 Wilbraham Road, Manchester]) as well as a Polish deli (Barbakan [67-71 Manchester Road, Manchester]) with its own bakery, a French deli and bakery (Ludo [46 Beech Road, Manchester]'s), and a grocery store (Elliotts [8 The Square, Chorlton Place, A6010, Manchester]) that is also an organiser and hub for hot food and clothing deliveries to homeless people in Manchester, among others.
You're spoilt for choice when it comes to locally made arts and crafts. Creative Recycling [40 Beech Rd, Manchester M21 9EL, United Kingdom] is a must-visit shop on Beech Road, selling imaginative and beautifully made recycled crafts, with a quirkily done up yard and a gallery/framers next door. The Chorlton Art Market [12-14, 12-14 The Square, Manchester] in the precinct hosts handmade items by a wide range of local people as well as a vintage clothing section. The Make It [488 Wilbraham Road, Manchester] Shop has a small section of handmade crafts, cards and pictures by local artists too. For some original handmade jewellery, visit Franny & Filer [70 Beech Rd, Manchester M21 9EG, United Kingdom].
Chorlton doesn't offer a huge amount with regards to clothes shopping although there are a number of charity shops where you might find a second hand item of interest but the prices aren't that tempting. For something quirky there's Punk n Disorderly [103 Manchester Road, Manchester] and Beech Road has a few some independent clothes shops too including original handmade clothing – and with prices to match.
For books we're really lucky to have Chorlton Bookshop [506 Wilbraham Road, Manchester] whose reviews and suggestions are always excellent, as well as an Oxfam Bookshop [605 Wilbraham Road, Manchester] for second hand books.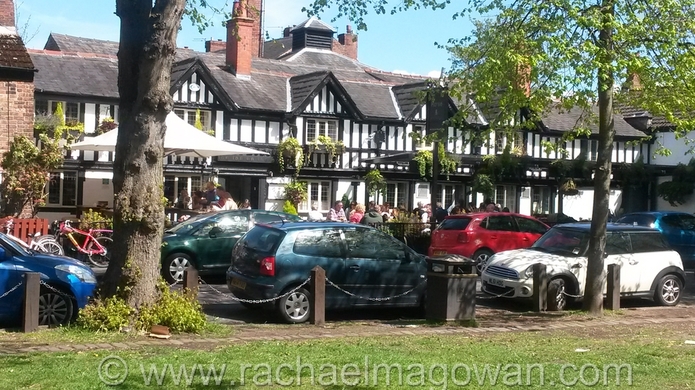 These shops are within a stone's throw from each other so do visit them all! Make It [488 Wilbraham Road, Manchester]! has a wide range of craft supplies including wool, and lots of all-in-one kits from the conventional to the quirky. There's loads of inspiring examples around the shop and a space for workshops and drop-in crafts like decopatch. Conrad Office & Art [593 Wilbraham Road, Manchester] stock higher end art supplies and stationery, also papers and card in all sizes. Chorlton Crafts & Gifts [1 Hardy Ave, Manchester M21 9AQ, United Kingdom] stocks all the essentials including card making supplies.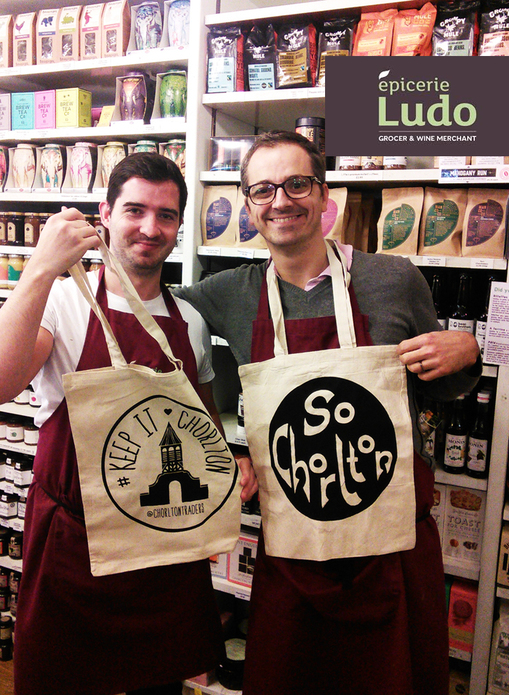 Eat & Drink
I looove eating out and it's brilliant not to have to venture far from home to do so, sauntering down the road to choose from squillions of amazing eateries. For an evening meal somewhere with a decent music that's not intrusive and a good atmosphere I like The Cellar Key [495 Barlow Moor Road, Manchester] who have a great menu and experiment with some wackier dishes in their weekly fish/veggie/meat specials. I've had some great food at Palate [516 Wilbraham Road, Manchester] and the new Grays Larder [123 Manchester Road, Manchester] and lots of positive noises are being made about MishMash though I've not made it there yet!
One of my favourite lunch places is Chapati Cafe [496 Wilbraham Rd, Manchester M21, United Kingdom] who make fresh home-style Indian thalis, and also Battery Park [615A Wilbraham Road, Manchester] for when you just want a nice baked potato or bagel and a healthy fresh juice. The Beech Road shopping strip has many restaurants, bars and cafes too, including the small but perfectly yummy Spanish tapas venue, Bar San Juan [56 Beech Road, Manchester]. There's also a whole row of eateries on Barlow Moor Road that offer the world on a plate including German, Japanese (Doring – you have to go there not just for the sushi but the excitably warm welcome), Caribbean (love the food, want to carve the cleverly upcycled palates wall off and take it home!), Spanish, Indian, Turkish and more!
If you're on a family outing Croma [1-3 Clarence St, Manchester M2 4DE, United Kingdom] is a very popular pizza place. There's quite a few middle eastern restaurants serving tasty fare including Nectar Bistro [404 Barlow Moor Road, Manchester] and Jasmine [569 Barlow Moor Road, Manchester] among others.
I have to admit I'm more of a savoury than sweet eater. People love Tea Hive [53 Manchester Rd, Chorlton M21 9PW, United Kingdom] which offers a wide range of cakes, light lunches and has evening events too. For vegan and gluten-free treats, visit Love Juice [93 Beech Rd, Manchester M21 9EQ, United Kingdom]. I have been hearing good things about the Dressing Room, a new café at our local community theatre. For freshly made coffee, there's Cocoa Tree [492 Wilbraham Road, Manchester] who also make chocolates – I've bought a few chocolate bars that they've decorated with messages – and The Barbecue Coffee House and Roastery [Barbecue,, 486 Wilbraham Road, Manchester] – is worth visiting just for the delicious smell!
I'm fond of a Campari but seem to have finished off the local stocks from the popular and easy to drink at The Bar so moved on to mojitos which I've enjoyed at De Nada [127 Manchester Road, Manchester], The Laundrette [32 Beech Rd, Manchester M21 9EL, United Kingdom] and The Beagle [458 Barlow Moor Rd, Manchester] - a popular bar with a large terrace and some tasty snacks though the music can be a bit loud. The Font [7-9 New Wakefield Street, Manchester] and Mono [535 Wilbraham Road, Chorlton-Cum-Hardy, Manchester] are worth a visit and they sometimes have live music too.
Craft
If the weather's nice, there's some lovely parks including Longford Park which has a café. We also have pretty new community garden next to the library – it hosts one of the boards with a map of Chorlton so worth a visit. Nobody will bat an eyelid if you get your sewing or knitting out in Chorlton, we're full of eccentricities! We had a lovely day for International Knit in Public Day in June, with a table full of people knitting and crocheting outside the Make It [488 Wilbraham Road, Manchester] Shop.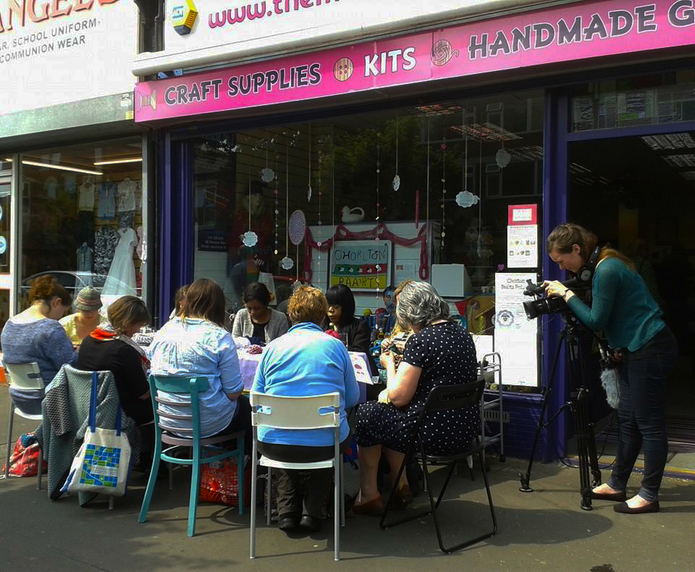 There are a couple of knitting/crochet groups, Knit Chorlton and Chorlton Knits who meet in local pubs. Also the Manchester Craft Mafia holds a variety of friendly sessions in Chorlton.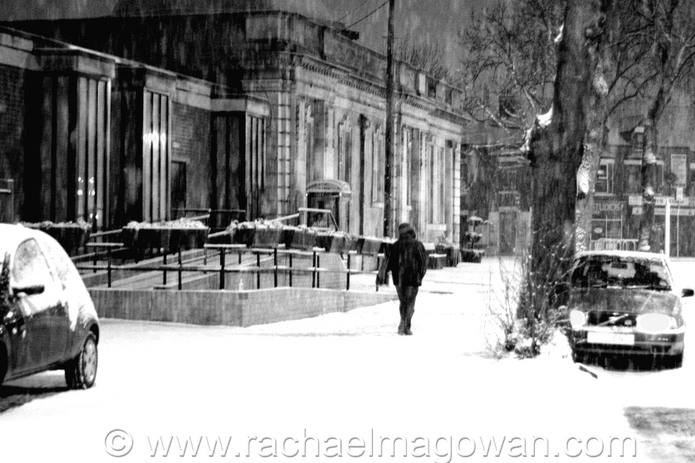 Chorlton Arts Festival runs every May and there are loads of opportunities to get involved. Over the years, I've had the opportunity to help usher at events, deliver programmes, staff their hub, run a recycled crafts exhibition in my home and organised a celebration of wool crafts for a shop window. Volunteers are all welcomed.
Joining a craft workshop is also a good way to meet people. Classes are run by Beetle Felt [23 Chatburn Rd, Manchester M21 0XP, United Kingdom], the Make It Shop [488 Wilbraham Road, Manchester], The Edge Theatre and Arts Centre [Manchester Road, Manchester] as well as in some church halls.
See Something Special
Local artist Anna Violet has painted a number of local landmarks and streets in her unique black and white 'art naive' style. Although the prints might be a bit pricey for some, there are also postcards and mugs available in local shops.
Inspiration
Chorlton hosts some great festivals including Chorlton Arts Festival with visual and performance art every May, a Book Festival in November and other festivals like Chorlton Beer Festival!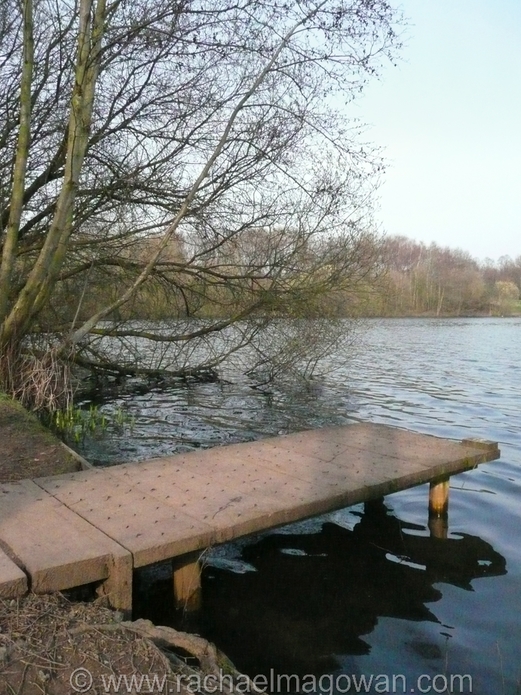 Chorlton holds a range of markets selling food, drinks, crafts and plants. There's a monthly one on Chorlton Green by the Horse & Jockey pub, Manchester Markets alongside the library and stalls outside The Post Box Cafe [543 Wilbraham Road, Manchester]. All worth a visit though, for my taste, they can be a bit 'cake-heavy' but that's probably a selling point for others!
For a bit of countryside in an urban area, there are parks with play areas including Chorlton Park [Nell Ln, Chorlton M21 7UD, United Kingdom], Beech Road Park [Manchester, United Kingdom] and Longford Park [Stretford, United Kingdom] which also has a community-run Pet's Corner and café. Chorlton Water Park [Maitland Ave M21 7WH, United Kingdom] offers a lovely one mile walk around a lake and the opportunity to explore more countryside around Chorlton Ees. It is bounded by the motorway but still amazing to have a wild space in such a build up area.