" The best thing about living in Leicester is the combination of old and new. There is so much going on in Leicester, you can almost walk from one era in to another within a minute. Fancy sitting in a bar that used to be a mint factory? Every wanted to experience afternoon tea in an atmospheric turn of the 20th century cafe? Leicester is the place to be. (Photography by Simon Brooke - https://www.flickr.com/photos/simon_brooke) "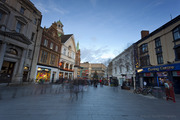 Shop
One of my favourite shops in Leicester has got to be Lush [11 Gallowtree Gate, City Centre]! With such friendly staff, you are are always bound to have an amazing experience! It great if you want to treat yourself to some wonderful smelling, cruelty free bath products or pick up something special as a gift. For something sweet, Cocoa Amore [34-36 Unit 14 Silver Arcade] in Silver Arcade is chocolate shop dedicated to chocolate run by a chocolatier who works towards combining classic flavours with unusual ones to tantalise your taste buds. If you have ever watched the film 'Chocolat' with Johnny Depp and Juliette Binoche and wondered what the store must have smelled like, you have found the right place. My ultimate favourite place to go in Leicester is the local comic book store, Forbidden Planet [23 Silver Street]. You can find me in there most weeks picking up something new to read.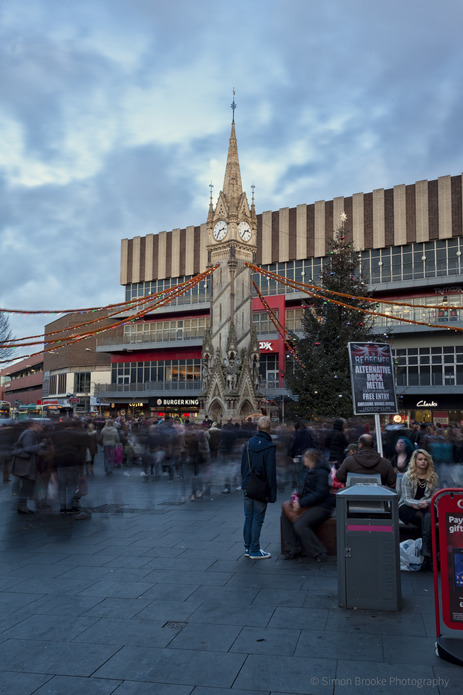 The Leicester Market [3rd Floor, Market Centre, 11 Market Place] is not only a great place to buy local produce but a source of all sorts of fabrics and craft supplies. Their are many stores in the town centre near the market that have almost anything you may need. The great thing about the market is that everyone is friendly and knowledgeable! If you are looking for anything in particular, market vendors are the best people to ask. Their are many local charity/vintage stores such as DollyMix Vintage [17b Cank St] and Pink Pigeon [17A Cank Street] to name a few, that carry wonderful thrifty things to up cycle and make your own. Leicester's famous 'Golden Mile' also has many stores filled with Indian fabrics.
One of my favourite bars Firebug [1 Millstone Lane] has artwork displayed on all their walls and often hold photography and art exhibitions showcasing local artists. Another great resource is www.creativeleicestershire.org.uk/www.madeinleicestershire.org.uk. There are also frequent vintage and craft fairs which are a fantastic place to not only pick up something different but sell some of your own crafty goodness.
Eat & Drink
Leicester is a highly cultural city and you can find food from all around the globe! The Highcross shopping centre is home to some of the UKs most popular eateries such as Wagamama [6 Highcross Lane], YO! Sushi [4 Highcross Lane], Zizzi's [26 Belvoir St] and many others. The multiculturalism of Leicester is certainly reflected in its cuisine. If you are looking for a true Leicester experience then visit any of our local curry houses. Leicester is the Curry Capital of England which is reflected in the city's famous Golden Mile, a stretch of Belgrave road with a huge abundance of Indian food amongst other hidden gems of craft, clothing and jewellery.
Being a busy university student, its always nice to sit and relax from time to time. One of my favourite cafes is Bru Coffee & Gelato [20-22 Granby Street, City Centre] on the Historic Granby Street. I find myself sitting their working on my dissertation with a trusty spiced chai latte by my side. Its on the route from the train station into the heart of Leicester, so definitely make a stop to enjoy the sweetest side of Leicester.
We are very lucky in Leicester to be home to so many bars. With two universities in Leicester, there is such a wide choice in nightlife. Some of my favourite cocktail bars include Firebug, Bossa Bar and the Turkey Cafe. Firebug [1 Millstone Lane] is not just any bar, but a popular place to go see live performances of comedians during the Leicester Comedy Festival and Musicians all year round. Built in 1901, The Turkey Cafe [24 Granby Street] features a flamboyant art nouveau facade and even better flamboyant cocktails. Every Tuesday is 'Turkey Tuesday' where you can enjoy 2 for 1 cocktails. During the daytime they also offer cocktail afternoon tea! This is great twist on a British classic! They also offer cocktail master classes for people learn how to make the Turkey cafes signature cocktails as well as any of your favourites. I highly recommend this for amateur cocktail enthusiasts and eager mixologists. Just a little down the road sits Bossa [110 Granby Street, City Centre] Bar, another cafe by day and bar by night. Its another fantastic place for students to come during the day and have one of the best cups of coffee in Leicester and some of the finest cocktails after a long day of lectures during the evening. Blended, shaken or stirred, these cocktails are guaranteed to be made by experts who are passionate about cocktails that challenge the norm. Who says happy is just an hour? You can guarantee that for every night of the week, there will be a a Happy Hour/2 for 1 cocktail night around Leicester!
Craft
When English weather permits, there is nothing better than sitting on a bench on the river soar to read, draw, craft or simply have a flask of tea. The benches near the canal situated near De Montfort University [The Gateway] are usually crowded with art students, sketching and photographing canal boats, rowers as well as the plenty of swans and ducks that are eagerly waiting for a tasty treat.
The Writing School Leicester based at the Adult Education College [2 Wellington Street] is a great place to get those creative juices flowing! The Leicester Print Workshop [50 Saint Stephens Road] is truly an awesome place. Open all ages of the community from schools and colleges, artists and the general public. Not directly in the city, the Leicestershire Craft Centre [10a High Street Market Harborough LE16 7NJ] also offers a wide range of courses and is a fantastic place to make friends and be apart of the craft community in Leicestershire.
Aside from the Leicestershire Craft Centre [10a High Street Market Harborough LE16 7NJ], I would recommend attending one of the many festivals that Leicester holds throughout the year. The Handmade Festival is a music and arts festival celebrating music, comedy, art, film, performance and photography that takes over Leicester every spring in collaboration with many of the local bars in the city centre.
See Something Special
Leicester is notably famous for its Heritage Ghost walks. Its a great way to see the city in a new light, or lack their of, at night. Obviously not for the faint of heart, but this spooky experience gives you an insight into the older part of Leicester.
Don't waste your money on silly souvenirs, spend your money on experiencing the food, culture and maybe even to go watch a live Rugby match! Save your money for those cocktail bars! A a popular greeting in the East Midlands is "Ey up mi duck" and bath toy ducks are probably the closest thing to a souvenir you may find in Leicester.
Inspiration
Leicester is one of the oldest cities in England with history going back 2000 years. With so much history, you can see it everywhere you walk in the city, from The Guildhall [Guildhall Lane] built in the 14th century and the King Richard III visitor centre where you can learn a bit of history and discover the greatest archaeological detective story told! My advice walking around Leicester is always look up! There are wonderful pieces of architecture around the city that you could so easily miss! Inspiration is everywhere!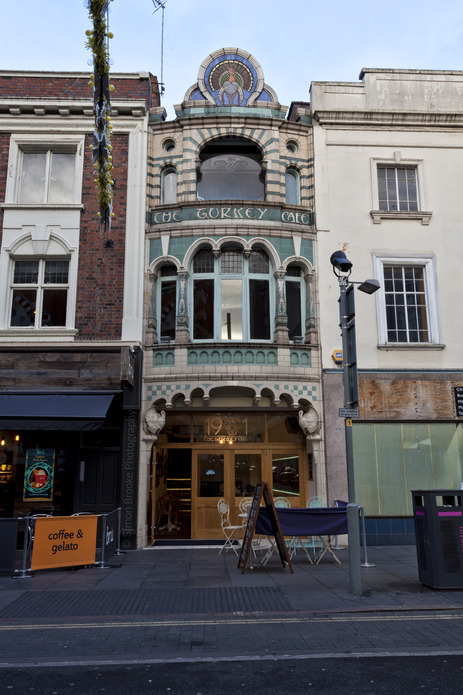 Bursting with History, you can take it all in just by walking around the city. If you ever decide to venture outside the city you can truly see some amazing sights such as the deer in Bradgate Park [Bradgate Hill, Groby], one of our many famous castles or even to Melton Mowbray, the home of the pork pie.
There are an abundance of Historical statues around Leicester and some wonderful architectural buildings to spot. Take a stroll along New walk on the way to the New Walk Museum & Art Gallery [53 New Walk] to walk through a tunnel of trees in the Victorian part of Leicester. This particularly great at any time of the year to watch the seasons change. Walking along the canal to feed the ducks is another great photo opportunity to see the riverboats whilst feeding the ducks and swans. The town hall square is considered one of the most picturesque place in Leicester with a bronze painted cast iron ornamental fountain built in 1879 in the centre of the square. The iconic Haymarket memorial clock tower is another place that most tourists visit on their trips to Leicester.