" The Isle of Wight offers plenty of variety within its 57 miles of coastline: as well as numerous beaches, you'll find open countryside, woodland, towns, historical landmarks – all conveniently close together! Passenger ferries from Portsmouth (22 minutes by fastcat with rail links on both sides), Southsea (10 minutes by hovercraft to Ryde) and Southampton (25 minutes on the Red Jet to Cowes) make a day trip from the mainland a good option if you're after a small taste of what the Island has to offer. But with hotels, guest houses, self-catering cottages and campsites available across the Island why not stay a while? "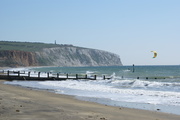 Shop
For some serious retail therapy head to Newport (the county town, in the centre of the Island) or Ryde – there are some gems among the usual high street stores. If you're in Newport look out for The Works [19 St James St] for books and crafts supplies at fantastic prices, and Dunelm Mill [Wakes Retail Park, Riverway] just out of town for homewares and sewing supplies. There are also some lovely jewellery shops, including Theodosia [13A St Thomas' Square] which always has a window full of beautiful pieces. Ryde is home to quite a few quirky little shops, including Crocus Interiors [46 Union St, Ryde PO33 2LF, United Kingdom] (lovely homewares, beautiful baby clothes and a selection of vintage items) and Splash [57 Union St, Ryde PO33 2LG, United Kingdom] where you'll find greetings cards, bags, scarves, watches and jewellery to suit a wide range of styles and budgets – the problem is choosing which one piece to take home!
If you're looking to venture further afield Shanklin [United Kingdom] offers a wide variety of shops, including various gift shops in the Old Village (and a thatched roof or two!) – Myosotis has a lovely range of shabby chic homewares and accessories. If you're in Godshill stop by Daisy Daisy [High Street, Godshill] for fair trade gifts, homewares and jewellery.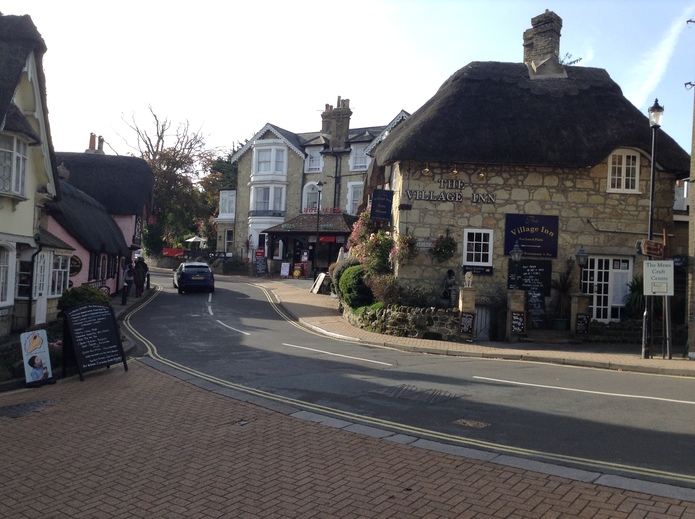 Among Newport's usual high street shops you'll find Wightcat Crafts [14 Carisbrooke Rd] who specialise in papercraft, card making and parchment craft supplies, and Forget Me Not [69-70 St James' St] where you can find something to suit most crafters' tastes. Quackers About Craft in Ryde stocks supplies for a wide variety of crafts, many of which are difficult to find elsewhere. Crafting Around [62 Regent St, Shanklin PO37 7AE, United Kingdom] in Shanklin [United Kingdom] is a small but well-stocked shop with a good range of papercraft supplies available.
If fibrecrafts are your thing try Strictly Knitting [61 Regent St, Shanklin PO37 7AE, United Kingdom] in Shanklin – as well as selling knitting and crochet supplies they offer a knitting-up service and knitting and crochet workshops. TAJ Crafts [United Kingdom] near Arreton has a good range of yarn, needles, hooks, knitting and crochet patterns, embroidery and cross stitch supplies and more, and the ladies in there are always happy to help. Rainbows [27 Pier St, Ventnor PO38 1SX, United Kingdom] in Ventnor packs a huge variety of fabric, yarn and haberdashery supplies into a small space! (And while you're in town why not stop off at Purple Moon Beads?) Alternatively, try Hellerslea [5 Lugley St] Fabrics Ltd in Newport or Sew N So [64 High St, Ryde PO33 2RJ, United Kingdom] in Ryde for sewing and yarncraft supplies.
If cake decorating is your thing Iced Inspirations [71 High St, Ryde PO33 2SU, United Kingdom] has a huge range of edible decorations, colours, flavourings, edible glitters, baking tins – everything you could think of! They also offer a cake tin and cake stand hire service.
If you're looking to sell the things you've made there are various regular craft fairs and markets across the Island, but one that really showcases local crafting talent is the I Love Wight Christmas Market. Alternatively, if you're looking for shelf space in a shop try Quackers About Craft in Ryde.
Eat & Drink
If you're looking for lunch head to French Franks [2 Saint Thomas' Square, Ryde] (in Newport and Ryde) for made-to-order sandwiches, wraps and paninis. Or Town Choice [6-8 Town Ln] in Newport offers baguettes and sandwiches as well as hot lunches, and a range of cakes. The Original Phils Dinner [81 High St] in Newport is an American-style diner offering huge portions of delicious food, as well as an ever-growing stock of American soft drinks, cereals, sweets and chocolates which are otherwise not available locally. Astoria is a newly-opened restaurant in Sandown offering an extensive burger menu; with rear ends of scooters as seating, booths made of pallet wood, and a bar made from reclaimed oak and old records, the surroundings are as interesting as the menu!
Or why not try one of the local farm cafés? The Allium Café at The Garlic Farm [Mersley Lane, Sandown] serves soup, cakes and biscuits as well as garlic bread. There is also a restaurant if you're after a bigger meal.
Sandown seafront offers various eating options, but a particular favourite is The Reef [48 High Street, Sandown PO36 8AE, United Kingdom], a bar, restaurant and hotel. Soak up the sun at lunch time with one of their speciality sandwiches served with salad and fries; or relax in the evening with one of the main meals and a cocktail.
There are pubs offering food across the Island. Try The Fighting Cocks [Hale Common, Arreton] near Arreton for good food at a good price; or visit The Culver Haven Inn [Culver Down Road, Bembridge, Sandown] for stunning views; or how about The White Hart Inn [Main Rd, Ryde, Havenstreet] in Havenstreet (just down the road from the steam railway!) or The Pointer Inn [High Street, Newchurch, Sandown] in Newchurch. The menu at The Taverners [High Street, Godshill, Ventnor] in Godshill is constantly changing due to the fact that they cook with locally-sourced ingredients which they purchase daily, so the dishes depend on what's available. Have a side order of hand-cut triple-cooked chips served in a bucket while you're there!
If curry's your thing try The Purple Mango [56 High St, Shanklin PO37 6JN, United Kingdom] (Shanklin and East Cowes), Red Chilli [27 High Street, Ventnor] in Ventnor or Monsoon [133 High St, Ryde PO33 2RJ, United Kingdom] in Ryde where the service and food are both excellent! For all-you-can-eat Chinese you can't beat Asia Fusion [77 Sandown Rd, Sandown PO36 9LE, United Kingdom] in Lake (on the road between Sandown and Shanklin).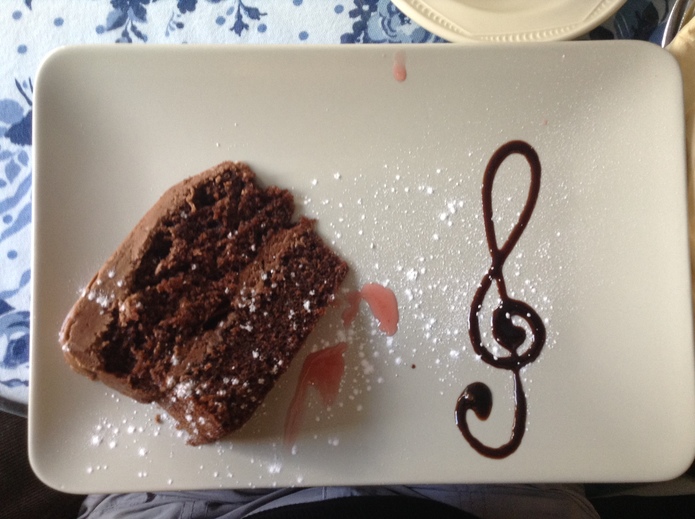 Sample the lavender ice cream in the Old Dairy Tea Rooms at Isle Of Wight Lavender [Staplehurst Grange, Staplers Rd]. If ice cream's your sweet treat of choice you have various options: keep an eye out for ice cream vans while you're out and about (there's usually one in the car park opposite the path up to the Pepperpot) or walk along the seafronts around the Island. Frozen Gelato and Bambini Gelato [102A High Street, PO] (both serve waffles and crépes as well as ice cream cones and sundaes) have both recently opened in Newport; Toppings Ice Cream Parlour along Shanklin seafront has a good selection of flavours and it's just over the road from the beach! Crave [The Ventnorian,, 5 Spring Hill, Ventnor] in Ventnor offers a smaller selection of flavours at any one time, but as they have different flavours every day it's the perfect opportunity to try something new!
Chocolate Island [United Kingdom, Godshill] in Godshill is a chocolate shop, chocolate studio and chocolate café all rolled into one. The café offers afternoon tea and chocolate tapas as well as well as a selection of cakes and other treats. If you're after a more traditional afternoon tea head to Shanklin Old Village and stop by the Old Thatch Teashop [4 Church Rd, Shanklin PO37 6NU, United Kingdom] – as well as various lunch options, cakes and desserts they offer a wide selection of cream teas including a savoury cream tea, farmhouse tea and muffin tea. Look out for the thatch teapot and teacup on the roof!
There are local pubs across the Island, many of which serve local ales, but if you want a traditional drinking establishment head to Newport Ale House. Ventnor seafront offers a range of pubs, cafés and bars – wander along and see what takes your fancy! Astoria in Sandown serves a variety of cocktails and craft beers, as does The Reef.
Craft
If you're after a crafting fix while you're on the Island how about some pottery painting? Fired Art Ceramics [151 High St, Ryde PO33 2HT, United Kingdom] in Ryde and Chessell Pottery Barns [Brook Road, Yarmouth] both offer a range of items that you can paint. Arty Shakes [3 King Arthur's Court, Portsmouth] in Shanklin combines pottery painting with milkshakes and waffles. They also have a selection of wooden items for painting as well as running a craft club for children which offers a range of different crafts. If you enjoy crafting in an outdoor space you're bound to find a spot at Ventnor Botanic Garden [Undercliff Dr, Ventnor PO38 1UL, United Kingdom] – plenty of inspiration for drawing or painting. Parkhurst Forest has a few picnic benches close to the car park, or Church Litten Park in Newport has benches and plenty of grass to sit on, and has the added bonus of being in town if you need more craft supplies! If you'd prefer to be indoors why not grab a coffee and craft in the café at Quay Arts [Sea St]?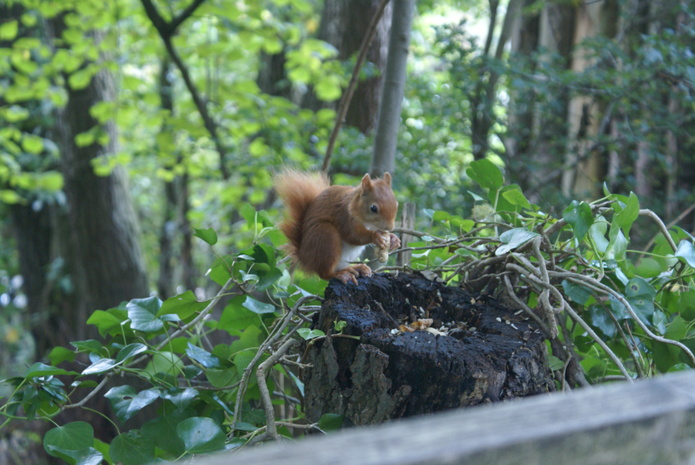 If embroidery is your thing check out the Isle of Wight Embroiderers – they meet once a month and run workshops in addition to the monthly meetings. Strictly Knitting [61 Regent St, Shanklin PO37 7AE, United Kingdom] in Shanklin runs a Knit & Knatter group once a month and TAJ Crafts has a UFO Group – bring along your latest project or UnFinished Object and enjoy a tea or coffee and a chat. The local libraries run various art and craft groups – visit the website for details of when and where.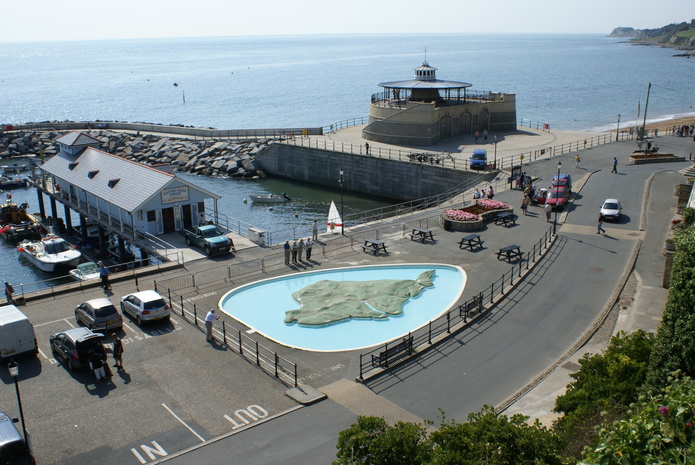 Cinderella's Lifestyle tea room in Shanklin is a great place to relax with a cup of tea and a cake. As well as offering weekly craft groups, you'll find various handmade items for sale, and the owners sit and craft between serving customers – a lovely atmosphere in which to relax and get creative, and maybe make some new friends!
See Something Special
Looking for something a bit unusual while you're here? If you're in West Wight head to Calbourne and take a stroll down Winkle Street – picture-postcard thatched cottages and a babbling brook! Nearby you'll find Calbourne Water Mill []. Bembridge Windmill [Bembridge Windmill, High Street, Bembridge] at the other end of the Island is the Island's only surviving windmill. Wightwood Pizza is a woodfired clay oven built into a vintage Citroën van – visit their Facebook page to see where they'll be next!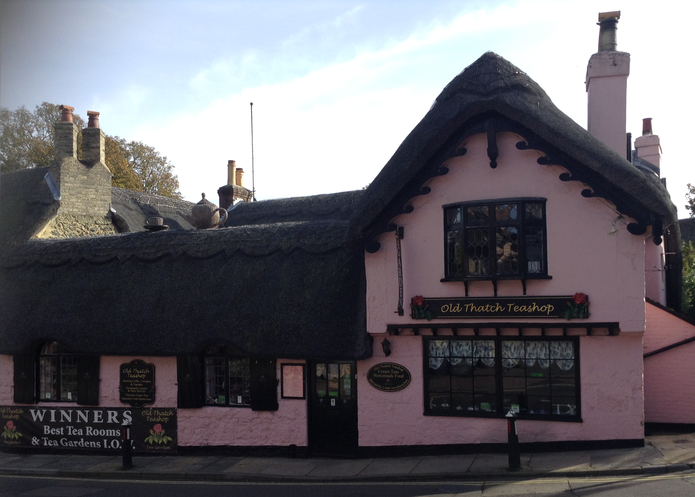 Follow in the footsteps of Victorian visitors to the Isle of Wight by taking home a sand bottle from Alum Bay – choose a shape and fill it with the 21 shades of sand, or buy a ready-filled item. If food's your thing visit The Cider Barn [High St, Ventnor PO38 3HZ, United Kingdom] in Godshill for home-produced ciders, wines, chutneys, biscuits; or visit the House of Chilli for various chill-based products ranging from the mild to the extreme, including jams, chutneys, sauces, marinades, spice blends, even chilli beer! They also sell whole dried chillis and chilli plants. As well as whole garlic, chutneys and sauces, The Garlic Farm [Mersley Lane, Sandown] sells garlic growing kits, kitchenware, limited edition prints, cookbooks and gift hampers. For a wide variety of locally-made gifts and souvenirs visit Made on the Isle of Wight [Bullen Mead, Bullen Road, Ryde] Ryde – they have something for everyone, so you won't go home empty handed! If you're on the beach pop some shells and beach glass in your pocket as a reminder of your visit.
Inspiration
If you take your crafting inspiration from nature there are plenty of options: head down to one of the Island's many beaches – pick up some shells or sea glass while you're there; or visit a forest – Parkhurst Forest, Firestone Copse or Borthwood are all lovely (keep your eyes open for red squirrels!); take a walk around the different areas at Ventnor Botanic Garden [Undercliff Dr, Ventnor PO38 1UL, United Kingdom] as well as visiting the children's playground, café, nursery and gift shop. If you'd like to look at other artists' work there's an art gallery above Ryde Library [Ryde, Isle of Wight, United Kingdom] with monthly art and photography exhibitions by local artists. Or why not visit Dimbola Lodge [Terrace Ln, Freshwater PO40 9QE, United Kingdom] in Freshwater, the home of Victorian photographer Julia Margaret Cameron? As well as the exhibition of her work they offer talks and tours, and photography workshops. Treat yourself to a Victorian Afternoon Tea while you're there! Quay Arts [Sea St] in Newport offers art exhibitions, film showings, theatre performances, courses and workshops and a craft shop full of locally made gifts. Quarr Abbey also has a gallery displaying work by local artists, as well as gardens, a tea room and a farm shop. Arreton Barns Craft Village [Main Rd] is home to Isle of Wight Glass, Wight Leather Craft, Mulberry Tree Wood and a host of other craftspeople and shops, as well as a lovely pub serving delicious food, a farm shop and a sweet shop.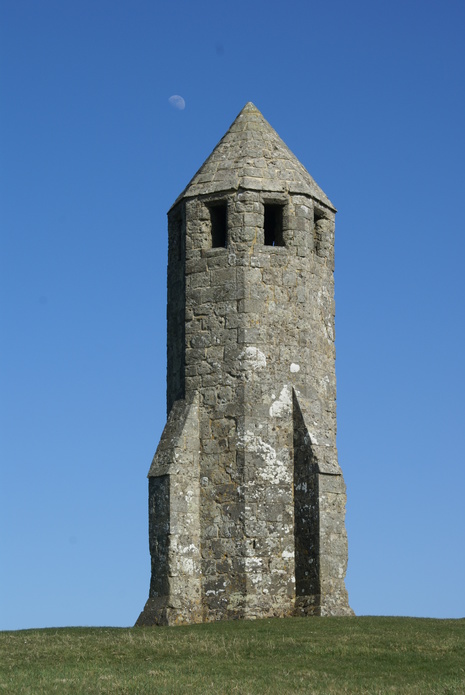 If you're looking for a family day out Blackgang Chine [Blackgang Chine] has something for everyone: visit Cowboy Town or Fairy Land, discover life size moving dinosaurs, try the rides and slides, take a walk through the water gardens or grab an ice cream. Or you could go to Blackgang's sister site, Robin Hill [Downend] Country Park: climb the Squirrel Tower and then walk along the Canopy Skywalk, zoom down the toboggan run, go on an adventure in the Time Machine 4D cinema, stroll around the gardens or visit the miniature village – entertainment for all ages!
If animals are more your thing the Isle Of Wight Zoo [Yaverland Road, Sandown PO36 8QB, United Kingdom] is well known for its tigers; Amazon World Zoo [Watery Lane, Newchurch, Sandown] focuses on conservation, housing a wide range of rare and exotic animals; or head along to the Monkey Haven [5 Acres Farm, Staplers Rd] to see monkeys, lemurs, owls and more! West Wight Alpacas [Wellow Alpaca Stud, Main Rd, Yarmouth] combines animals and yarncraft – wander round the farm, walk the alpacas, grab some lunch in the café bistro and purchase some yarn for your next knitting project while you're there. If the Island's Jurassic heritage interests you, head to Dinosaur Isle [Culver Parade, Sandown], a pterodactyl-shaped interactive museum housing the Island's geology and fossil collections.
As well as a farm shop and restaurant, Tapnell Farm [Tapnell Farm House] offers calf feeding, an indoor playbarn and a giant jumping pillow. Stay at the farm in one of the self-catering cottages, an eco pods or a safari tent! Fort Victoria Country Park [Fort Victoria, Westhill Lane, Yarmouth] is home to a planetarium, model railway and an underwater archaeology centre, as well as offering plenty of walking opportunities in the surrounding woodland and seashore. Alum Bay and The Needles [Alum Bay New Road, Alum Bay], the most westerly point of the Island, host a range of attractions and rides including a chair lift down the side of the cliff and boat trips around the coast.
Historical landmarks include Carisbrooke Castle [Castle Hill] and Museum and Osborne House [York Avenue, East Cowes] (Queen Victoria's Island home), as well a The Isle of Wight Steam Railway [The Railway Station, Havenstreet] which runs five miles from Wootton to Smallbrook Junction. Brading Roman Villa [Morton Old Road, Brading] offers a glimpse into the Island's Roman history.
If you happen to be in Sandown stop by Glory Art Glass [22 Melville St, Sandown PO36 8HX, United Kingdom]: sit and watch the glass blowing for as long as you like, then purchase a piece to take home.
If you're looking for an evening's entertainment there's a cinema in Newport; alternatively, why not see what's on at one of the Island's theatres – Medina Theatre or the Apollo Theatre [Pyle St] (both in Newport), Shanklin Theatre [Prospect Road, Shanklin] or the Winter Gardens [Ventnor, Isle of Wight, United Kingdom] in Ventnor.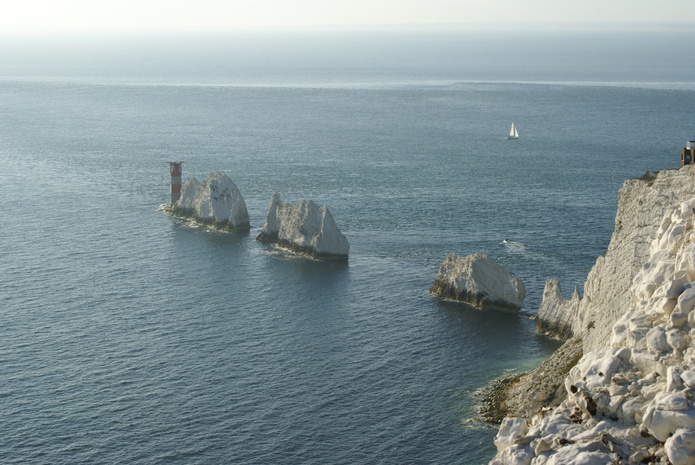 The Isle of Wight offers plenty of photo opportunities with its fantastic scenery. Head to the south coast for some stunning views stretching right along the coastline to the needles; have your photo taken next to the Pepperpot (officially known as St Catherine's Oratory [English Heritage, St Catherine's Oratory, Chale]), an octagonal tower built in 1328; or visit Shanklin Chine [3 Chine Hill, Shanklin] and photograph the waterfall and lush plantlife. If you happen to visit Blackgang Chine [Blackgang Chine] make sure to get a photo with the giant smuggler standing outside the entrance!