" Nottingham is a small city, but packed with things to do! "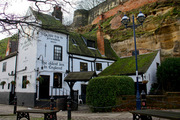 Shop
With 2 indoor shopping centres as well as loads of independent shops, Nottingham is great for shopping! The City is compact so you can cram a lot of shopping into a trip. If like me, you love rummaging through vintage items and collectables, then Hopkinson [21 Station St] near the train station is heaven. They even have a café (always a bonus!).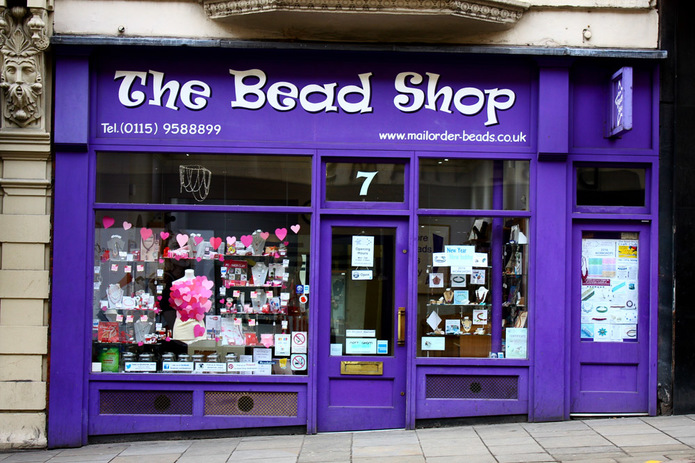 Nottingham caters for your craft shopping needs too- The Bead Shop [7 Market St] has been running for 16 years, selling all manner of jewellery making supplies, including Swarovski crystal beads and run a variety of workshops. For the more yarn based crafts, Knit (Nottingham) [91 Mansfield Rd, City Centre] is a treasure trove of wool and what owner Eleanor doesn't know about knitting and crochet, isn't worth knowing!
Handmade Nottingham [16 St James's St] is little treasure trove of local artists and designers goodies, with everything from jewellery to prints and homeware.
Eat & Drink
Nottingham has a lot of places to eat. Whatever type of food you fancy, Nottingham probably has it. Georges Fish And Chip Kitchen [Queen St] is a modern take on the traditional fish and chip restaurant, perfect for a break from shopping. If proper American style burgers are your thing, then you have to go the Annies Burger Shack [5 Broadway]! Originally from New York, Annie makes hands down the best burgers!
For a daytime treat, Nottingham also has lots of lovely cafes. If you are a tea fanatic like me, then Lee Rosy's Tea [17 Broad St] is a must. They have over 100 types of loose leaf tea on offer as well as some yummy sandwiches and cakes. For something a bit unusual, Kitty Café [31-, 35-37 Friar Ln] allows you to eat your lunch or afternoon tea in the company of their rescue cats. Make sure you book a slot in advance!
Nottingham has enough bars and pubs that you could probably visit a different one every day of the year. My favourites are The Malt Cross [16 St James's St] is a unique venue that is a café by day, bar by night and also houses arts and crafts workshops in their refurbished gallery space. It is a former music hall with a roof shaped like a boat and a really lovely feel. No pub crawl in Nottingham is complete without a visit to Ye Olde Trip To Jerusalem [Brewhouse Yard]. Built into the sandstone caves at the foot of Nottingham Castle, this is one of the oldest pubs in Britain. Traditional pub food, a good range of drinks and a very unique atmosphere.
Craft
Nottingham is quite craft –friendly. I have sat crocheting and beading in many of its open spaces, cafes and pubs.
If you like to combine you crafting and social activities, there is a range of groups that meet. Knit in Notts are a friendly knitting group that meet 6pm on Tuesday at Broadway Cinema [14-18 Broad St] as well as organising regular pub knits. The Bead Shop [7 Market St] hosts a weekly bead group on a Monday night 5-7pm where you can enjoy a cup of tea or coffee and the company and knowledge of other beaders. The Nottingham City W.I. Craft group is open to all and meets on the 4th Wednesday of the month 6-8pm at The Crafty Crow [102 Friar Ln] pub, just bring yourself and whatever crafty project you have on the go!
For something a bit more organised, there are lots of places running craft workshops. Debbie Bryan [18 St Mary's Gate] in the historic Lace Market area of the city, hosts fabulous workshops by specialist craft makers. The previously mentioned Malt Cross [16 St James's St] and The Bead Shop [7 Market St] also host a great variety of classes and workshops throughout the year.
See Something Special
Nottingham has a fascinating system of caves, carved out from the soft sandstone rock that the city is built on. There are tours running from the Castle [Lenton Rd] and the City of Caves [Drury Walk, Upper Level, Broadmarsh Shopping Centre, Nottingham] attraction. One of the most unusual attractions in The Galleries of Justice Museum [High Pavement, United Kingdom] - a museum dedicated to crime and punishment! Led by costumed guides, you are taken through a courtroom to various
The city was once famous for its lace production and you can buy some gorgeous examples. Or you could just buy a Robin Hood hat and wooden sword!
Inspiration
Nottingham has a great public transport system, with lots of buses and trams taking you about the city and the surrounding areas. When I need some inspiration, I hop on a bus to Wollaton Park [Lime Tree Ave]. It's a great place to get some fresh air in the parkland, visit the house with its natural history collection and of course have a cup of tea in the café.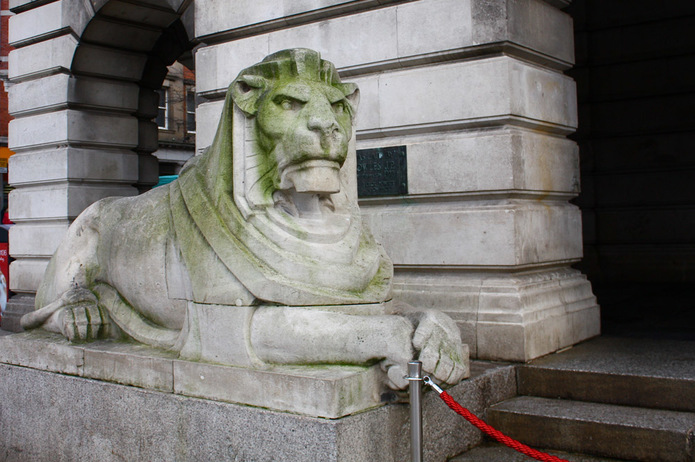 If you are an art lover the Nottingham Contemporary [Weekday Cross] is a must see. One of the largest arts centres in the UK, it features a varied program of exhibitions, events and talks. Oh, and it had a great cafe bar! When you mention Nottingham, most people think Robin Hood. Head to the Castle [Lenton Rd] (which is actually a mansion building on the site of the original castle!) which has gardens, art galleries and yes, a Robin Hood exhibition! It also boasts an amazing view over the city.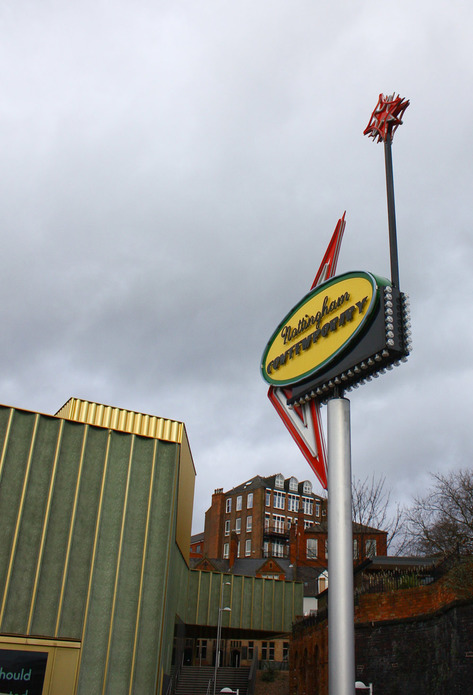 You have to get you photo taken with the bronze of Robin Hood that sits just outside the Castle [Lenton Rd] entrance. It's the law. When meeting friends, the large Market Square is the place, particularly next to the 'Left Lion'; one of the two stone sculptures that sit outside the council hall. Don't know why the right lion doesn't get as much love. Its just the way it is.