" Plymouth is known as the Ocean City. The best thing about living here are the stunning views. The open sea on one side and the rugged moorland the other. Plymouth caters for most people, with the Barbican and cobbled streets, restaurants, antiques and variety of shops. The city centre and the new Drakes Circus shopping mall for the hardened shoppers. The Royal William Yard, the place to be for for food and meeting people. "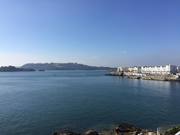 Shop
Some of my favourite shops on the Barbican are Whatnot Wood Craft [10-11 Southside St], who sell a lovely range of wooden goods, which can be personalised. Pretty Little Things, they upcycle furniture with beautiful chalk paints and papers. Make is a hidden gem selling beautiful fabrics, they offer sewing classes and have a very small but well stocked cafe. In Drake Circus [1 Charles St] there is a lovely store called Tiger [1 Charles St], they have an eclectic mix of goodies for the home, kids and sweet treats. In the Royal William Yard [Royal william yard, Admiralty Rd] there is a bakery, the smells alone are inviting and the baked products some of the best you'll try.
Craft suppliers in Plymouth range from the giants like Hobbycraft [B3, Friary Retail Park, 1 Exeter St] and The Range [Unit 29-34, Sugarmill Business Park, Billacombe Rd]. But there are also smaller bespoke sellers like Make [140 Vauxhall St], The Art Side [42 Mayflower St] and Wool Palette [21 The Broadway]. Make really covers the unusual with a good selection of sewing kits, fabrics and haberdashery. They have some really distinctive buttons. Art Side have a huge selection of art supplies and offer a comprehensive range of printing facilities. Wool Palette, although not a large shop, its always incredibly well stocked with a huge range of wool. They even have space for a table to host knitting and sewing lessons. They also offer package deals.
For people like me who have a passion for craft, there are some places where you can sell your handcrafted items. There are frequently chances to rent a pitch in The Royal William Yard [Royal william yard, Admiralty Rd] for one of their many street markets. There is a collective on the Barbican called Peninsula Arts [] and they work together to run a small outlet. Make [140 Vauxhall St] will also display work for a small commission.
Eat & Drink
You really are spoilt for choice on places to eat in this city. On the Barbican you can sit out on the cobbled streets and take your pick from traditional British fish and chips, to the more exotic Himalayan spiced cuisine. The place of choice for foodies is The Royal William Yard [Royal william yard, Admiralty Rd]. Le Bistrot Pierre [New Cooperage], with their French flair. Wagamama's [8 Royal William Rd] with their Asian mix. And The River Cottage [Royal William Yard] Canteen, championing the best of local produce. The sheer number of places to eat, mean that wherever you are in Plymouth there's usually something to suit your taste and budget.
If you really have a sweet tooth, then stay with the Barbican. Here there are two fudge shops, where you can stand and watch the copper pots bubbling with molten sugar. You can watch as they pour it out onto cold marble tables to set. The smells are simply divine and you really can't avoid making a purchase.
If you come to Plymouth then there is really one huge must. You have to visit Plymouth Gin [Black Friars Distillery, 60 Southside Street], I have to say that this is a personal favourite and can only be made here in Plymouth. It's heady mix of botanicals produce a beautifully dry gin. What better place to savour it than to drink it where it's made. You can even go on a distillery tour and try out and explore all its ingredients.
Craft
The Bread and Roses [62 Ebrington St] is a community arts hub. They sell organic, fairtrade food and drinks. It's a social enterprise pub and is really the heart of the area. You wouldn't be out of place here if you turned up with your knitting, sketchbook or snapped a few of the local characters with your camera.
Make [140 Vauxhall St] hold regular courses in their shop, they are very popular, so fill up quickly. So if sewing is your thing this is a place to go. The Family Foraging Kitchen also hold day courses and you can even weave your own foraging basket, to take out on one of their wild food walks. Peter Lanyon Furniture [Lambside Farm, Newton Ferrers PL8 1HG] hold courses on traditional wood working skills. If you've ever fancied a bit of stool or chair making, then it is well worth checking their calendar. The Mad Hatters Studio, is a fantastic place to while away the hours. They run lots of courses from upcycling, claywork and textiles. there is something there to interest even the more adept craft maker.
Plymouth Arts Centre [38 Looe St] is an amazing place to meet like minded people. They have a contemporary art gallery, a cinema which has some superb independent films and a cafe/bar where you can just simply chat to friends.
See Something Special
I suppose like any old city there is a quirky side. The first of every month sees the Ghost walks, an informal walk around the Barbican delving into some of the gruesome and spooky tales of old. You can have tea at the top of the tower in The Duke of Cornwall Hotel [Millbay Rd]. Search out the sea serpent on the Barbican for an unusual photo opportunity.
So when it finally comes to leave, what would I suggest you take with you. I would certainly take a bottle of Plymouth Gin [Black Friars Distillery, 60 Southside Street]. Go into Jacka Bakery [38 Southside St] on the Barbican. This old bakery made the ships biscuits for the crossing of the Mayflower. I'm not suggesting you buy ships biscuits, but it is an amazing artisan bakers. Finally the one thing you will have to take with you are all those lovely memories and photos from your stay here. There certainly will be plenty of those.
Inspiration
What shouldn't be interesting about Plymouth. Out of all the places called Plymouth in the world, this is the original. A simple stroll around the city, a boat trip from the Barbican or a walk on Dartmoor [Yelverton PL20, UK], would provide a feast of influence. There is so much that you can see and do. It's an exciting time in the city as the Museum [Drake Circus] is undergoing a transformation. Having said that there is still so much to see and do. The Elizabethan House [32] will take from the hurley burley of modern life, to the very sparse life of the time. Low ceilings and dark wooded panels. The Merchant's House [33 St Andrew St], another time capsule is worth a visit. It is crammed with Victoriana and memories from the Blitz. If you really like a walk pick up a copy of the city coast path book, Plymouth Waterfront Walkway. It's nearly 9 miles long. It starts at the welcome mat at Admirals Hard and finishes with another welcome mat at Jennycliff. The walk winds it way around the coast and to make it interesting there are hidden gems along the way: like the pile of gold bullion that stood near the docks, with only an unarmed policeman to guard it.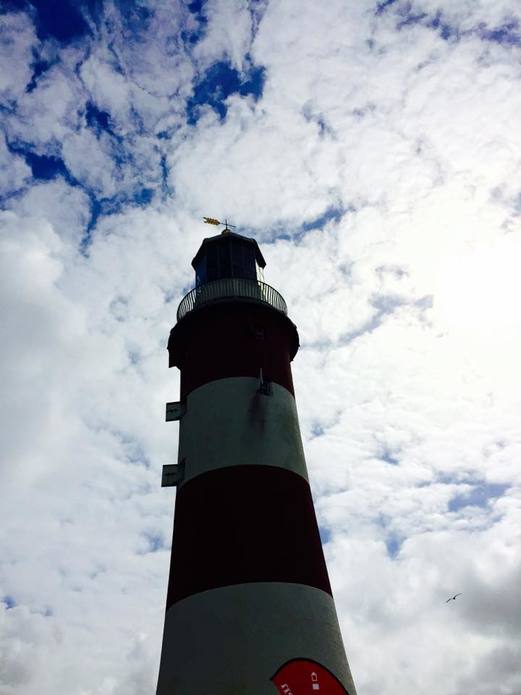 Take a stroll on the Hoe [], a huge promenade. You can't miss Smeaton's Tower [Hoe Rd], the red and white lighthouse, that must surely be one of Plymouth's most iconic buildings. Wind your way up the stairs to the old lamp house for some stunning Views. Just a short stroll away, you can take a rest and sit yourself down where The Beatles once sat in 1967. If you fancy a dip, then Tinside Lido [Hoe Rd] is well worth a try. Full of nostalgic 1930s Art Deco charm. They even hosted a showing of 'Jaws ' there this summer. For a small fee you can catch the Cawsand Ferry [2-5 Commercial Wharf, The Barbican] and chug across the border into Cornwall and the two very charming villages of Cawsand and Kingsand. If you want something a little different, then I can highly recommend The Family Foraging Kitchen. They run bespoke courses on finding seasonal foods in the Plymouth area. They also traditional skills classes, like basket making and hedgerow chairs.
The top five for most people for a photo opportunity in Plymouth are the Mayflower Steps [6 The Barbican], where the founding father's set sail from, to go to America. Smeaton's Tower [Hoe Rd] either stood at it's base or in the light house at the top. Don't just take a snap of the view from the Hoe [], recreate the fab four, sit where they were, take in the same view and get snap happy. Cap'n Jaspers [Whitehouse Pier] a unique open cafe on the Barbican. This quirky little spot is well deserved of a quick snap. And finally Plymouth Marine Centre [Pomphlett Quay, Billacombe Rd] with some of the largest tanks in the country. There are plenty of opportunities and even a chance to sleep with the sharks!