" Belfast is a great blend of history and heritage meeting an influx of modern trends and ways of thinking. In many ways still up and coming, the city has a burgeoning cultural life with pop up shops appearing in which to try new foods or buy beautiful, handmade crafts. A staple of city life is the availability of a pint and a friendly face to share it with - Belfast people love a good 'yarn', especially when it's a chat with a visitor! "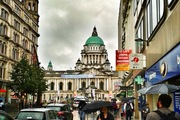 Shop
Some of the best shops to visit in Belfast are those owned by local traders. No Alibis [83 Botanic Avenue] bookshop on Botanic is a quirky emporium of academic and popular texts where the owner will gladly offer you a free cuppa while you browse. Just down the road is The Rusty Zip [28 Botanic Avenue], a student go-to for cheap vintage clothes and perfect spot to find your next sewing project. A lovely store to visit is the gift shop in the Ulster Museum [Botanic Gardens], selling local crafts amid inspiration-filled books, and Avoca [Arthur Street] in the city centre is a hive for well-designed homewares, beauty products, clothes and children's toys - somewhere to envision your crafting aspirations!
Great places to buy craft supplies are dotted throughout Belfast city centre, with a few gems just beyond. Craftworld [23-29 Queen Street] is the first stop for many crafters, catering for a wide range of interests from knitting and paper crafts to painting and doll's houses. The Lucky Magpie [35 Church Lane] is a find for jewellery makers, glittering with strings of beads and parts, Learning SPACE [11A Fountain Centre, College Street] is great for children's crafting and Craftswoman Fabrics [Kilroot Business Park, Kilroot Park, Carrickfergus] just beyond the city centre in Carrickfergus is a little known wonder for fabrics and really knowledgeable staff.
The craft scene in Belfast is really starting to grow with increasing outlets for crafters to sell their handmade items. One of the most sought-after spots is a stall in St George's Market [12-20 East Bridge Street] on a Saturday, but be prepared to wait as there is a long waiting list and quite strict policy on absences in selling periods. Other places include the pop-up craft markets run by The Dock Café [2K Queen's Road] in the Titanic Quarter, occasional fairs in The Black Box [18-22 Hill Street], the monthly Fine and Dandy market in the Crescent Arts Centre [2-4 University Road] and the ever-glamourous Frock Around the Clock Vintage Fair which pops up around Northern Ireland.
Eat & Drink
As with a lot of places the best spots for food in Belfast can be found by following the locals. Doorsteps [455 Lisburn Road] sandwiches are hard to beat, with a huge selection of speciality ingredients filling slices of bread (as high as a doorstep) for really reasonable prices. Greens Pizza [549 Lisburn Road] on the Lisburn Road remains a favourite for fresh, homemade pizzas, and Black Bear Café [17 Stranmillis Rd] provide great fare for vegans, vegetarians and anyone who loves unusual soups. The Cathedral Quarter is home to numerous hip restaurants - my favourite is Made In Belfast [Units 1 & 2, Wellington Buildings, Wellington Street, Belfast] with its selection of locally-sourced ingredients informing modern Irish cooking - and Birdcage [92 Stranmillis Rd] is a great place to share posh chicken skewers served in miniature buckets.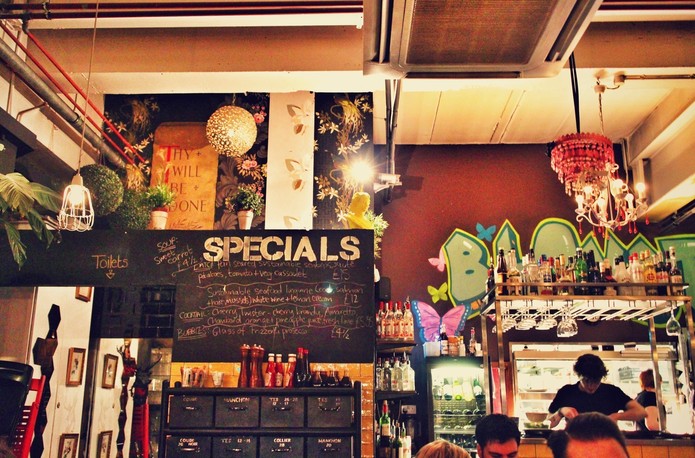 If you're looking for a sweet treat head straight to Mauds Ice Cream [320 Shankill Road] on the Lisburn Road for cakes, pastries and locally churned ice cream sundaes. Clements [139 Stranmillis Road] cafes serve great, chunky scones in a variety of flavours, and Aunt Sandra's Candy Factory [60 Castlereagh Road] is a fun visit for anyone with a taste for old-fashioned candies, all handmade instore. Co Couture [7 Chichester Street] is a gourmet chocolate store tucked away in a basement in the city centre but don't let that dissuade you - the staff are warm and welcoming and the hot chocolate is the best in town.
Belfast has a great pub culture and though every tourist guide will tell you to visit, the Duke of York in a cobbled alleyway really does have great atmosphere and traditional decor to enjoy. Filthy Mcnastys [45 Dublin Road] beer garden is a popular student hangout and though tiny (around 4 tables in total) The Spaniard [3 Skipper Street] is a fun spot to begin a pub crawl in the Cathedral Quarter, its doors opening out onto the street in warmer weather. The Belfast Empire Music Hall [42 Botanic Avenue] is a city institution with cheap eats during the day and a varied programme of entertainment at night, from Abba tribute acts to local band jams, Salsa lessons and vaudeville cabaret.
Craft
Some of the best places to sit and craft include Botanic park on a sunny day, Common Grounds Cafe [12-24 University Avenue] - a social enterprise with lovely big tables for spreading out your work - and you could always get a drink in Aether & Echo [11 Lower Garfield Street] or Alley Cat [46 Church Lane] bars and snuggle into a booth while listening to a reliably hip soundtrack or live music at the weekend.
If you're looking for craft clubs, groups and organisations in Belfast a comprehensive resource for information is Craft NI, which details local groups and events for crafty types. The Textile Studio [2B Sandown Road] run a number of knitting and crochet clubs, James Street South Restaurant [21 James Street South] run a cookery school to hone your skills in the kitchen and the Urban Arts Academy offer courses and training for design-based arts.
Some of the bets places to make new crafty friend in Belfast are at the many craft events run throughout the region such as Craft Fest, which takes place along the Ards Peninsula, or through chatting with makers at St George's Market [12-20 East Bridge Street]. The area around the Art College [25-51 York Street] in the city centre is full of interesting, artistic people making and organising pop-up shops, so get yourself to Clements [139 Stranmillis Road] cafe or the college itself to hang out with fellow crafters.
See Something Special
Some of the quirkiest sites in Belfast lie close to the harbour, where you can walk down to the back of the Odyssey Arena and on one side see the city nestled at the foot of the mountains and on the other gaze up at the iconic Harland and Wolff [] cranes - affectionately named David and Goliath - taking a stand on the industrial coastline. Also worth a peek is the interior of Cafe Vaudeville [25-39 Arthur Street]; housed in an old bank building, the Art Nouveau decor is lavish and otherworldly with vaulted ceilings and echoes of jazz era swing.
For a more unusual Belfast souvenir seek out a book of poetry by Irish writers published by local publisher Blackstaff Press, or one of many gorgeous handmade gifts - such as an Aran jumper - available in the Belfast Welcome Centre [9 Donegall Square North].
Inspiration
Belfast is full of places to visit for inspiration. From taking in the sights of the city from the Belfast Castle [Antrim Road] on Cave Hill to mingling with the glitter-adorned clubbers on a night out in the Kremlin Night Club [96 Donegall Street] gay bar, there is something to spark an idea or provide a visual unique to Belfast city. The Linen Hall Library [17 Donegall Square North] is a mahogany-decked sancutary right in the city centre, a beautiful multi-level building full of historical records and antique books in a pleasantly studious setting. The political murals on the Falls and Shankill Roads [Shankill Rd] are a great example of street art with a message, and the Ulster Museum [Botanic Gardens] offers the possibility of time travel from modern fine art through to Edwardian dress, an Egyptian mummy and prehistoric animals built to scale. Corn Market [Corn Market] in the heart of the shopping district is a mecca for buskers and street artists, and the sculpture in the centre of the area provides an ideal spot to sit and people watch among its undulating wheels.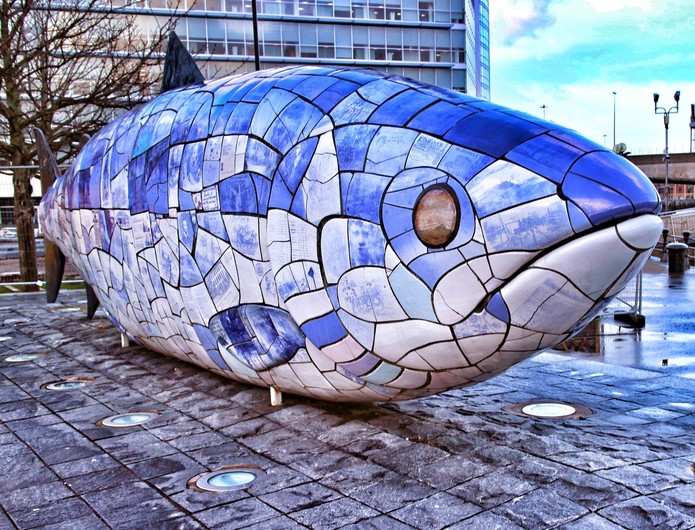 A city with a rich and colourful past, Belfast has many non-craft related attractions for those with an eye to history. The Crumlin Road Gaol [53-55 Crumlin Road]tour is illuminating if not a bit visceral and the new Titanic Belfast [1 Olympic Way], designed to feel like the inside of a great liner, sits nicely among the preserved remnants of the shipbuilding era. For those who prefer to consider the modern side of life the Queen's Film Theatre [20 University Square, Northern Ireland] cinema show a great range of non-mainstream movies and if you fancy a treat, afternoon tea in The Merchant Hotel [16 Skipper Street] is 5* indulgence.
Having gathered a strange cult following in recent years, the 'big fish' in Belfast is a must to have your photograph taken with. A giant mosaic tile sculpture, the big fish is a local favourite and, increasingly, a tourist attraction. Other great places to take a photo in Belfast include the glass dome at the top of the Victoria Square Shopping Centre [1 Victoria Square] with its panoramic vista of the city, and further up the coast near Portrush, the Giant's Causeway is an extraordinary natural wonder - pillars of hexagonal rock rise along the coastline and invite you to hop, stomp and pose for a unique photograph.