" The stories! The atmosphere! All those little undercurrents of mystery, history and gothic horror. There's the feeling that something, somewhere is happening and if you are lucky you might just stumble into it. "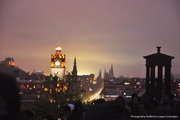 Shop
In some respects it's maybe easier to name streets to go shopping on. The Grassmarket [Grassmarket] has kitch and boutiques galore, from joke shops, old book shops, bizarre hat shops (ever seen an Irn bru helmet?) and Mr Woods Fossils [5 Cowgatehead] shop. Also, vintage lovers rejoice get yourself down to Armstrong's [81-83 Grassmarket]. It's like your mad Aunties cupboard stuffed with fashion from the last hundred years or so. Unfortunately some of the more glam items are for display only but you can always find something unique there.
Cockburn Street [Cockburn St] (pronounced CO – Burn, if you want to blend in with the natives) is good for alternative fashion (check Pie In The Sky [21 Cockburn Street]) and something a bit different. Princes Street [Princes St] has your high street fashion but is also home to Jenners [48 Princes Street]' (now a house of Fraser). It is worth a look in, simply because it's the oddest department store ever. As two buildings run together it has lifts that go to some floors only and an opulent gallery filled with beautiful (and horrendously expensive) goodies. In fact see if you can get a copy of John Collier's "Evening Primrose" and tell me you can't imagine people living in secret there.
Stockbridge [Stockbridge] and Dean Village [Dean Path] is another cute little place with lots of craft and art stores and also happens to be accessible from the water of Leith pathway. Think Gothic cottages, trees and cobble streets.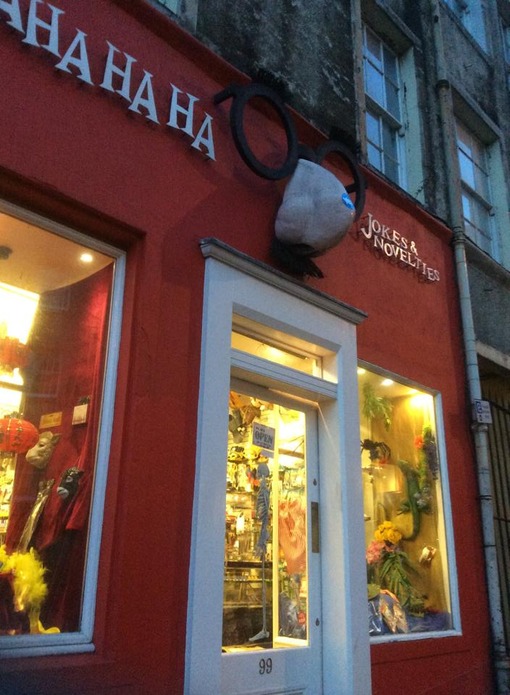 For cheap jewellery making supplies, check out the Number 1 Bead Shop [Dalry Road] on Dalry road. It's like a glittery pic'n'mix consisting of most things from semi-precious stones to findings. The Works [63 Princes Street] on Princes Street will supply most of your basic arts needs without breaking the bank. Look out for the Edinburgh Fabrics [12-14 St Patrick Square] shop on Nicolson Street, family run, reasonable, with a great choice of fabrics. I'm still trying to ferret out a good wool supplier so if you know of one, drop it in the comments (ta).
For paper craft, you absolutely have a look for Stampers Grove [Grove Street] on Grove Street, this one is wall to ceiling stamps, paper, inks and glitter. There's a great supply of Tim Holtz, stampers anonymous and ideology goodies among others. They run classes and the gentleman who runs it is very helpful too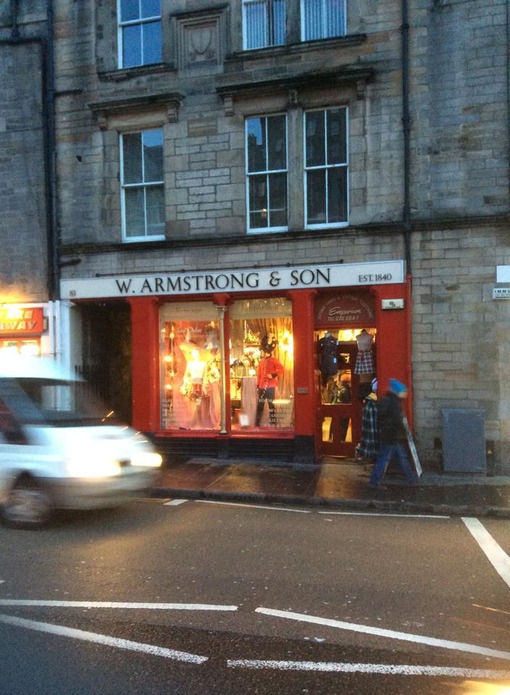 There are regular art fairs and vintage fairs held in the Corn Exchange [10 New Market Rd] (Slateford road) and the Assembly Rooms [54 George Street] (George Street). For more details on this you may have to have a look on Facebook. Look for Judy's vintage fair. Also there are farmers markets held on the grass market and behind the Lyceum theatre. There's a regular car-boot sale on Sunday mornings under the Omni centre. The car-boot sale can be a real treasure hunt for antique and vintage items and has a something of a black market feel, being in the car-park under a modern shiny entertainment centre.
Eat & Drink
The absolute in carnivorous experience is Oink [34 Victoria Street, Old Town]. Delicious pulled pork in a bun, om nom nom. Fear not if you are vegetarian there's still some great places to eat. Try curry from The Mosque Kitchen [33 Nicolson Street], vegetarian dishes from Hendersons [94 Hanover Street] or take on the challenge of Vegan Nachos at The Auld Hoose [23-25 St. Leonard's Street] who have clearly no concept what the word small means. While I can't speak from experience here (Poor Student – waaaaaah) I am reliably informed that good food can be found at Himalaya Cafe [171 Bruntsfield Place], La Cerise [199-201 Great Junction Street], David Bann Restaurant [56-58 St Mary's St], The Wild Restaurant [21 Newington Road], Kalpna [2-3 Saint Patrick Square], The Manna House [22-24 Easter Road], Lasal [6-8 Howden Street] tapas, Nawroz Restaurant [26-30 Potterrow] and Madogs Bar & Grill [38-38A George Street, Newtown].
Try tea at Mimi's Bakehouse [63 Shore], macaroons at Mademoiselle Macaron [22 Grindlay St] (just opposite the lyceum), Hot cocoa from The Chocolate Tree [123 Bruntsfield Place] cafe or get yourself some Nutella ice-cream from S Luca [16 Morningside Road] ice cream parlour.
I'm a sucker for cheesy themed bars so I can't help myself; I do love Jekyll & Hyde [112 Hanover Street]'s and Frankenstein [26 George IV Bridge]'s. For pub crawl experience there's Rose Street. Just start at one end of the street and work way down, there's conveniently a bus interchange and a McDonald's at either end for when you're finished ;). The Cowgate [Cowgate] is the beating heart of the live music scene. If you want to sample some local alternative bands and meet people; Bannerman's Bar [202 Cowgate], Opium [71 Cowgate, Old Town], Whistlebinkies [4-6 South Bridge] and The Banshee Labyrinth [29 - 35 Niddry St] (which has an added bonus – a cinema) are a great place to start. These are also the bars that burrow into the vaults, so there's that added spooky Edinburgh feel.
Craft
Edinburgh has lots of gorgeous places to go sit and craft, try Princes Street Gardens [Princes Street], or The Meadows [Melville Drive] which also has the Pavilion Café nearby if it starts to rain. Take a stroll along the promenade at Portobello's if you feel like a day at the seaside. Since it is Scotland and therefor likely to rain, there is a Starbucks on Princes Street with massive windows and a stunning view of the castle where you can get comfy for a while.
If you have just moved to the city and want to get involved check out some of the art classes at The Forest Centre [38 Castle Terrace]. Don't judge a book by its cover, it was an old office block and is now a community arts centre. It's one of those places where you keep stumbling on unusual things, and you want to work there just to get a good nose. There are dance classes, writing workshops and there you tend to meet some great people. Summerhall [Summerhall Place] deserves a shout, during the Science Festival and the Fringe there are maker's fares and classes where you can meet other crafters. There's also Edinburgh Contemporary Crafts [9-11 Blair Street] on Blair Street where you can find lots of open workshops. Best advice is to have a skim on Facebook for University societies which are open to the public. Edinburgh University has a jugglers club and Heriot Watt and Napier have medieval re-enactment societies where you can learn how to fight, sew or craft leather if you feel like trying something different.
Check out Granny Greens night out to meet up with other crafters ;) http://grannygreens.co.uk/
See Something Special
Edinburgh is one giant quirk on its own. I have lived here for nearly 6 years and I can honestly say it still hasn't run out of surprises for me. There is always something happening on the royal mile so that would be a good place to start.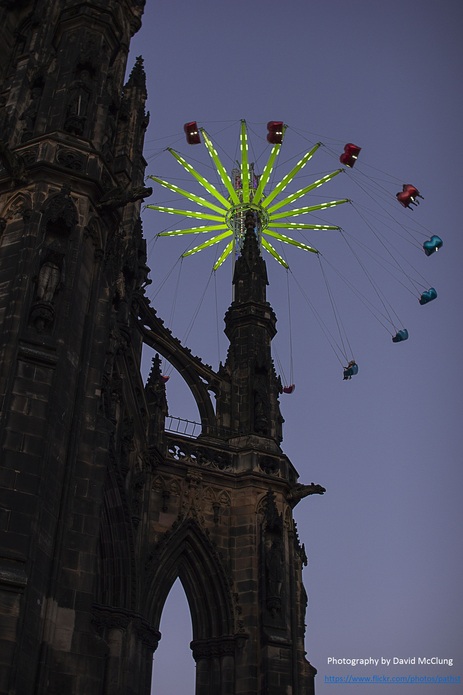 While there are plenty of Tourist shops selling you traditional tourist tat (cashmere jumpers, Celtic jewellery, Whiskey), for something truly special, browse the little galleries and market stalls and take home a print or tote bag from one of Edinburgh's own Artists. Keep an eye open for "Two skies" stall usually to be found on the Royal Mile. You can take home a beautiful necklace or ring made of green marble hand-picked from the Cairngorms by Edinburgh's very own Indiana Jones. Bring home a piece of Scottish natural history at Mr Woods Fossils [5 Cowgatehead] shop or a vintage kilt from Armstrongs [81-83 Grassmarket]. Or how about an EP from one of the local bands, there's great folk bands, ambient post rock and metal bands – insert shameless plug for mate's band (http://wecamefromthenorth.bandcamp.com/) – perfect if you love to listen to music while you work ;).
Inspiration
For Scottish design and art head on to the National Museum of Scotland [Chambers Street]. Half the museum is in a beautiful bright Victorian building the other half is modern is a bit like falling into an Escher painting, where every viewpoint creates a different perspective. Don't worry if you get lost, the staff are quite used to it and will take pity on you. Best of all you can spend can spend hours in there for free. There's all sorts of inspiration in there, from world exhibits, natural history, contemporary art and jewellery, technology as well as gorgeous Celtic and Pictish artefacts. In the basement you can find the oldest Scottish exhibit. It has the atmosphere of entering a tomb and old gods greet you at the door. There are a number of galleries to check out as well as little contemporary galleries just about everywhere. You could take a wander down the very pretty water of Leith pathway and stop for scones at the Scottish National Gallery Of Modern Art [The Mound]. Somewhat under sung is Summerhall [Summerhall Place] Arts Hub. It was once an old Vetinary school and is another seriously creepy building, I am reliably informed there was a penguin morgue in the basement. This is another building full of surprises, you can take in a show, visit the galleries, hang out in the courtyard with a drink and a green monkey, or ceilidh your socks off!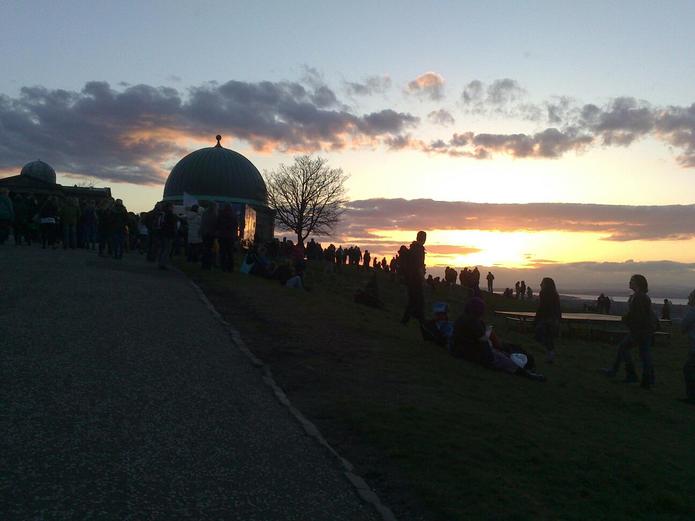 At the end of April come along to Beltane. The Beltane fire society put on a spectacular pagan fertility festival featuring fire, acrobatics, puppets, spirits and half-neked people painted red and running around. They also do a Samhuinn march at Halloween along the Royal Mile. On the off chance you haven't heard of it, Edinburgh is also host to the Fringe, the biggest art festival in the world and it's city wide. That's when all the madness really ramps up a notch. Prepare for crowds at this time but it's worth it. If you do choose to visit the Fringe and are on a tight budget, look out for PBF's free fringe, you can see some good shows for a donation. At Christmas time, the Princes Street Gardens [Princes Street] are turned into a winter wonderland complete with German Market, Carousels, mulled wine and the big wheel. It really puts you in the mood for Christmas. Of all the tourist traps the Camera Obscura [549 Castlehill] is definitely top of your list. It's a trippy exhibit based on optical illusions and it's a great laugh, it's pricey but worth it. Our Dynamic Earth [112-116 Holyrood Gait] is a great interactive exhibit on natural science and a great day out for kids. The ghost tours and the Edinburgh dungeon are pretty entertaining and give you an insight to the grisly, spooky history of Edinburgh but if you can't afford it, and still want to visit the underground look for any of the bars along South Bridge. The Tron [9 Hunter Square], The Banshee Labyrinth [29 - 35 Niddry St], Cabaret Voltaire [36 Blair Street], Bannerman's Bar [202 Cowgate] etc. are all built into the vaults. Edinburgh has several museums. There's the national Museum which takes all day to get around. The Museum Of Childhood [42 High Street] has some pretty freaky dolls and fun interactive exhibits with old toys. Nearby you will also find the Scottish Storytelling Centre [43-45 High Street]. The Surgeons' Hall [Nicolson Street] museum is fascinating (but be warned, it's not for the faint of heart) if you are into anatomy and medical science. It just happens to be the place where Burke and Hare sold their "OH so fresh" corpses for medical dissection. Part of Burke is still on display there 3;P. The Meadows [Melville Drive] are a nice place to chill out and if you're lucky you might even see some performers, singers and the odd stealth art exhibit, but do be warned they can be dangerous at night. Monday night is a good time to spot fire performer practice. If you fancy a bit more of the romantic scenery associated with Scotland, Holyrood Park [Queen's Dr] can make you forget you are in the city for a little while, If you fancy a proper hike take a number 44 bus out to the Pentland Hills Regional Park [Boghall Farm House, Biggar Rd].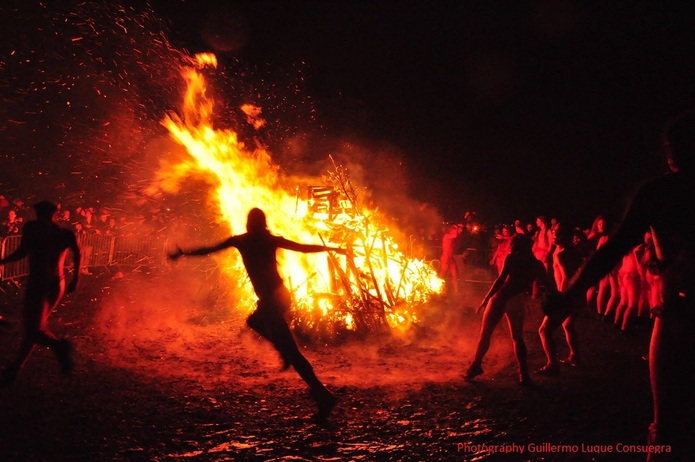 Grab a photo at the Gothic Rocket, (aka the Walter Scott Monument [E. Princes St Gardens] although it could very likely be a spaceship from the dark side of the moon) or the top of Carlton hill for stunning views of the city. Check out Greyfriars Kirkyard [1 Greyfriars], not only does it have its own local legend about a faithful wee Scotty dog called "Bobby" (a statue of which can be found outside), but look closely at the names on the tombstones in the graveyard? If you are a fan of Harry Potter you might find a few of them familiar, see if you can find Tom Riddle's grave. Speaking of Harry Potter, also pop along to The Elephant House [21 George IV Bridge] for a coffee, where J.K Rowling wrote the book. I can't vouch for the boy's loos, but I can say the graffiti in the girls is amazing. If you decide to take a tour of the castle, try to squeeze into the cannon for a great shot.