" What's not to love about Edinburgh. You get all the perks that come with living in a city, as well as an atmospheric old town and gorgeous scenery - it really does have everything. "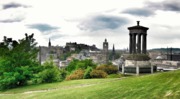 Shop
I love a bit of fancy dress and there is no better place than armstrongs [81-83 Grassmarket] to get your vintage swagger on. I can get lost for hours searching the sweeping rails of style through the ages, hoping to find a bargain in my size or at least inspiration for my next homemade outfit. I can never make my way down to this shop without stopping in on the The Red Door Gallery [Victoria Street]. This Gallery is my favourite place to treat myself, as even those who fill there house with their own creations, know where their shortfalls lie and there are some amazing artists in this town. It's my chance to splash out, whilst telling myself it's good to support small businesses! However, I have to say that I am much more likely to buy for others than I am for myself and whenever I need a gift for someone, Dragonfly Gifts [111A Broughton Street]. Its the perfect mixture between a boutique clothes shop and quirky gift store ,so make sure you pop in as they always have that perfect present.
When I moved back to Edinburgh, I never in my wildest dreams would have imagined I would live near any craft stores, so I was over the moon to find out I was spitting distance from one of the largest material shops around - The Cloth Shop [169 Bonnington Road] (from Remnant Kings). I am guilty of searching pinterest to find a project that gives me an excuse to go across the road and pick out some new fabric. They have an amazing range and the staff are always willing to give advice on your project. Although I buy most of my craft supplies online, there is one place I go when I need things in a rush and that's The Range [25 Milton Link]. For those hardcore Hobbycraft fans, The Range gives you a multitude of craft items, at a reduced price. I normally start by going here and only travel that extra distance to Hobbycraft [Newcraighall Road, United Kingdom] if I can't find what I need. They have large papercraft stock and cheap glue / fabric pens, as well as a (wait for it) "range" of other items, craft and non craft related! Check them out online to see what they have to offer. For those who like their boutique craft shops, then McAree Brothers [19 Howe Street] is the wool shop for you. It's a little on the expensive side but the quality of their wool is second to none and they are stocked to the roof with choices. I have never gone in there and not found the style/colour of wool I was looking for. I also couldn't go without mentioning The Works [63 Princes Street]. As a previous employee of this establishment, I can vouch for the quality of their cheap acrylics and other painting supplies. I also love buying canvases there to take round to my little cousins and let them create their own artwork for their rooms.
There are plenty of craft fairs in Edinburgh and it's surrounding areas but a new one that appeared last year is Locomotive Markets in Waverly station. Every Friday, the stations pop up market is amazing for finding local handmade gifts and food, so the next time you are spending a weekend in this city or commuting home after a long week at work, head along to platform 2 and see what it has to offer. There are also a few pop up stores such as Twenty Eight Edinburgh, where you can be their featured artist, amongst the permanent designers that they showcase. These places all have a great range, showing off Edinburgh's finest talent, so search online for what is on near you.
Eat & Drink
Hendersons [25 Thistle Street] is an amazing vegetarian bistro, situated in the centre of town. There specials are always mouthwatering and that's saying something for someone who would pick steak every time on a menu. I love their haggis nachos. In fact, Thistle street in general has lots of good places to eat and drink so well worth taking a wander down. Another favourite is Chaophraya [4th Floor, 33 Castle Street] and it's not only for their Thai delights, although their food is beautiful. If you ask for a seat in the conservatory then you get the best view of the castle (4 stories up) and on a lucky day, sunshine pouring in the room.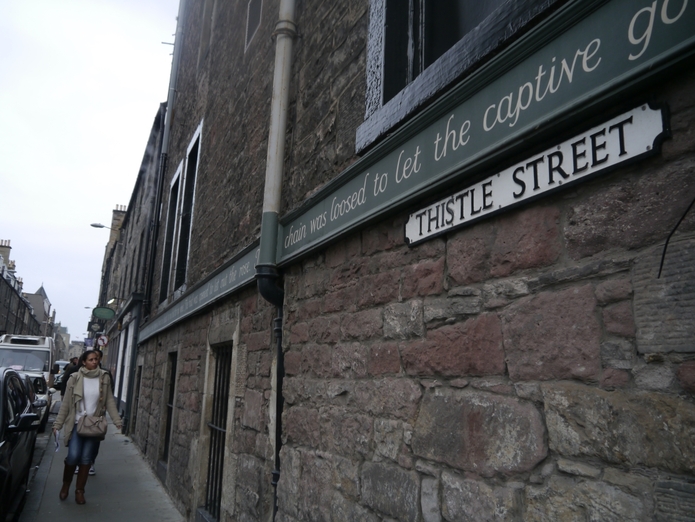 Hands down it has to be Mimi's Bakehouse [63 Shore] in Leith. I'm not even going to spoil it for you - just trust me and go. I do recommend you book though, as it fills up quick. Also they can talk you through their gluten free options, if needed.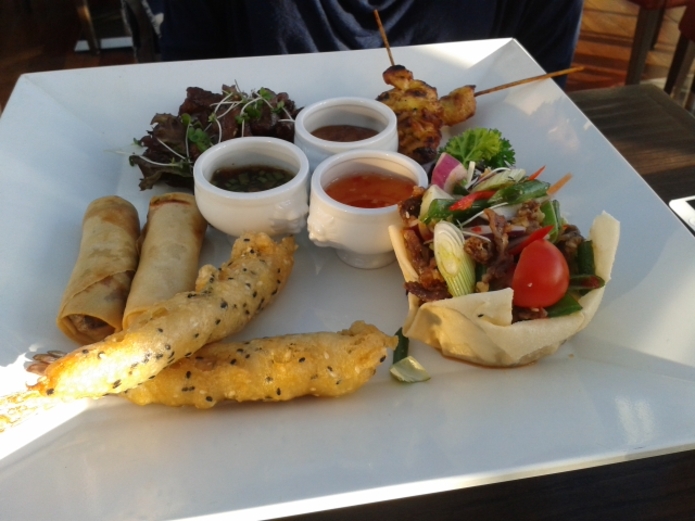 Without sounding like an alcoholic there are too many to mention. My top 3 have to be:
Bramble [16A Queen Street] - Edinburgh's best kept secret and one of the hardest bars to find but it's well worth it. If you like a lemony kick in your cocktail then try a Miss Muffet cocktail. If you fancy a bit of a posh bar crawl you can also check out Bramble's sister bar, Lucky Liquor [39A Queen Street]. They have some very unusual cocktails.
Cross & Corner [1 Canonmills] - a new bar to grace the Edinburgh scene, which has some great gin cocktails, in a portion size to be proud of. Although there are other bars closer to me, this has become my local as I love it's atmosphere and the staff are lovely.
The Black Bull [12 Grassmarket, Old Town] (on Leith Street) - This one is a little different from the others but when I'm looking for a pint and some metal music on the jukebox, then this is my place of choice. It's really close to Waverley station, so ideal for the after work wind down but beware...the toilets are scarier than the punters.
Craft
Depending on the weather, I would either choose Princes Street Gardens [Princes Street] or a local cosy pub if the rain pouring down. One of my favorites is The Queens Arms [49 Frederick Street] where you can craft away in your own booth and marvel at their wine bottle ceiling.
Granny Greens is a great craft group in Edinburgh. They get together once a week in a local pub and everyone brings along what they want to work on, unless they have planned a special tutorial evening. I really enjoyed meeting up with this group but unfortunately I work too far out of town to make it over in time. They opened up a new world of crafts to me and there are some highly skilled crafters for you to learn from so search for their blog page and check out when they are next meeting. If you are looking for a paid craft session then the Edinburgh Contemporary Crafts [9-11 Blair Street] is the place to go. I did a lino block printing class there and the tutor was lovely, would wholly recommend them. Another organisation is Material Malarkey [3 John's Place]. Although I've not yet taken part in one of their classes, they invited me along to blog about their dress making course and the finished results were gorgeous.
Sofi's Bar [63-65 Henderson Street] has it's own knitting corner where you can pick up a set of needles and wool to carry on a section of knitting that has had a wealth of others contributors. I love the thought of working on something with a group of people I've never met or who know, maybe I have..,
See Something Special
The Heart of Midlothian [367-377 High Street] is the only place that spitting on the street is not only acceptable but also seen as a sign of good luck!
Some tartan material would make a great souvenir to make something to remember your holiday from!
Inspiration
I get my inspiration from the old town. Give me a cobbled street and some gracefully ageing buildings and I'm a happy girl. There are plenty of Closes that if you wander down, you'll find hidden treasures and normally a bar or two so that you can rest your feet from all the walking you are bound to be doing on your visit. Once a year, Cramond Island [Cramond Island, City of] parts the sea for a raft of punk fans, raring to get the party started. Between the music, outfits and scenery, there is plenty of inspiration to go around and you get a cracking day out of it as well. The atmosphere is amazing and everyone we have met there has been very welcoming, so if you are into this scene then you should definitely check online to find out this years dates.
If you want to have your mind blown then check out Camera Obscura [549 Castlehill]. I took my friends for my birthday last year and believe me this attraction isn't just for kids. We spent hours trying out all the illusions and came away with some great photos, so if the weather is rubbish and you want to do a bit of sightseeing, then this is a brilliant way to see the city. Edinburgh also has lots of gothic attractions that those not faint of heart should venture into. Along with many ghost walks, there are also places like Mary King's Close [2 Warriston's Close, High Street] which lets you walk through Edinburgh's underground, seeing the city from a completely different perspective.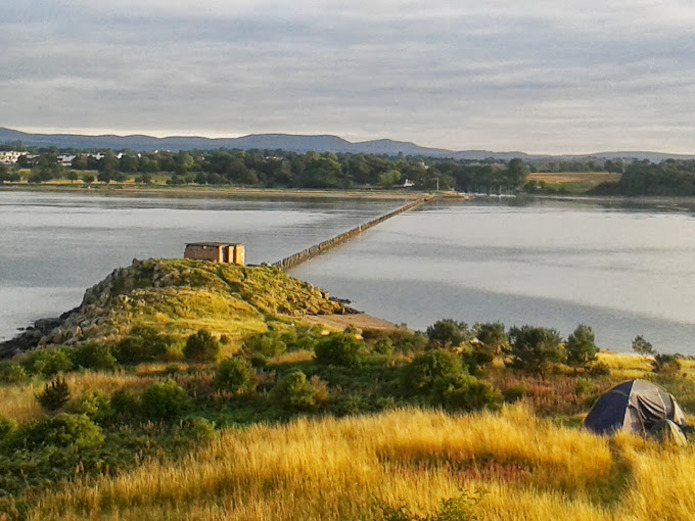 You need to get your photo taken with Greyfriars Bobby [30-34 Candlemaker Row]. This cute little dog is a symbol of the passion and love that this city has to offer, spending 14 years visiting the site of his owner's grave until he sadly died himself. Now in his place, is a statue on the corner of Edinburgh's Candlemaker Row and George the IV bridge, and is a great story to take home with you, as well as a cute photo opportunity. However, if its more of a scenic view you are looking for then take a trip up Calton Hill [Calton Hill] and get a birds-eye view of the city. If you are lucky, you might even stumble upon the Beltane Fire Festival and have a night to remember.