" Thessaloniki! A city surrounded by sea and great beaches! That is the best thing about living here! Go for a walk by the sea, from Nikis Avenue until the Concert Hall and you will forget everything! "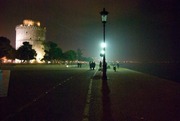 Shop
Like most cities the best place to go for shopping is downtown! Start walking Tsimiski Street [Tsimiski, Thessaloníki, Greece]. Most streets around the main city street hide also shopping surprises. Visit Stoa Karasou and you will find the crafter's heaven. Lots of small shops filled with lace and buttons, ribbons and tulle! Around Stoa Karasou there are many small streets where you can find bead shops. I have to admit that I am not a downtown type, so I usually shop from small stores close to my home or online!
Pillbox [Ermou 13] is the most famous bazaar, where crafters sell their creations. There are also many crafter groups who organize their own, smaller bazaars, usually in coffee houses.
Eat & Drink
Thessaloniki is famous for its food and coffee lovers people living here! Around Aristotelous Square [Aristotelous Square], a classic meeting point, there are tons of places to start with a coffee, beautiful tavernas and restaurants and great bars to finish your day.
I also like Sofouli street, as a closer place to where we live. A beautiful road with places for eating. I am a fan of Manitari [Themistokli Sofouli 25] and Halaro [Themistokli Sofouli 75] . But my big love, and a definite try for anyone who visits the city is the pastry triangles. Crispy fyllo and creamy filling! Oh! I love that one! Elenidis triangles are my favorite!
Craft
I am not a member of a craft club, but I am sure there are some! Many crafters who are or become friends through crafting make small clubs, who also organize small bazaars.
Parks and of course the seaside are great places for crafting and enjoying the sun! Some groups have meetings at parks, coffee houses or cultural clubs. Some of the last ones sometimes have their own crafting sections.
See Something Special
Visit OTE Tower [Thessaloníki], a 70m tall building, in the city center. The spinning coffee house up there is a great way to enjoy the view of the city. While walking by the seaside get your photo taken in front of the "Umbrellas". A 13m tall sculpture, created by George Zoggolopoulos.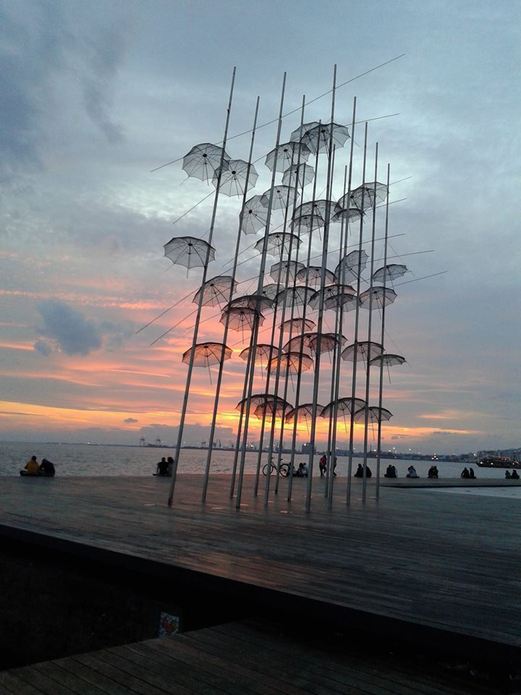 Pick up classic souvenir, like a tiny White Tower or a copy of an ancient greek statue. Or even a coffee cup saying "Thessaloniki". All that is too classic! Walk the city. Visit the churches, the roman and ancient greek ruins. The castles and bring home with you the taste and smell, the feeling of the city. And the taste from pastry triangles and frappe coffee!
(Photography by FilmNoirPhotoProjects.com and Thalia Karra)
Inspiration
I love walking by the sea or visiting the old town. It opens my mind! Visiting the city's museums is also one of the things I enjoy. My favorite are the Museum of Byzantine Culture [Leoforos Stratou 2] and the White Tower [] which is one of the city's must places to visit. Hosting a journey to Thessaloniki's history and offering a great view from the top. Make sure you visit Noesis [6ο χλμ. Οδού Θεσσαλονίκης - Θέρμης - Τ.Θ. 60330, Θέρμη], the planetarium [Alexandrias 113] and science museum [Οδός Θεσσαλονίκης - Θέρμης (6 χλμ.), Θέρμη, 57001].