" I like the historical buildings and stories behind them. Many cultural activities are free, unlike in other European cities. Most art galleries don't charge an entrance fee at all. "
Shop
The best places for buying craft supplies in the city are the Art & Hobby Shop [Unit 13b, Omni Park Shopping Centre, Santry, Swords Road, Dublin], a chain of stores with the biggest selection of craft supplies. KennedyArt [12 Harcourt St] is the place to find art supplies. The Cloth Shop [5 Johnsons Place, South King Street], Murphy Sheehy & Co [14 Castle Market], and Hickeys Fabrics [5 Henry St] are great for fabric, while WM Trimmings [137 Capel Street] and A. Rubanesque [Powerscourt Townhouse Centre, 59 S William St] are good for trimmings. You'll find beads at Yellow Brick Road [Bachelors Walk] and Beads & Bling [34 Wellington Quay]. There are also two bookstores, Eason [40 Lower O'Connell Street]'s and Reads [Setanta Centre, Nassau Street] Of Nassau Street (24 Nassau St), which sell stationary and craft supplies.
Eat & Drink
If you want something fancy, The Art Tea at The Merrion Hotel [Upper Merrion St] is an afternoon tea inspired by the Irish art held at the Hotel. The Silk Road Café [Chester Beatty Library, Caisleán Bhaile Átha Cliath, Castle St, Dublin] at the Chester Beatty Library is delicious definitely stop by if you are visiting. And then there's Queen of Tarts [4 Cork Hill], a café with tarts and other food, nice for lunch.
Craft
Great places to sit and craft include the Botanic Gardens [Ireland] in Glasnevin which has lots of flowers and squirrels and the Love is Art [3 Strand Street Great] Café. The gardens at Dublin Castle [Dame Street] is also good, it's in front of the Chester Beatty Library [] and a friendly cat hangs out there so he might sit on the bench with you if you are lucky. Iveagh Gardens [Clonmel Street] is a quiet and beautiful park and the Tea Garden [7 Ormond Quay Lower] where you can sit on the floor and have tea.
I'm not a member of any craft clubs there is a weekly crafting evening at TOG and for the quilters amongst you there are various meetings of the Irish Patchwork Society and The Modern Quilt Guild Of Ireland. There are some craft markets too, such as The Hapenny Market at The Grand Social [35 Lr Liffey Street] (Saturdays), The Ferocious Mingle Market [60 Camden Street], Saturday Market at Curved Street, Temple Bar.
The stores The Jam Art Factory [64 Patrick St], Cows Lane Designer Studios [2 pudding row, Essex Street West] and Powerscourt Design Centre [Powerscourt Townhouse Centre, 59 South William Street, Dublin 2] would be the places to make new crafty friends.
See Something Special
George's St Arcade, it's to Dublin what Camden market is to London. Small indoor arcade in beautiful redbrick building with stores selling alternative clothing and various trinkets.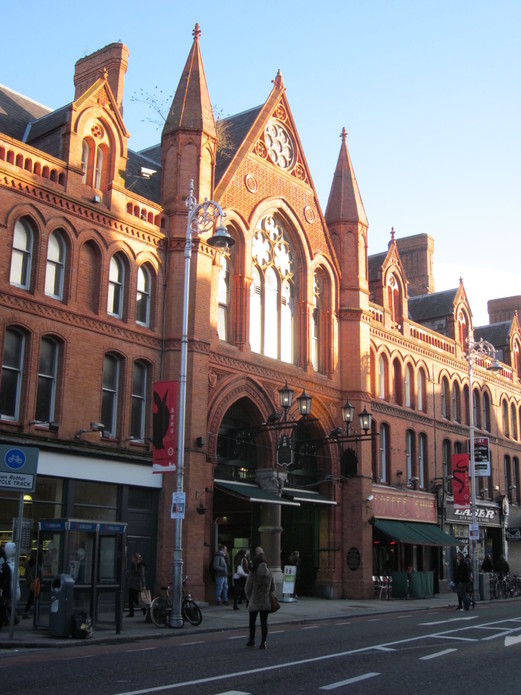 Something from the Irish art stores listed above would make a great souvenir! Alternatively, the souvenir shop at the National Gallery [Merrion Square W] is my favourite. You can get gorgeous postcards, books and even stained glass pieces featuring Irish art. Also an aran knit scarf is very traditional, you can find them at the souvenir chain Carroll's Irish Gifts [44 Henry St], among other places.
Inspiration
The Long Room at Trinity College [College Green] is my favourite thing in Dublin. The Book of Kells is also held in the same place but the massive old library is the best part. It's said that a scene from Star Wars was inspired by this room. The tour of Dublin Castle [Dame Street] is very nice and the Chester Beatty Library [] in the castle grounds is a gorgeous art gallery. Dublinnia tour at Christ Church Cathedral [Christchurch Place] is fun for kids and adults too, showing an interactive history of Ireland. National Gallery [Merrion Square W], National Museum [Collins Barracks, Benburb Street] and National Museum of Ireland [Merrion St Upper] are all free and right beside each other.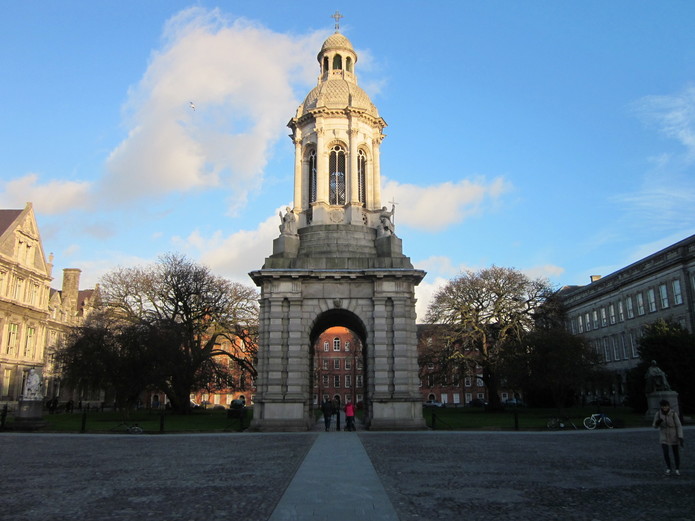 The Campanile at Trinity College [College Green] is a great place to take photos. It's a myth among students of the college that walking under it means you won't pass your final exams, so a lot of photos are taken under it after graduation. Go to the middle floor of the Stephen's Green Shopping Centre [Stephens Green West] and get a picture with the big clock. Tourists usually like the Molly Malone Statue [Suffolk Street] at Grafton street as well. The Botanic Gardens [Ireland], Chester Beatty Library, Iveagh Gardens [Clonmel Street] and National Gallery [Merrion Square W] are great places to find inspiration.