" Rotterdam has a lot to offer, there's something in it for everyone. From shops, parks, restaurants to entertainment, high-tech architecture and a subway. Many hot spots are located in the city center, on walking distance from each other. I especially love the places where you can enjoy a good cup of coffee and a tasty sandwich. "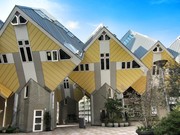 Shop
My favorite clothing shops are VILA [Stationsplein 17, 3013 AJ] and VERO MODA [Hoogstraat 179b, 3011 PM]. I really love their style. These shops are usually not that crowded, so there's no such thing as a queue for the fitting rooms. Xenos [Watermanweg 313, 3067 GA] and Flying Tiger [Binnenwegplein 8, 3012 KA] are my other favorite shops, which sell a lot of home decor accessories for just a few euros. The Xenos shop feels cozy, while the Flying Tiger shop is bright and sleek.
In Rotterdam there are quite some places where you can buy craft supplies. My top 4 is Pipoos, Harolds, Xenos and Action. Pipoos [Binnenwegplein 6-C, 3012 KA] is a shop which sells all sorts of craft decorations & tools. They have a bit of everything available for any common hobby. There's also a shop called Harolds [Burgemeester van Walsumweg 730, 3011 MZ]. This shop offers mainly craft tools, their product range is quite large. Inside the shop there's a department full of paper. All kind of colors, sizes, weights, types. The shops Xenos [Watermanweg 313, 3067 GA] and Action [Lombardkade 1-7, 3031 AG] offer craft decorations for a very low price. It's always worth to pay them a visit, their product range differs from time to time.
Crafters can sell their handmade items on the monthly "Swan Market" in Museumpark [Westzeedijk 341]. The market takes place on the first Sunday of the month. Swan Market is a lifestyle market, where you can find a very diverse creative offerings. From handmade jewelry, accessories, fashion to vintage, affordable art etc. To make it complete, there are also authentic food trucks and live music.
Eat & Drink
My two favorite lunch places are Bagels & Beans [Hoogstraat 129B, 3011 PL] and La Place [Oude Binnenweg 34, 3012 JE]. In the first lunch spot you can of course order bagels for lunch. The bagels are well filled with special ingredients. La Place [Oude Binnenweg 34, 3012 JE] offers all kind of sandwiches, but also salads and big meals. There are two La Places in the Rotterdam city center. The La Place located on Oude Binnenweg has a nice terrace on the top floor of the building. A good thing to remember on sunny days!
My two favorite restaurants are Popocatepetl [Spaansepoort 71, 3011 MN] and De Smaak van Afrika [Goudsesingel 342A, 3011 KL] (The taste of Africa). Popocatepetl [Spaansepoort 71, 3011 MN] is a Mexican restaurant. The restaurant really has an Mexican atmosphere, the place is full of colors and patterns. You can hear exotic music and the meals are inexpensive. De Smaak van Afrika [Goudsesingel 342A, 3011 KL] serves African dishes. The place makes you feel like you're really in Africa. You can hear African music, see little sculptures and each table top has been uniquely painted. Forget about utensils: you eat with your bare hands. If you like seasoned food & stews, this is the place to visit. The prices are also very reasonable here.
You can get the best coffee at Bagels & Beans [Hoogstraat 129B, 3011 PL], I really love their cappuccino. If you're looking for coffee specialties combined with sweet treats: you should definitely go to Mockamore [Korte Hoogstraat 6, 3011 GL] or The Coffee Company [Eendrachtsplein 2, 3012 LA].
My two favorites are Vapiano [Binnenrotte 140, 3011 HC] and Floor [Schouwburgplein 28, 3012 CL]. Vapiano is an Italian restaurant. It can be very busy during dinner time. But when you arrive around 9 PM, it has a very calm and warm ambience. The restaurant has some kind of "home" look & feel due to all its sofas and armchairs. Cafe Floor [Schouwburgplein 28, 3012 CL] is a place where you can go for lunch, dinner or just a drink. The place has a nice relaxed atmosphere. Behind the cafe they've a green city garden, where you can relax and escape from the city rush. If you wanna have the total package: Rotterdam also has a street full of bars and restaurants: Witte de Withstraat [Witte de Withstraat, 3317 Dordrecht, Netherlands].
Craft
You could go to one of the many city parks Rotterdam has to craft: Museumpark [Westzeedijk 341], Het Park [Westzeedijk] and Kralingse Bos [Kralingse Bos]. If you prefer to be indoors, you could go to the shop Elle Aime [Zwaanshals 299 3035 KH] in north Rotterdam and attend a crafternoon.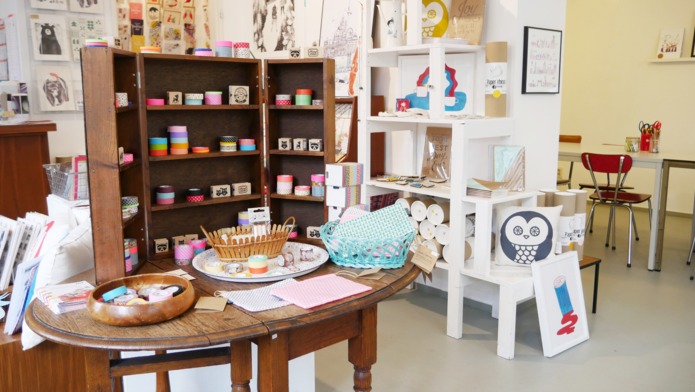 In the north Rotterdam area there's a creative shop called Elle Aime [Zwaanshals 299 3035 KH]. Besides the handmade products which are for sale, the shop owner often organizes workshops and crafternoons. The crafternoons take place every two weeks on a Friday afternoon. You pay a fee and then you can have a seat in the workshop area. All sorts of craft materials are available and you can enjoy a couple of drinks and snacks.
There are several places where you could meet creative people. You could sign up for creative workshops, crafternoons at Elle Aime [Zwaanshals 299 3035 KH], visit craft stores, creative markets (Swan market) and go to creative fairs in the venue Ahoy [Ahoyweg 10, 3084 BA].
See Something Special
You should go to Schouwburgplein (square). Especially during weekends and Summer time something festive might be going on over there. There are free yoga classes on regular basis and yearly there's also a human circus, kids dance battles, music performances and many more events. The agenda can be found on the Schouwburgplein website.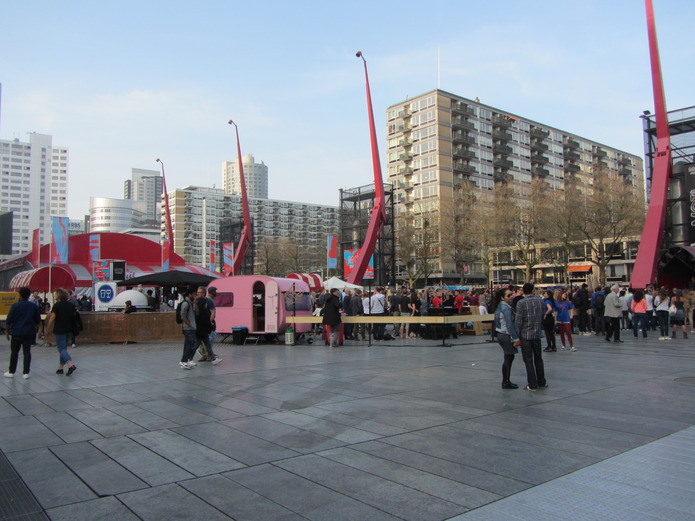 Buy something which you would use in your everyday life. For example craft supplies, so whenever you use them you will think of your trip to Rotterdam. Or a nice mug with a drawing of the Rotterdam skyline. During my own city trips, I've bought a Barcelona and Valencia mug so far. In the Rotterdam city center you can find the official souvenir shop.
Inspiration
Rotterdam has a lot of high-tech architecture. The city center was bombed during World War II, so everything had to be rebuilt from the ground up. My favorite high-tech architecture places are Rotterdam Blaak [Netherlands], Centraal Station [Stationsplein 1, 3013 AJ] and the Erasmus Bridge. Rotterdam Blaak is an area with a lot of interesting, different building. The library, Cube houses [Overblaak 70, 3011 MH], Rotterdam Blaak train station and the new Markthal [Dominee Jan Scharpstraat, 3011 GZ]are located here. On Tuesdays and Saturdays you can stroll through the large market on the Binnenrotte square. Rotterdam has opened its brand new central station last year. It's full of shops and restaurants. The station really is an eye catcher by its partly diagonal roof and use of different materials. A big river (Nieuwe Maas [Nieuwe Maas, Netherlands]) floats through Rotterdam. One of the big bridges which connects the north and south Rotterdam area is the Erasmus Bridge. It's one of Holland its most famous bridges, because of its extraordinary design.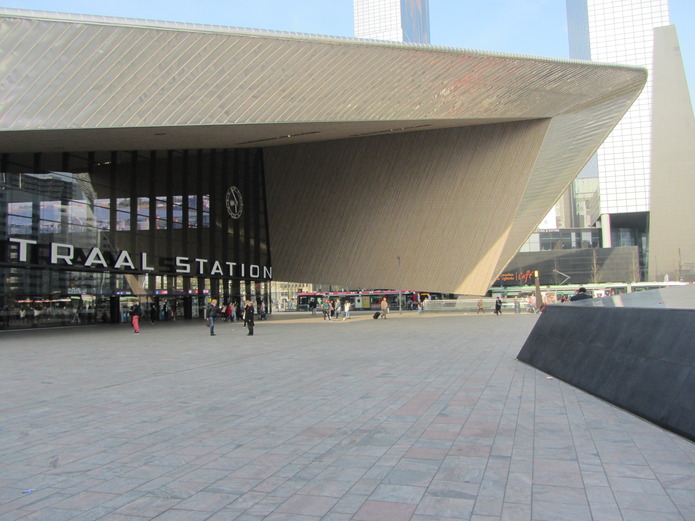 Rotterdam has a big cinema in the city center. The cinema offers a wide range of (3D) movies and you can even buy your tickets online. Besides watching movies, I like to go get a cup of coffee in one of the cozy cafes Rotterdam has. If you like bowling, pooling or arcade games, you should definitely go to Atoll [Cor Kieboomplein 509, 3077 MK] in Rotterdam south and spend a few hours there. Rotterdam also has a zoo called Blijdorp [Blijdorp], it's located in the north part of the city and easily accessible by public transport.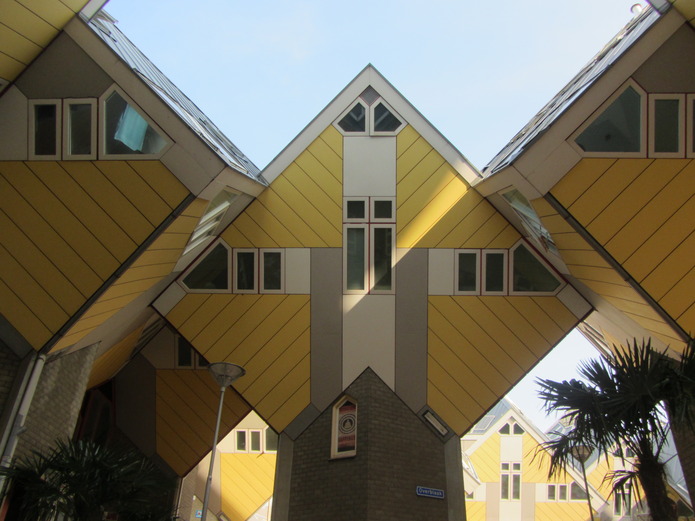 For high-tech architecture: make sure to take a picture of the Markthal [Dominee Jan Scharpstraat, 3011 GZ], Erasmus Bridge, Cube houses [Overblaak 70, 3011 MH], Central Station and "from" the Euromast. The Euromast [Parkhaven 20, 3016 GM] is actually an observation tower which offers you a great view of the city. If you're more into old architecture: Rotterdam has this as well. You can pay a visit to the Wijnhaven area, the city hall and the Great / St. Lawrence church. In the Wijnhaven area there's a building called "The White House [Kerkweide 47, 2265 DN Leidschendam, Netherlands]". It was built by the end of the 18th century and was the tallest building for a long time in Europe.