" I love Saint Petersburg and not only because it's my native city. It's very beautiful and has a very rich history despite being built in 1703. There are also many interesting and unordinary places, different art projects and modern art galleries. Local people always call the city just Piter. So, don't be surprised if you see that name. "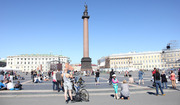 Shop
There is an interesting shop that you can visiy only in Saint Petersburg called Bukvoyed [Zagorodnyi prospekt, 35, Saint Petersburg]. In Russian this word means somebody or something that eats letters and this funny name speaks for itself. In Bookvoed you'll find not only books, but other interesting things such as souvenirs, funny sweets, bubble gum, different games and great presents. This shop is the most popular bookshop in Saint Petersburg and that's why some writers, journalists and other famous people visit to present their new books or just to talk to people. The main shop is located on Nevsky prospekt (the main street in Piter).
Eat & Drink
I like The Two Sticks / Dve palochki [Nevsky prospect, 22, Saint Petersburg, Russia] restaurant because the serve Japanese food and there's a great interior. What I like most is that the waiters wear funny t-shirts. I also like Coffee House / Kofe Khauz [Griboyedov Canal Embankment, 17, Saint Petersburg] because the food is not expensive but very tasty. They have amazing Belgian waffles!
Craft
There is network of craft shops in Saint Petersburg and they have virtual tours of their shops on their site.
See Something Special
There is a interesting crossroad called 5 Corners which is formed by crossing 4 streets: Zagorodny prospekt, Raziezjaya street, street of Rubenstein and street of Lomonosov. This crossroad has existed since 1760. The Olympic Games will be held in Sochi in 2014 so you can see the interesting Olympics timer here.
There are lots of great souvenir kiosks which you can only find in the city center.
Inspiration
Places to visit for inspiration are the Modern Art Museum Erarta [Линия 29-я Васильевского острова, 2, Санкт-Петербург] which I went to a few years ago and I'd like to say that it's amazing! Also the art center Pushkinskaya [Russia] str, 10, named in honor of Alexander Pushkin. I've never been there, but it seems interesting to visit. Near Pushkinskaya, 10 is John Lennon's street which is my favorite place in the city.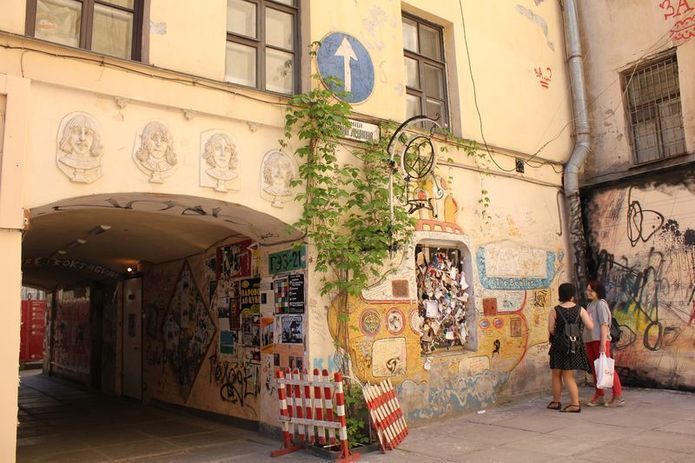 The Book House [Malaya Konyushennaya ulitsa, 5, Saint Petersburg] is the biggest book shop in Piter. One interesting fact - do you know about the Russian social network vk.com (ex vkontakte.ru)? If so, it's office take up the highest floor of Book House. The Museum Of Water which we also call Vodokanal [Ligovskiy prospekt, 68] has an interesting interactive guided tour for children and adults. You can visit the website and they have information in English. As you may know, Saint Petersburg is also called The North Venice because there are lots of drawbridges. They are being basculed at nights and you can always see the schedule of the draw on this site. It is very beautiful so you should see it!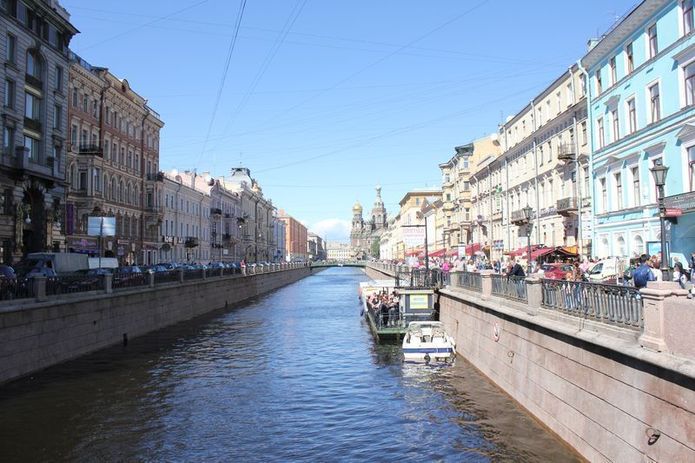 In Saint Petersburg we have a celebration for the end of term at school called The Scarlet Sail and it's not only graduates who come to see it. It is very beautiful event, which is celebrated in center of the city and the main idea is that the Scarlet Sail sails on Neva (the main river in Piter). There is also a concert with pop singers and the mayor's speech, though that requires a ticket and they are given to graduates but not all of them always go to that concert and they sell them. Many artistic people live in Piter and that's why you can see street musicians and street painters in the center of Saint Petersburg.