" Bangkok is a curious blend of modern and traditional, a mixture of tranquility and extravagance. You'll find world-class mega malls filled with luxurious designer products and centuries-old temples that look like they've time-traveled here. The best thing about living here is getting to experience the richness of culture, cuisine, and hospitality. There is also an abundance of activities for one to choose from. Even after staying here for over 30 years, I can still find something new and exciting to do. "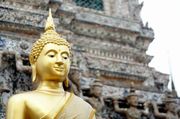 Shop
For bag and shoe making supplies, the shops on Charoen Rat Road [Bangkok] near the Wong Wien Yai roundabout are the best one-stop shopping. The whole street is filled with suppliers of fabric, trims, zippers, everything! My favorite shops are AA Shop [Soi Ekkachai 36 (Kamnan Maen), Bang Khun Thian] which carries a myriad of specialties fabric; Thai Likhit [221 Soi Charoen Rat 1, Khlong San, Khlong San], a small mom and pop's style shop that sells handmade leather handles; and Wattana [Bang Rak, จังหวัด กรุงเทพมหานคร Thailand] where I go there for trinkets and trims. To get to this bag-making supplies paradise, hop onto the Skytrain and get off at exit 3, Wong Wien Yai station. Then walk into Soi Krung Thonburi [Bangkok] 1 lane. The shops are opened during office hours and are closed on Sundays.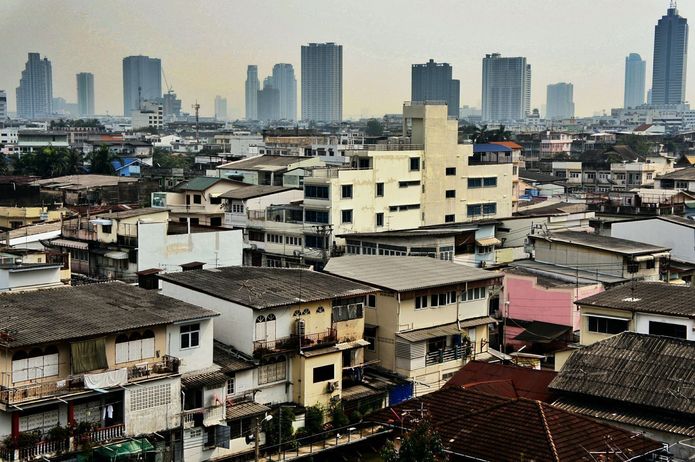 The best place to get sewing supplies for dress-making and quilting would be the Phahuratm [Khwaeng Wang Burapha Phirom] and Sampeng [FL 4, Zone 3, Camden a, 4-05, Platinum Fashion Mall, Phetchaburi Road, Thanon Petchaburi] area. There's also a fabric mall called China World [677 Chakphet Road, Wang Burapha Phirom, Phra Nakhon] that you can escape into when it gets too hot. If you walk out to the main street (Triphet Rd) where the art supplies store Somjai is, you can also find a shop that sells dress forms.
The Asiatique Riverfont [2194 Charoen Krung Road, Wat Phraya Krai, Bang Kho Laem] is home to hundreds of independent artists and designers of fashion and home décor. A trendy night bazaar located on a pier with a stretch of warehouses, it also have over 40 restaurants , a Joe Louis Thai puppet theater, and a Calpyso. This place is always crowded with people taking pictures everywhere!
Eat & Drink
If you want to try Thai street side food but is unsure of its cleanliness, then you should eat at Mae Sri Ruen [999/9 ถนน พระราม 1 Pathum Wan]. This restaurant started out as a small noodle shop in Pattaya and now have branches in Bangkok. They have also expanded their menu to include a plethora of Thai street food ( Phad Thai, Hoi Thod, Som Tum et al ) with a good selection of Thai herbal drinks and some Thai street snacks. Closest branch to tourist area should be the one in Central Silom, opposite Holiday Inn hotel.
For special occasions where there are fireworks to be seen, we'll head off to River Vibe [ทรงวาด Samphanthawong], a roof top bar and restaurant with a spectacular view of the city and the Chao Phraya River. Other places we frequent are Fuji Japanese Restaurant [Pathum Wan, จังหวัด กรุงเทพมหานคร Thailand], Gyu Grill Yakiniku Buffet [115 NIHONMANCHI, 2 Fl., Soi Sukumvit 26, Klongton], and Sukishi [เซ็นทรัลปิ่นเกล้า ชั้น G ถนนบรมราชชนนี แขวงอรุณอมรินทร์ บางกอกน้อย] which can be found in major department stores.
Craft
I've crocheted in traffic jams, on the Skytrain, while waiting in a line, but the best place to sit and craft would be a nice coffee shop that is fully air-conditioned with free Wi-Fi. My neighborhood's coffee shop also comes with a cute French bulldog, now, that is lovely. If you are in the Sukhumvit area, you may like the Vanilla Cafe [999/9 ถนน พระราม 1 Pathum Wan] which have a bakery, a restaurant and a bookstore on a garden compound. There's also a knitter's cafe called Big Knit Cafe [88 (ตึกNatural park) ซ. สุขุมวิท49 คลองตันเหนือ เขต วัฒนา] where you can buy yarn , sip coffee, and knit at the same time.
The Bangkok Sketchers are a drawing group that sets up their meetings through Facebook. They meet up every month or so, mostly at public parks or places with lots of trees. Anyone can join and it's free! Just bring your own drawing equipments.
I think the best way to meet new crafty friends is to join a class, learn something new or refine your skills. There are plenty of choices here in Bangkok. You can learn weaving at The LOOM [982, 22 Sukhumvit Road, Khlong Toei], become a fashion designer at Accademia Italiana [2 Sukhumvit Road, Khlong Tan Nuea, Watthana], a shoe designer at Fashion FA [422/5-6 สยามสแควร์ ซอย1 ถนน พระราม 1 ปทุมวัน], make pottery at Poteri Clay Workshop [145 Racquet club Bldg3, Sukhumvit 49/11 Sukhumvit Rd,Khongyunnua Wattana Bangkok 10110], or learn to paint at Attic Studios [45/4 Sukhumvit Soi 31 Klongton Nua, Wattana].
See Something Special
You may have already heard of the wonderful Chatuchak Weekend Market [Chatuchak, จังหวัด กรุงเทพมหานคร Thailand] that sells everything from clothing to pets to home decorations. I think the B-side of this market will be the Klong Thom market which is open from Saturday evening to Sunday afternoon. Some people call it the "Flashlight Market" or just plainly the "Thieves Market". You can find curios, junks, second-hand/factory clearance stuffs, and much more. This is a place where you'll either like it for all the surprises you'll find, or hate it for some of the creepy stuffs it has for sale. Not for the pampered or the faint of hearts. Feeding seagulls at Bang Poo Seaside Resort. This place is about 40 minutes away from Bangkok. From late October to May, around 2000-3000 seagulls migrate here which create quite a scene, like from the movie "The Birds". You can throw them food and some will even eat from your hands. Don't forget to wear a hat!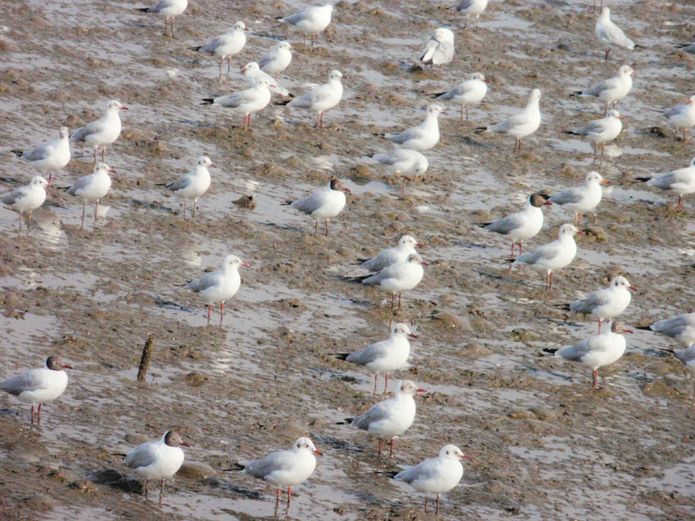 Pick up a hand-woven scarf from Doi Tung Lifestyle shop. The Doi Tung Foundation is a royal project set up to help ethnic minorities live sustainably. By providing them with jobs and training, they wouldn't have to grow illicit crops (opium!) by cutting down the forest.
Inspiration
Actually, I find the sky very inspiring. Just look up and there it is, a constantly changing masterpiece. I also like to visit this Thai designer's site called Tam:Da. The sky's the limit for this guy's ideas. Some of his creations are a bicycle made with wooden leg crutches, a lamp from vermicelli , an amplifier from traffic cones. His ability to take everyday objects and transform them into something totally new is very inspiring to me. Another place I like to check out when I'm around the Siam Center area is the Bangkok Art and Culture Centre [939 Rama 1 Rd, Pathum Wan]. You'll find art exhibitions from local and international artist and also activities and workshops for the public to take part in.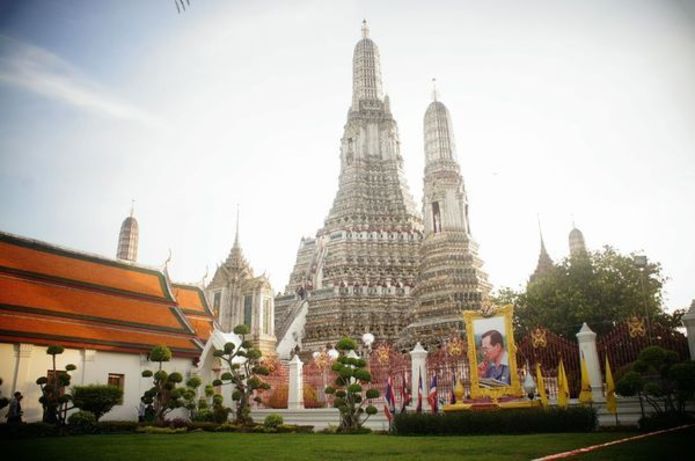 If it is your first time here, you should visit the major landmarks, namely the Grand Palace [Na Phra Lan Rd, Phra Nakhon], Wat Pho [2 Sanamchai Road, Grand Palace Subdistrict, Pranakorn District], and Wat Pho [2 Sanamchai Road, Grand Palace Subdistrict, Pranakorn District] (the Temple of Dawn). The best way to see all of them and more is to go on a bike tour. It's fast and breezy. You also get to see more of the local life as you'll be weaving through lanes right pass their houses. I also recommend visiting Wat Arun AFTER closing time. At around 6:30-7:00 pm, the stupa slowly transitions from its pale grayish color into this breath-taking golden monument. All this takes place with the sound of birds chattering as they return to their nests and the monks chanting in the background.