" If a person who lives in New-York, will come to Kyiv (or Kiev) first thing they'll notice - a small number of skyscrapers. And that's true. Kyiv has only a few of them. Whereas there are dozens of houses built in 1950-th or even in 1920-th! If you take a stroll along Kiev streets, you'll definitely find them, especially if you deviate from the centre of the city. Kiev has lots of parks. Some of them are enormous!!! For example, Golosiivkiy Park is 140 hectares! So be sure that you'll always find a place to jog, chill out with a book, and have a picnic with your friends or sit & craft (you'll soon read some of the best). That's why I love my city. You'll always find a cozy place to do stuff or to hang around. "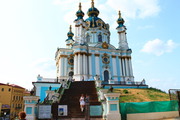 Shop
If you're keen on making jewellery, you can buy everything in Monpasie [Чеська вулиця, 1/22] (in multiple locations) where there is a wide range of different beads, pendants, things like locks and other useful stuff .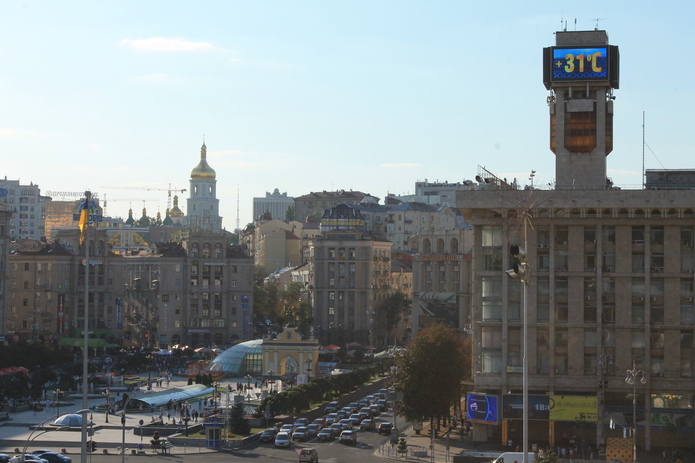 Mostly, Kiev has many mixed shops where you can buy supplies for decoupage, scrapbooking & painting together at one time. One of these is Lavka Khudozhnik [Червоноармійська вул. 72, Київ] (The shop of a painter) that is located in Olimpiyskiy Mall near to metro station Olimpiyska. The shop is on the 2nd floor and is what I call a "mix shop" but what makes it stand out from the crowd is that is has an excellent variety of paint colours.
Another cool craft shop is Veshichka (humdinger). (Location: 2nd floor of Dream Town [Obolonskyi Avenue] mall). It's also a mixed shop in that you can both buy different types of craft supplies at once. On 30B, Krasnoarmiyska street (near to Lva Tolstoho metro station) you'll find a cool shop called Art-butik "Alizarin" [Krasnoarmeyskaya ulitsa, 30В] which even has it's own online shop so you can see the whole range of goods. When buying fabric, there are lots of shops around Kiev. You'll recognise them by the lettering and there you'll also find different stuff for sewing.
Eat & Drink
When you are hungry, you'll always find places to eat in Kyiv but most of them are not the best, especially ones in the centre. If I were you, I'd deviate from the centre and not only because prices are more expensive. You see, there is an interesting fact about Kiev restaurants. For example, there is a cool restaurant chain called Celentano Pizza. It's a cool pizzeria, but one of these restaurants on Andreyevskiy spusk, near to the Museun of One Street, "cooks" not so good as another Pizza Celentano [Chervonoarmiiska Street, 23] on 26/41, Pavlivska str. (And on 11-A, Moskovskiy prospect(avenue), Altatzentr mall. there is also good "Celentano" pizza.) And that may happen to most of the restaurants in the centre of Kyiv. That's why I'd deviate from the centre if talking about restaurants.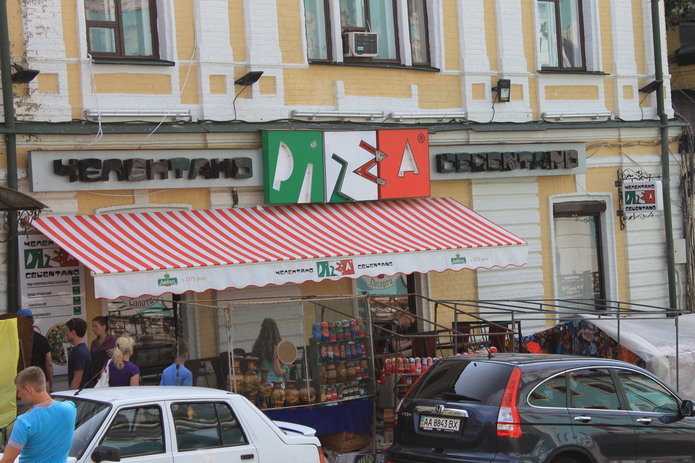 But not everything in the centre is the worst in Kiev. There is one secret place called Kyivska Perepichka [Хмельницького Б. вул. 3, Київ] where you can buy delicious sausage buns. I just love love love them! You can also buy hot tea & water (Location: 3,Bogdana Chmelnitskoho str.). Near to Perepichka is a book shop where you can buy books about the Ukraine in English and postcards.
Craft
The best places to sit, relax & craft are parks. The biggest one is Golosiivs'kyi Park [Ukraine] (Golosiivskiy avenue, opposite to Golosiivskya metro station) where you can not only craft, but jog, ride a bike or take photos. It's also a nice place for inspiration for a photographer. It's really enormous and quiet. I heard that you can see a couple of black swans there, in the park, but I haven't seen them. I also like a KPI park [просп. Перемоги] from KPI university in Kyiv (Pobedi avenue, next to KPI metro station) which isn't as big but still very beautiful. Another cute park is Mariinskyi Park [Ukraine] where you'll find cute benches in the shade. If you want even more parks, here's a cool page to read.
If you are fed up with parks, the best alternative (or another place to visit) is Peizazhna Alley [Peizazhna Alley] (or avenue). It's also a cool place to walk if you have a child. There is a big playground with faddish statues and slides. Overall, Kiev has lots of parks in every district. When talking about cafes, well, it's ok to craft there, but the stuff may stare at you trying to find out what you're doing and I find it quite irritating. You can sit & craft in shopping malls if there are places to sit, why not=)?
Places where you can go to meet new friends and crafters are shops like Veshichka & Lavka Khudozhnik [Червоноармійська вул. 72, Київ] where there have tiny studios to show master-classes. You can buy a class and if you are fortunate, you'll meet some other people but unfortunately, you have to buy one. Another way to meet new crafters are at exhibitions. They are annual and usually take place in KyivExpoPlaza [Saliutna Street, 2Б], you can go their website and find the calendar. If you want to sell your craft work, this is the worst part of Ukrainian crafty life because there are very few places. Jewelry, notebooks, knitted things & postcards can be sold at Veshichka. Another place to sell work is at the art-boutique AZUR [вул. Ярославов Вал, 9, Київ, Ukraine, 01034] ( 23, Nizhniy Val str., 2nd floor.) It's a small room filled with different handmade crafts that you can watch for hours. The only thing is that if you want to sell your work here, the shop doesn't go for pictures, statues and stuff like this for sale because they take only things that are "useful" like candies, plates, combs and so on. Other cool shops to sell your works are 4 shops that were united into "Sweet club". It includes shops on: 3, Gorkogo str. 9, Mezhigorskaya str. 12, Krasnoarmeyskaya str. and 12A, Pushkinskaya str. The owners of these shops like to take for sale jewelries & clothes. What's more, it's more reasonable for them to take clothes that match together, like in collection. Well, unfortunately, these are only a couple of places where you can sell your work.
See Something Special
One of the odd sites to see (and only to see, unfortunately) is The House with Chimeras [The House with Chimeras, Bankova St, 10]. It was built as a house for architect Gorodetskiy and he was the first one in Kiyv to build a house on the heeling ground. The house is closed nowadays from tourists but you can see it's exterior and it's just awesome! Take a look at a photo and be ready to take yours =).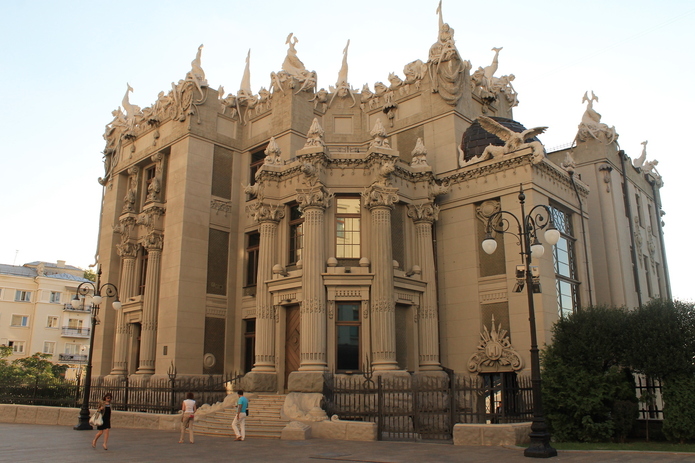 When you come to Ukraine, you should certainly buy Ukrainian rush nick, vishivanka and the Kiev cake - the tastiest Ukrainian cake ever!
Inspiration
Places that should be on your photo list are The House with Chimeras [The House with Chimeras, Bankova St, 10], The Friendship of Nations Arch [] (especially at night - locating in Evropeyskaya square), The Mother of Motherland [вул. Лаврська, 24] and Peizazhna Alley [Peizazhna Alley].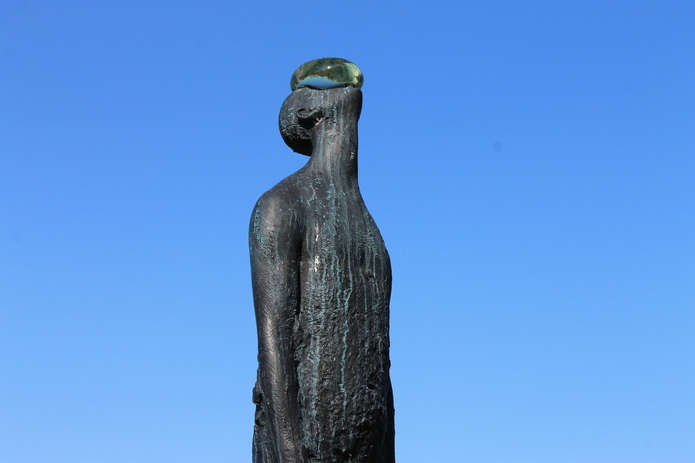 You can get inspiration in the The National Museum of Natural History [ulitsa Bogdana Khmelnitskogo, 15] which is located on 2, Volodimirska str. Here, you'll see the national Ukrainian clothing and you'll notice a familiar embroidery like in the summer collections of famous designers. Perhaps, they got inspiration from Ukrainian national shirts & skirts. Another super-cool museum to get inspiration is the Museum of One Street [Andriivs'kyi descent, 2Б] (2B, Andreyevskiy spusk). I deliberately took no photos of the inside to keep it a surprise because this museum is really awesome! It's all about the street where it's located and the famous people who lived here in different houses - everyone has a unique history. Unfortunately, the descriptions are in Russian, but you can buy an English guide in museum. Another awesome place to get inspiration is Geydar Aliev's Square. Although it's small, it's fabulous! (Location: 22/24, Glibochitska str.)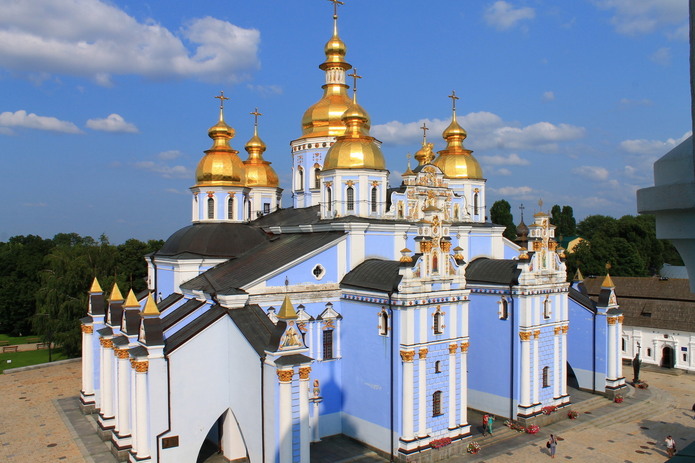 When you arrive in Kyiv for the first time, you should visit Chreshatyk, the main Kiev street. Especially at the weekend when there are no cars and you can easily take a stroll. The coolest place to learn about and see Ukrainian culture is the Museum of Folk Architecture and Life of Ukraine [Pyrohiv] ( Kiev, the village Pyrogovo). You can get there by bus (which Ukrainians call "Marshrutka") 172 & 156 or from the metro station "Lyibitska" which runs from 10a.m. to 5p.m. If you are keen on military (or if you want to see the Ukrainian statue of Liberty) you can visit The Ukrainian State Museum of the Great Patriotic War [Lavrska Street, 24] (24, Lavska str.). What's interesting is that you will see a massive statue of a woman who is raising her hands and holding a sword and shield as if she's protecting the country from enemies. I cannot explain how cool she is, so you should really see it. That's why she is called The Mother of Motherland. I also want to recommend that you visit Ukrainiand churches and temples like St. Andrew's Church [Andriivs'kyi descent, 23] (on Andriivskiy uzviz), Michaylovskiy (6, Trechsvyatitelskaya str.) and St. Sophia's Cathedral [Volodymyrska Street, 24] (24, Vladimirska str.) and the most beautiful one, The Kyevo-Pecherska Lavra [Ukraine] (15, Lavrska str.).