" A'loha from Hawai'i! When traveling to this beautiful island don't forget to bring your sunscreen, a good book and a project you've been meaning to get done (crocheting on the long flight sure makes time fly). "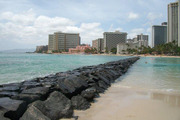 Shop
If you want to do some real shopping just take a walk through Waikiki or go to the huge Ala Moana Shopping Center [1450 Ala Moana Boulevard], you can't miss it. It has everything from a Barnes and Noble to Cartier and Old Navy.
If you're in Honolulu and need to stock up on supplies, prepare to do a bit of driving around. If it is fabric you need head over to Fabric Mart [98 Hekaha Street #1, Aiea, HI 96701, United States] in Aiea. For specialty beading needs check out either Bead It! [1152 Koko Head Avenue] on Koko Head Avenue or The Bead Gallery [1287 Kalani Street #103] on Kalani. If you're looking for just general craftiness your best bet would be Ben Franklin Crafts [2810 Paa Street] on Paa in the Mapunapuna area.
Eat & Drink
For an out of the ordinary treat you can go to Chinatown's Meat Market [145 North King Street], where they have stalls cooking up fast and fresh food. If you go shopping at Ala Moana [Ala Moana] be sure to bring your appetite because they have one of the best food courts in Honolulu. They have Japanese, Korean, American, Italian and of course Hawaiian food selections. Another place to try out is The Shore Bird [2169 Kalia Road] located inside the Outrigger Reef Hotel is a unique place to enjoy a laid back evening. When you order your meat entrée, it's brought to you raw. They have huge grills where you season and cook your own food that they give you. They help you with tips, techniques, and supply all the seasonings and marinades for your dinner. It has a great bar and has a tremendous view right on the beach, what more could you want when relaxing with friends at the end of a great day?
Craft
When it's finally time to get down to business, you should have no problem finding a place to craft. The weather is always so lovely all year round that you can craft just about anywhere. With all the beautiful beaches and parks within walking distance of each other, you don't even have to stay in the same place all day. If you want to get out of the sun to craft, you can sit in the shade of a giant banyan tree along the beach.
See Something Special
If you've got the time there are three places I would recommend venturing outside the city of Honolulu for. First would be Hanauma Bay Nature Preserve Park [100 Hanauma Bay Road], it's a volcanic crater that sunk and filled in with the ocean, creating a beautiful protected bay. Historically it was reserved for Hawaiian royalty, but now it is open to the public. It is inexpensive to get in the park as well as cheap parking. You can bring or rent snorkeling equipment and go exploring. It is an awesome sight to see all the sea life up close. Keep an eye and it's possible you'll even see the state fish Humuhumunukunukuapua'a. Second place you could go is the Valley of the Temples [47-200 Kahekili Highway, Kaneohe], where all the way at the back is The Byodo-In Temple [47-200 Kahekili Highway, Kaneohe] Complex. It is a scale replica of the temple at Uji, Japan, which is a United Nations World Heritage Site. Lastly I would recommend hiking up Diamond Head Crater [Diamond Head Crater], an old volcano that dominates Honolulu's skyline. The view from the top makes the grueling hike worth it, and as a reward you can buy yourself a nice Shave Ice when you get back down to the bottom.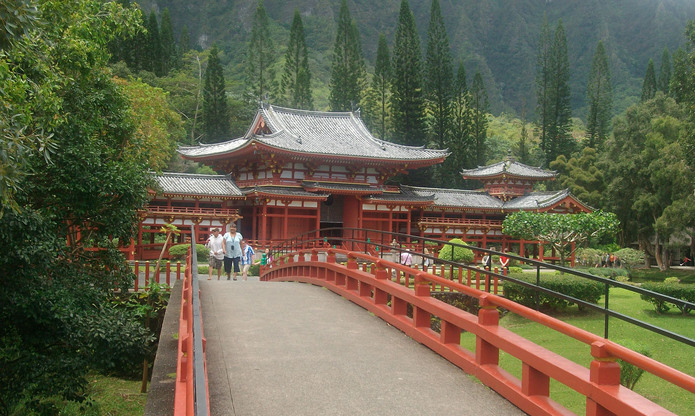 The International Market Place on KalaKaua Avenue is the best place to find little gifts for friends, there are so many little stalls there selling fun things. You can buy t-shirts, Christmas ornaments, Hawaiian jewelry, and beautiful beach sarongs, some famous Hawaiian Kona Coffee, and so much more. While you're shopping for friends grab a delicious drink made right in the coconut from one of the many vendors.
Inspiration
At the Honolulu Botanical Garden [7491 Kokonani Street] you can relax and enjoy reading about all of the tropical plants that are grown in the area, enjoy the live music, and explore the butterfly garden. Bring a project to work on while watching hula dancers or a notebook to write down new ideas. If you want to be inspired by the ocean instead go to Kuhio Beach Park [], part of Waikiki Beach and lay down your towel. Don't be discouraged by the crowds, you can always find a good spot on the beach because it's just that big.