" Indianapolis is a culture rich city chalk full of retail shops, unique restaurants and galleries. It's the perfect place for everybody! "
Shop
Indianapolis offers over more than 200 retail shops in the downtown circle alone, making it a city where you could literally shop until you drop.
Ace Crafts/Castings [1101 Shelby Street] is a wonderful store where you can buy crafting supplies and get various things casted--it's a wonderful place. It's located in Fountain Square [Fountain Square], southeast of Downtown, which is known for the creative and independent people who live there.
Eat & Drink
For the foodie in you, Indianapolis offers hundreds of restaurants! The most popular would be St. Elmo Steak House [127 South Illinois Street #2]. It's been in the same location since 1902, and it's definitely a landmark. I can't tell you how many times I've been asked for directions downtown for someone who was looking for St. Elmos.
For the drive in lover, there is Mug N Bun [5211 West 10th Street, Speedway], a quaint drive in diner that offers, you guessed it, hamburgers and mugs of beer. Root beer, to be exact.
Santorini [1417 Prospect Street] Greek Kitchen is an authentic Greek restaurant and affordable restaurant that is gluten free and vegan friendly. If you're into Vietnamese, try Pho 54 [7280 Michigan Road]. It's a delicious little joint that offers some of the best Pho available. If you're into Thai, try Thai Spice [2220 East County Line Road]! Cuban? Try A Taste of Havana [815 Broad Ripple Avenue]. If there is a type of cuisine you like, I can guarantee you that Indianapolis has a restaurant to cater to your needs.
Craft
The Indianapolis Arts Garden [110 West Washington Street], located in Circle Centre Mall, is a perfect place to craft and feel humble. The Art's Garden is an indoor skywalk that hosts more than 300 free live performances and exhibits each year. It sits over the intersection of Washington and Illinois streets, and it has a snapshot of what that same intersection looked like in the early 1900s. The Soldiers and Sailors Monument [1 Monument Circle] in the center of the Circle is also a great place to sit and craft. Located smack dab in the center of Downtown, the Monument pays homage to the Soldiers and Sailors who served for Indiana in various wars in the past. The steps that lead up to the Monument are wide and long, which is great for sitting on, which is why it's a popular lunch spot.
The Indianapolis Art Center [820 East 67th Street] is the perfect place for any crafter--you can take classes ranging from ceramics to digital film making and they are dedicated to making art accessible to anyone regardless of race, gender, or social status. The Glitterie [132 North 18th Avenue, Beech Grove] is a crafting boutique that offers classes for anyone who is interested in them, for a relatively low price. The shop itself is adorable, and the owner is such a sweetheart, that it's hard not to fall in love with the store.
Indianapolis is the Convention City of the US and there are literally dozens of conventions each year that crafters can take part in. Nerdy crafters? GenCon and Indianapolis Comic Con have you made. Seasonal crafter? Springtime in Indiana is your convention.
See Something Special
My favorite place in all of Indianapolis has to be the Circle Centre Mall [Circle Centre Mall, Circle Centre, 49 Maryland St]. It's gorgeous, enclosed by buildings, and you can get horse drawn carriage rides around it! I love it because it reminds me that there is all kinds of beauty in this city, and that the Circle is just one of the hundreds of gorgeous attractions Indianapolis has.
If you're a sports fan, than the perfect souvenir would be an authentic Colt's jersey from The Colts Pro Shop [500 South Capitol Avenue], located in Circle Centre Mall. Indianapolis is known--among other things--for hosting Colts, a NFL team. We take pride in the blue-and-white, and you can tell just by walking Downtown. But, if you're not into the Colts, Homespun is your place. Homespun [869 Massachusetts Ave] is a shop that sells an assortment of homemade goodies, and my favorite thing they offer is a cutting board with Indiana etched into it. The store has a log cabin feel, which is what most people think of when they think of Indiana.
Inspiration
I used to hate Indianapolis because everything was either too young for me or too old for me. But now, as a young adult, I can truly enjoy what Indianapolis has to offer. Mass Ave, a wildly popular neighborhood in Indianapolis is full of history, culture and food—it's the Arts and Theatre district of Indianapolis and you can just tell if you walk in at night. You can hear the music from the bars, the chatter of people in cafes and the general buzz of the area is of excitement. Fountain Square [Fountain Square] is home to a community of artists, blue-collar workers and young people. Fountain Square is unique because it's chalk full of vintage and antique shops (my favorite thrift store is in Fountain Square!), working artists, and one of the kind stores. There are comic stores, home decor stores, fresh flowers, and more restaurants than I can name. It's truly a place for anyone, at any time, because a lot of the businesses are open late night, or even 24 hours.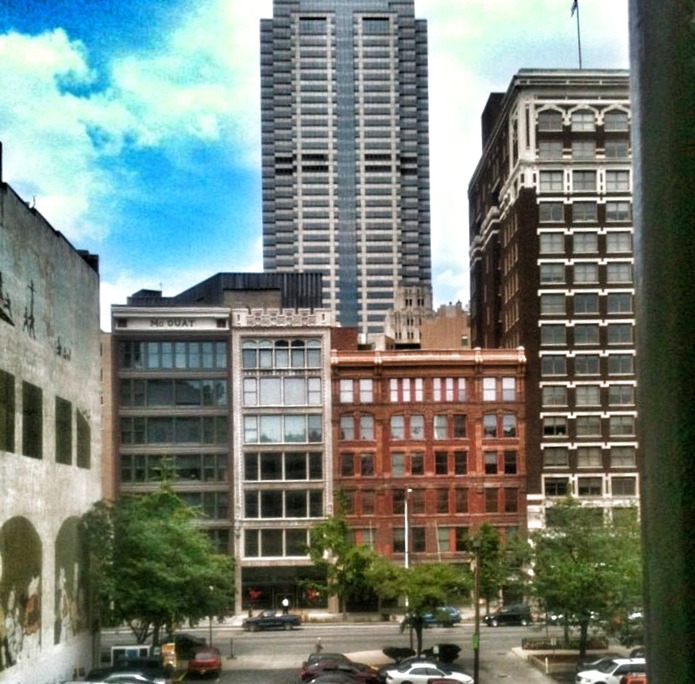 Broad Ripple [Broad Ripple] Village is known for it's night life. Broad Ripple is essentially a college town, being that Butler University resides close to it. It's full of graffiti murals, sidewalk cafes, and a ton of bars. I fell in love with my boyfriend in Broad Ripple, and it has a special place in my heart. Besides Mass Ave, Fountain Square, and Broad Ripple, Indianapolis also offers the Wholesale District, which is in the heart of downtown, the Canal and White River State Park [801 West Washington Street], which offers a unique waterfront view of a landlocked city, and Indiana Avenue, the historic African American neighborhood, full of entertainment, worship, and a lush waterway. Collectively, these places inspire me and kick start my creativity.
One thing you should definitely take a snap of would be the Indianapolis Museum of Art [4000 Michigan Road]'s garden. The museum has a lush garden and it's a gorgeous place to take selfies in. In fact, many people use the grounds as a wedding venue because it's just that gorgeous. For the kid in you, I would recommend visiting The Children's Museum [3000 North Meridian Street]. It's meant for children, but it's also enjoyed my adults, as well. It's one of the top tourist attractions in Indiana, and it's literally the cutest and quirky place I've ever been in.