" I love the food, the history, the scenery, the pace at which life moves in the South. "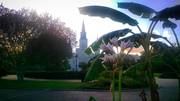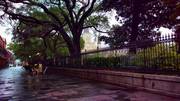 Shop
The best places to shop include Jefferson Variety Store [239 Iris Ave, Jefferson, LA 70121, USA], Road Kill [903 Decatur St], Trashy Diva Clothing Boutique [537 Royal Street], Miette [2038 Magazine St], Plum [1914 Magazine St] and Wicked Orleans [1201 Decatur St].
Jefferson Variety Store [239 Iris Ave, Jefferson, LA 70121, USA] is amazing for craft shopping! From Mardi Gras beads and tiaras to fabrics, appliqués, feathers and hats, Jefferson Variety is a dream for people who love to craft. David Art Supply [3020 N Arnoult Rd, Metairie, LA 70002, USA] has every type of craft supply you can imagine and a few you can't believe you found.
One of the unique places you can sell your art is Frenchmen Art Market [619 Frenchmen St]. It is a tiny alley lined with independent vendors and artists that changes nightly. Another place is the French Market [1235 N Peters St]. Both places require booth rentals but get large amounts of foot traffic.
Eat & Drink
Fry and Pie [Courtyard at Hi-Ho Lounge, 2239 St Claude Ave] on Sunday, Monday and Wednesday nights at the Hi-Ho Lounge [2239 St Claude Ave]. This fantastic little pop up has loaded French fries and individual, mouth-watering pies. Try the Pizza Pandemonium or The Big Dipper fries or indulge your sweet tooth with Rock Hot Robot or El Chapo pies. This menu is ever evolving and has house made condiments.
Coop's Place [1109 Decatur St] is a nice, local place for 'Louisiana cuisine' and not-so-cold beer. Try the Cajun pasta with housemade Tasso (thick, smoked chunks of seasoned ham).
Central Grocery [923 Decatur St] is THE place to try the muffuletta, they are huge but you do need to get there early because they sell out quickly.
For a variety of po boy options, try Johnny's Po-Boys [511 St Louis St]. Dat Dog is a craft hot dog/sausage experience that you need to try. Go for the Bacon Werewolf or the Guiness dog with a heaping pile of white trash fries, but bring your appetite.
I highly recommend Sucré [3930 Euphrosine St] on Magazine for a range of truffles, desserts, gelato and macaroons that you and your entire party will enjoy. There are even sugar free options. For a drama free coffee, go visit Mojo Coffee House [1500 Magazine St] on Magazine.
Our favorite bars are Cooter Brown's [509 S Carrollton Ave] and the Rivershack [3449 River Rd]. Cooter Brown's Tavern [509 S Carrollton Ave] has a serious selection of bottled beers and beers on tap along with great bar food and oysters on the half shell. Rivershack Tavern [3449 River Rd] is the 'home of the tacky ashtray' but the bar stools are each a pair of legs dressed in a different theme. This place has great fried mushrooms and their fried platter comes with sweet potato fries, French fries, fried pickles, fried mushrooms and fried green tomatoes.
The Hi-Ho Lounge [2239 St Claude Ave] has different theme nights like We Love Vinyl and Comefy night. Go for the theme night or live music, get a drink and head to the courtyard for Fry and Pie [Courtyard at Hi-Ho Lounge, 2239 St Claude Ave]!
For a drink in the French Quarter, try Molly's at the Market [1107 Decatur St] for a unique twist on the Bloody Mary. Backspace Bar [139 Chartres St] has craft cocktails and a laid back atmosphere.
Craft
If you like to craft outdoors, City Park [1 Palm Dr] has plenty of beautiful places to sit and get your craft on. Another favorite place to craft is next to the tree of life in Audubon Park [6500 Magazine St].
I haven't found a great craft club yet, but that doesn't mean they don't exist here!
One of my favorite places to meet new, crafty friends is at the Frenchmen Art Market [619 Frenchmen St]. Just start talking to the artists or the people looking at the art you like and voila! New crafty friend.
See Something Special
We are well known for our bayous and the French Quarter. You can also venture into St. Louis Cemetery No. 1 [425 Basin St] to see the tomb of Marie Laveau, the most powerful voodoo queen(please be respectful). Voodoo Authentica [612 Dumaine St] is a real voodoo shop with working altars. The people are all super friendly and very knowledgeable. Take a trip to Mardi Gras World [1380 Port of] to see floats! The Causeway bridge is the longest, continuous bridge over water in the world and has a beautiful view during sunset or whenever the brown pelicans are out cruising the wind currents.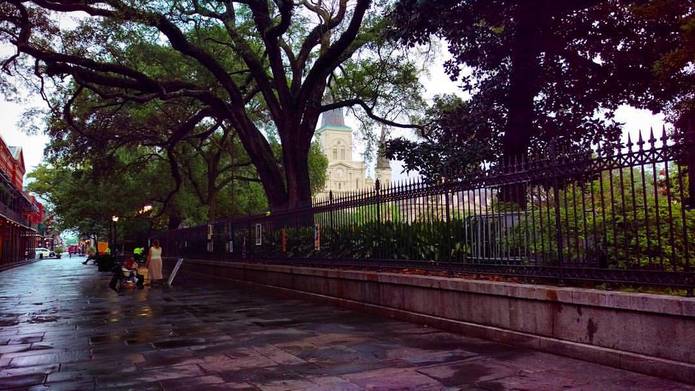 Bring home Tabasco Family Reserve (aged 8 years and only available in the French Quarter store or in Avery Island at the Tabadco plant). Pralines are a great souvenir for those with a sweet tooth. Voodoo dolls or doll postcards are always unique but don't get them at just any souvenir shop.
Inspiration
In New Orleans, finding inspiration is as easy as breathing. Explore the French Quarter for captivating architecture, beautiful scenery and a never ending supply of interesting people. Try a stroll around Sculpture Garden at the New Orleans Museum of Art [1 Collins Diboll Cir]. Go have beignets( a delicious pillow of dough that is fried and covered in powdered sugar) at Morning Call [56 Dreyfous Dr] in City Park and gaze at the Peristyle and the swans. You can also take the streetcar down through the Garden District and along St. Charles Avenue to see the decadent mansions and their stately architecture.
Some non-craft related attractions include Jackson Square [700 Decatur St] in the French Quarter. Garden District, Audubon Aquarium of the Americas [1 Canal St], Audubon Zoo [6500 Magazine St] and Audubon Butterfly Garden and Insectarium [423 Canal St].
St. Louis Cathedral [615 Pere Antoine Alley], Jackson Square [700 Decatur St], Moonwalk [768 Decatur St], City Park [1 Palm Dr] and Audubon Park [6500 Magazine St] are also great places to take photos.