Shop
There are tons of places in Plymouth to shop! There are shops at the waterfront, and about 10 minutes from the waterfront, there is a mall (even though that is technically Kingston), and down the road from that is Colony Place [174 Colony Pl] (a strip mall). If you get on the highway, there are more shops a few exits down at Shops at 5. These are just major shopping areas, there are plenty more places to shop go around town for shopping and such.
The waterfront has a ton of cute little shops from candy shops to souvenir shops. They are all fun to take a look at.
Personally, I shop at Colony Place and the mall, but I will talk about Colony Place because it is actually in Plymouth even though it's 2 minutes away from the mall in Kingston. At Colony Place, there is a wide range of stores and restaurants! GameStop [2421 Cranberry Hwy #101, Wareham, MA 02571, USA] is one of my favorites because I like video games and I embrace my nerdiness by going there and a store at the Mall (Newbury Comics [101 Independence Mall Way, Kingston, MA 02364, USA]!!). There is also Best Buy for tech stuff.
There are lots of clothing stores. Old Navy [2421 Cranberry Hwy, Wareham, MA 02571, USA], Talbots [250 Granite St, Braintree, MA 02184, USA], Chico's [South Shore Plaza, 250 Granite Street #1051, Braintree], and Charming Charlie [194 Colony Pl] to name a few. I like going to Old Navy because it's has casual, comfortable clothing. The others I mentioned are more dressy places, but I don't dress up a lot. I at least know they are there if I need them! There are also jewelry stores, hair salons, and a sports goods store.
My other favorite place to go here is Michaels [121 Pearl St, Braintree, MA 02184, USA] (where I can spend hours forming wonderful little ideas!!!). Michael's is a craft store and I love it so so much!! I will explain more in a minute about Michael's! But it is great!
At Shops at 5 [United States], and the surrounding area, there are lots of different stores. I like to go to Kohl's [68 Long Pond Rd] (a clothes and home goods store) and there is another wonderful craft store here called Jo-Ann Fabrics [1302 Washington St, Hanover, MA 02339, USA]. I will explain more about Jo-Ann's too!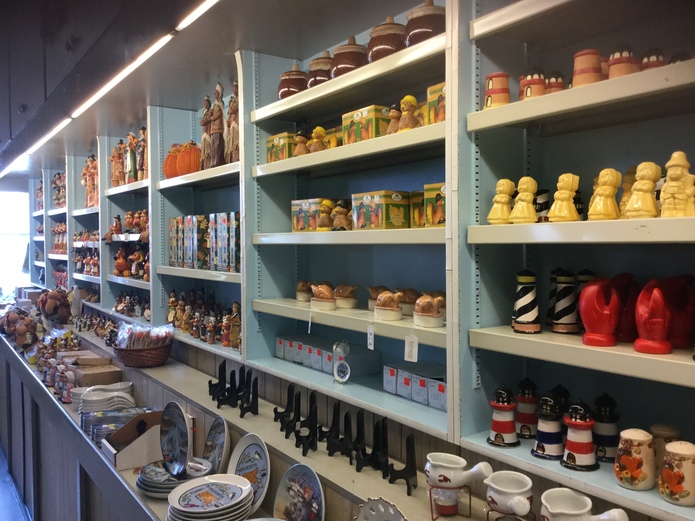 The top places for buying craft supplies in Plymouth is Michaels [121 Pearl St, Braintree, MA 02184, USA] at Colony Place and Jo-Ann Fabrics and Crafts [1302 Washington St, Hanover, MA 02339, USA] at Shops at 5 [United States].
Michaels [121 Pearl St, Braintree, MA 02184, USA] tends to sell lots of yarn, crocheting and knitting supplies (which is really really good for me!), flowers for all sorts of crafts, sketching and painting supplies, beading supplies, custom framing, baking/ candy supplies, scrap bookings supplies, and children's crafts. They also have a lot of wicker baskets and other baskets for storage and for various craft projects. There is more than this at Michael's, but if you are looking for odd ball craft items, it may be difficult to find it here.
Jo-Ann Fabrics and Crafts [1302 Washington St, Hanover, MA 02339, USA] has a lot of what Michael's has, but if you are interested in sewing (ie., making clothes, curtains, blankets, etc.) Jo- Ann's is much better to go to! They don't carry as much in terms of yarn or children's crafts, but they do have more for scrap booking and stamps if that is of any interest!
I will mention one more craft store, but unfortunately there is not one in Plymouth. But, if you are in Massachusetts, it's my FAVORITE craft store, so it's worth travelling to. A.C. Moore. It is more like Michael's but they carry far more yarn, more sketching and painting supplies, supplies to make dolls, embroidery and children's crafts. They also carry more in terms of baking supplies (ie., cake pans, flavoring, food coloring, cupcake papers, decorating tools, etc.). Again, not located in Plymouth, but well worth traveling to if you are in Massachusetts.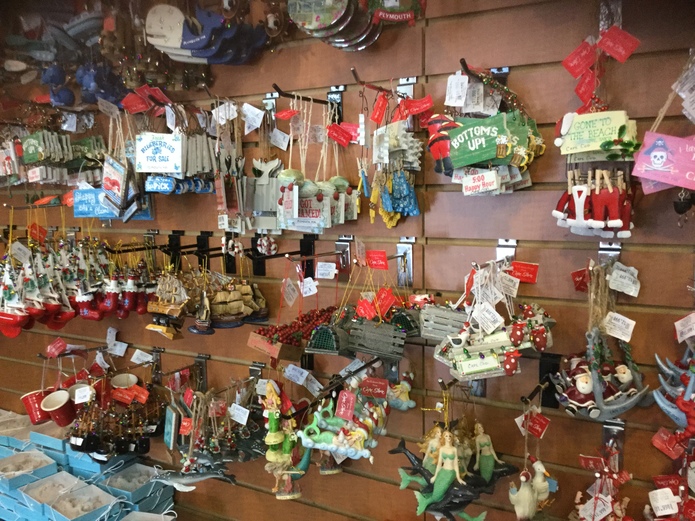 Other than online, there are several ways a crafter can sell handmade items.
The waterfront in Plymouth has handmade goods in the shops ranging from bracelets, coasters and places mats, and even dream catchers.
Sometimes charity events are held and crafters can sell there goods to raise money for charity. They can also donate them, which I have done.
Some small shop owners would probably be willing to sell certain handmade items in their stores from local crafters. I mostly see these is small independently owned hair salons and mom and pop stores.
If I sell my items, it's usually to people I know that have requested them and offered pay. I typically make things for gifts, but knowing people that are willing to pay for the items is certainly another way to sell them.
Eat & Drink
There are a lot of great places to eat in Plymouth. Pebbles [76 Water St] is a good place to stop and get clam chowder or a snack while walking around the waterfront. Mamma Mia's [122 Water St] is extremely popular and is great for lunch and dinner! They are also on the waterfront. There are various seafood places like Lobster Hut [25 Town Wharf] and Tavern on the Wharf [6 Town Wharf].
Colony Place, where there is tons of stores, also has a lot of restaurants. Bertucci's, Olive Garden, and Panera Bread are great places to grab lunch or dinner. There are plenty more restaurants in the plaza in addition to these. Bertucci's [412 Franklin St, Braintree, MA 02184, USA] is a personal favorite of mine for lunch or dinner! The rolls are absolutely amazing and who doesn't love Italian food?! Olive Garden [102 Colony Pl] is an Italian restaurant too, but is especially great for lunch because they have endless soup, salad, and bread sticks for a set price at lunchtime. Panera Bread [1401 Washington St, Hanover, MA 02339, USA] has soup, salads, bread, sandwiches and baked goods and is another favorite of mine. (I recommend the Tomato Mozzarella Flat bread sandwich if you go!!)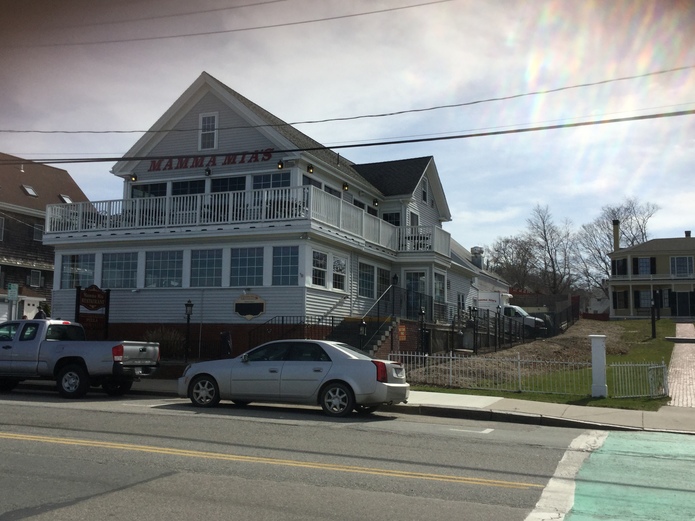 There are several places for sweet treats! One of my absolute favorites is Peaceful Meadows Ice Cream [60 Bedford St, Whitman, MA 02382, USA]! Peace Meadows is homemade ice cream and they have everything from scoops on cones and cups to frappes and sundaes! (Which in New England, if you aren't from here, a frappe is a milkshake.)
Pebbles [76 Water St] is another great place to stop for ice cream. There are several ice cream shops around the water front because tourists come during the summertime and who doesn't love ice cream when it's hot out?
There are plenty of coffee shops in Plymouth. From mom and pop places to Dunkin' Donuts [11 Long Pond Rd], Starbucks [37 Forbes Rd, Braintree, MA 02184, USA], and Marylou's Coffee [1 Canal Pl, Sagamore Beach, MA 02562, USA]. Dunkin' Donuts will be the easiest coffee shop to find because they are literally EVERYWHERE in New England.
Most of the shops on the waterfront carry saltwater taffy and rock candy. These are really big in the beach towns in Massachusetts, and Plymouth is no exception!! Saltwater taffy is so good and can be bought in boxes or individually depending on where you go. So definitely try the taffy!!
I personally am not one for bars or drinking, so I can't give the best suggestion for a place to go for a drink. To me, it would just be fun anywhere you go to grab something with whoever you are with. I know there are taverns around the waterfront, but simply asking locals when walking around can give you a good idea of where to go!
Inspiration
For inspirational spots in Plymouth, the waterfront area is definitely the place to go. This particular area is rich in history. There are museums around the city, but the most notable is Plymouth Plantation. As you walk around you can see items that would have been handmade by the people of those times. Items I personally would be inspired to make would be corn husk dolls or even dream catchers or something else Native American. There is also a section with beautiful woodwork. If you are into woodwork, it would be great for inspiration!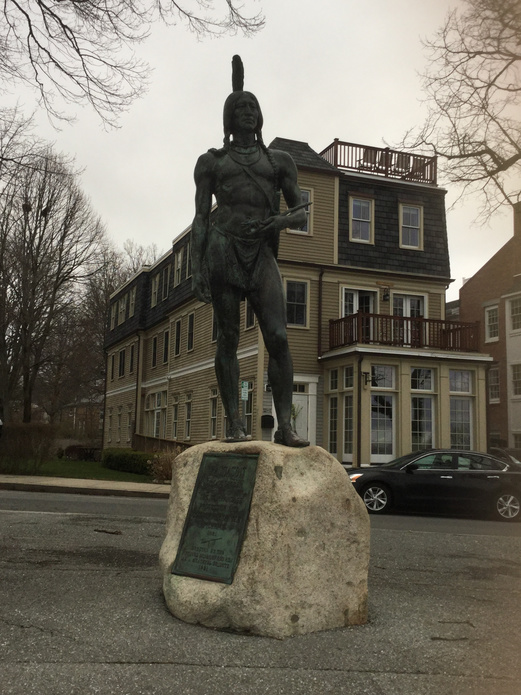 The historical sites in Plymouth are great non-craft attractions. Plimoth Plantation [137 Warren Ave] is the biggest attraction in Plymouth. It brings people from all over the country, and the world, to Plymouth. Inside the plantation, it is set as a colonial village from the 1600s when the pilgrims came to the area. There are also sections with Native American huts. There are people dressed in colonial garb and in native garb going about their days as if it were the 1600s.
The 'Mayflower II' is another attraction that is very popular. The pilgrims came to America on the 'Mayflower' so the 'Mayflower II' is a replica of the original. People usually go to the ship after going to the plantation. The ship is a bit away at the waterfront and people can go onto the ship.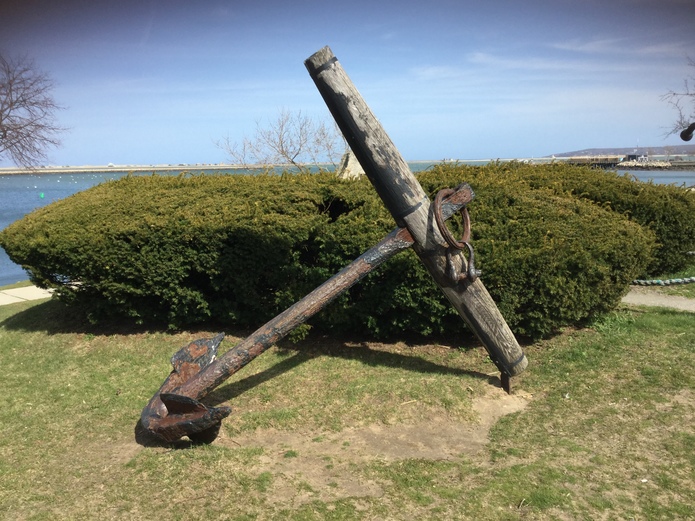 If you want to take pictures while you are seeing the city, they can be taken in Plimoth Plantation [137 Warren Ave] if you go there. Also, the 'Mayflower II [MA-3A]' is a good place to take pictures. Many people take pictures by Plymouth Rock as well. And let's be honest, the beach is the perfect place to take pictures!