" The best thing about living in Butte is we have art, history, beautiful architecture, and some of the best people around! "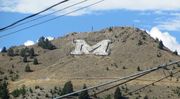 Shop
Crafty people should check out the Farmer's Market [146 West Park Street], Twisted Design [47 W Park] (shameless plug, but it's true), Art Walk, the festivals, and really almost anywhere in Uptown Butte where the business owners are awesome! We have one major craft/fabric store and a few smaller mom and pop type craft supply stores. I do a lot of my shopping online, even before we moved here.
Eat & Drink
This is Montana... Steak at The Derby [2016 Harrison Avenue] or Casagranda's Steakhouse [801 Utah Avenue]. And believe it or not, Casagrandas does amazing sushi on Thursday nights.
Craft
We have so many parks (my favorite is Heritage Park for the view) and art inspired coffee houses like the Venus Rising Espresso House [128 West Granite Street]. It's a coffee house owned and operated by the Butte Silver Bow Arts Foundation. And it's not uncommon to see an easel set up outside a bar here.
The Art Walk (1st Friday of the month), Farmer's Market (every Saturday on Park St.), Venus Rising [128 West Granite Street], the Art Chateau, one of our many galleries are great places to make new friends and you can come by and see me, Kim, at Twisted Design [47 W Park]. There aren't any craft clubs yet... but I'm working on it.
See Something Special
I was saving this one for last.... check out the Berkeley Pit [Berkeley Pit]. The pit is one mile long and half a mile wide and over 1780 feet deep and the prettiest toxic water you'll ever see... from a platform high above.
Don't leave here without something copper! It was the copper mines that put Butte on the map!
Note: Special shout out to these people giving me access to their photographs - Jennie Nielsen, Gretchen Miller, Julie Deshner, and Joyce Wilhelm.
Inspiration
Butte has amazing historical buildings, even my shop was once a bank 100 years ago. Want something more natural? Just look around. We are a small city nestled in the mountains surrounded by nature. We are a "Festival City" during the summer with a Folk Festival, An Ri Ra, and Evel Knievel Days (he was from here).
Take photos of the buildings Uptown.... I can't tell you how amazing they are. And you have to get at least one with a headframe. The World Museum of Mining [155 Museum Way] is great too! To be honest when I see tourists they've got their cameras going the whole time they're walking.
You should also take a tour of the Copper King Mansion [219 West Granite Street], the Dumas Brothel (yes I said brothel, and no it's a museum now) and check out Our Lady of the Rockies [3100 Harrison Avenue], a 90-foot statue, dedicated to the Blessed Virgin Mary, that sits atop the Continental Divide overlooking Butte. It is the second tallest statue in the United States after The Statue of Liberty.