" The best thing about living in Asheville is the vibrant culture of downtown and the gorgeous mountain views. The people are like living art and everywhere you go you are inspired by the creativity and beauty of the surroundings. "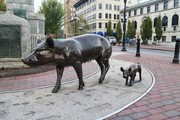 Shop
My favorite place to go for supplies is Chevron Trading Post & Bead Co [40 North Lexington Avenue] downtown. They have all the supplies you need there to make tons of creative jewelry right in the store. They even do activity days so you can create with fellow crafters!
Eat & Drink
My favorite thing to do (non craft related) is explore all the different restaurants and cafes. There are so many delicious places to choose from. My favorite place, Green Sage Cafe [5 Broadway], is a self - sustaining restaurant and cafe that makes all their food fresh, organic, and from scratch with gluten free, vegetarian and vegan options. Another great place is the Laughing Seed Cafe [40 Wall Street] which has a menu specifically for vegans/vegetarians. But there are many others that I have yet to discover. There are a few cute little coffee places as well. Asheville is a great place for foodies.
Craft
A good place to sit and craft is The Drum Circle in Pritchard Park [Pritchard Park,, 4 College Street]. It's called the drum circle because on Friday nights anyone is welcomed to come with their drums (or other instrument) and jam out while others dance or watch. But regularly, it is just a nice place to sit and relax and do whatever.
See Something Special
A popular souvenir to take home is the "keep Asheville weird" sticker or another great souvenir is, of corse, some original Asheville artwork.
Inspiration
The best places to go for inspiration are the street fairs, which are held often downtown. Just walking down the street you see so many interesting people with eye catching fashion sense and independent artists selling their work. Paintings, pottery, handmade jewelry, and more are all displayed beautifully up and down a street of choice while a local band plays close by.
Some must-dos including going to the River Arts District [Riverside Drive] which is filled with art studios where observers are welcome - you can meet the artists and talk with most of them personally. Visit the art galleries and the museum of art. Go shopping! there are so many unique, one-of-a-kind things to find. Many of the stores sell items that local artists have created.
Also take a photo of/with the street performers. There are a lot of fun people to see like a woman who is very proficient in tricks with the hoola hoop, a man who can roll a ball across his entire body without hands and lots independent musicians.