" The best thing about living in Las Vegas is that there's always something going on somewhere, any time, any day! Plus, it's usually super-cheap to fly out here, so all my friends and family get to enjoy my city! "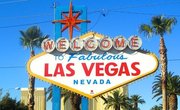 Shop
Unfortunately, small businesses don't seem to do very well here, but there are a few. Quiltique [213 North Stephanie Street, Henderson] is a quilting store with fabrics and notions, and they do workshops. Bead Jungle [1590 West Horizon Ridge Parkway #160, Henderson] has a great assortment of beads and an incredibly helpful staff. But most people tend to shop at Jo-Ann Fabric's [651 Marks Street, Henderson], mostly because of the large assortment and numerous locations. We also have Michaels [1251 South Decatur Boulevard] and Hobby Lobby [625 North Stephanie Street, Henderson].
Eat & Drink
If you enjoy sushi, I definitely recommend Osaka Japanese Bistro [4205 West Sahara Avenue]. You HAVE to try the Lisa-Lisa roll, it's my FAVE! Anime Ramen is another great place to eat, and it's adorable!
Craft
I prefer to craft at home, but I have friends who meet up for group crafting at someone's home. Both Jo-Ann's [651 Marks Street, Henderson] and Quiltique [213 North Stephanie Street, Henderson] have classes also.
The Very Awesome Girls Into Nerdy Activities do a lot of crafts that they sell for charities. Handmade in Vegas is another very active crafting group, whose members are usually at First Friday and the Cashman Center craft shows. Also, the Cashman Center has several craft fairs throughout the year where local crafters can sell their creations.
First Friday is a huge gathering of local artists, music and food downtown in our art district, on the first Friday of every month. People can rent booth space, and there's LOTS of other artists to see! Definitely a fun time!
See Something Special
Definitely an 18+ place, but The Erotic Heritage Museum [3275 South Industrial Road] is a neat place to look at the evolution of sexuality, and it's role in society. Plus you can get an awesome Kama Sutra mug! Unfortunately, I've heard that it may be closing soon, so if you're interested, you should plan a trip out soon! Fremont Street [Fremont St], which was the original Strip when Vegas was first started, has an incredible lighted canopy that plays videos and music. Plus, there are lots of costumed characters walking around, artists, and musicians all over the place! It's like a small Mardi Gras every day!
Well, we DO boast the World's Largest Souvenir Shop Bonanza Gifts [2440 South], where you can get your name on most everything, like dice, poker chips, shot glasses, and keychains. But if a specific Casino's theme catches your fancy, it will have a plethora of memorabilia to take home. My favorite is the Excalibur [3850 South], where you can get dragons and viking helmets!
Inspiration
Since I like to do clothing refashions, I like to walk through the high-end shops on the Las Vegas Strip [] for inspiration. There's plenty of items that make me say, "I can make that for way cheaper!"
I love going to the Double Down Saloon [4640 Paradise Road] to drink and see awesome local bands! If you have kids, The Fun Dungeon [3850 South] inside the Excalibur is a fun arcade. Also, The New York New York Casino [New York New York Casino, 3790 S] has a cute Coney Island replica!
Photographers have no shortage of things to shoot, both people in the city, and beautiful Red Rock Canyon. Red Rock Canyon is beautiful with good hiking trails, and it's nice to get out of the city sometimes. I really enjoy the Conservatory at the Bellagio [3600 South] Hotel and Casino. It's a large area in the center of the casino with plants and statues that changes several times a year to match the seasons and holidays.