" New York City never ceases to amaze me. One minute you're in a busy thoroughfare, the next a quiet park. You can find busy bars, quiet museums and quirky cafes. When it comes down to the core of it, the best thing about NYC is the people. It's a true mixing pot of every kind of person you can imagine, young and old, rich and poor, cheery and snarky. It's a mix of races, religions and beliefs unlike anything I've seen in any of my travels outside of the region. Some people think we are a bit brash, but we are also friendly and honest. "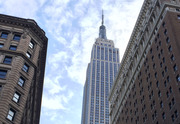 Shop
New York City has some fantastic shopping opportunities. If you're looking for what's trendy in fashion then I recommend wandering around Macy's [151 West 34th Street] in Herald Square. It's the largest department store in the world and is particularly well known for it's Christmas window displays. If you're looking for something a bit more eclectic, than vintage stores and street fairs are the way to go. During the Christmas holiday season Union Square E [Union Square E] and Union Square [Union Square E] have great little shops set up. During weekends in the spring, summer and fall there are a variety of street fairs.
However, my all time favorite store in Manhattan is The Strand [828 Broadway]. It's a multifloor book store, known for having "18 miles of books." Finding a book about NYC, by someone from NYC is easy and also makes for a great gift or souvenir. It's also a book lover's haven for rare and hard to find books. The cute signature tote bags for sale that can help you carry the load are a bonus too.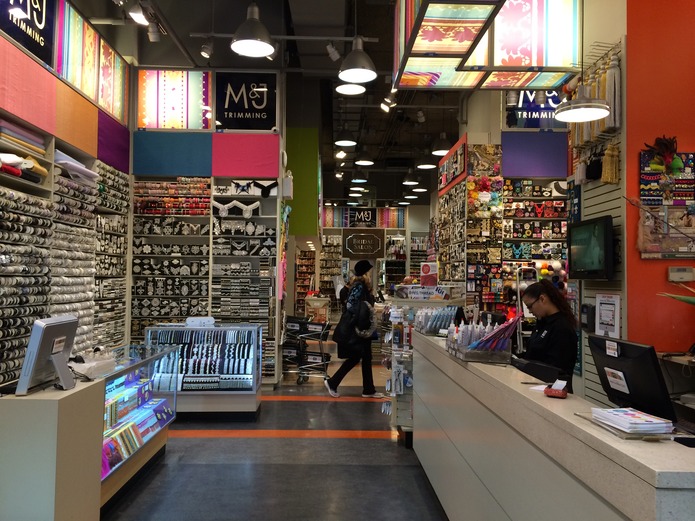 When it comes to shopping for craft supplies the Fashion District has stores that focus on just trim, buttons, fabric and beads. My favorites are New York Beads Inc [989 Sixth Avenue] and M&J Trimming [1008 Avenue of the Americas]. Both are along 6th Ave, not far from Times Square. Walking through this area you'll find a number of these kinds of shops. If drawing or painting is more your style then you may want to check out Dick Blick Art Materials [237 West 23rd Street] on 23rd street. Stopping at Doughnut Plant [379 Grand Street] across the street is just a snacking bonus. Uptown a little ways you'll find Lee's Art Shop [220 West 57th Street] for a great variety of supplies as well.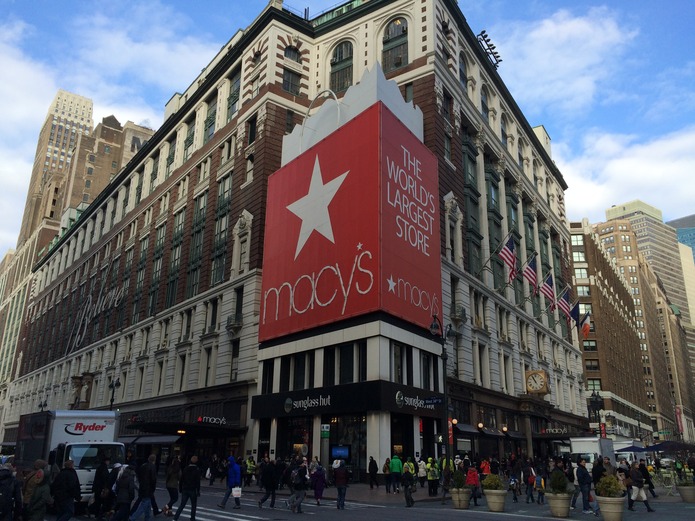 Now if you're looking to sell handmade items you can look into getting a stall at a street fair or a large event like the Union Square Holiday Market [14th st Union Square]. You'll see some people selling goods on the street, such as street painters and caricature drawings, but know that these people have gone through an in depth process to obtain a permit from the city.
Eat & Drink
NYC is a food lover's dream come true. First off, if you come to NYC and you don't get a slice of pizza then you have made a terrible mistake. You can grab a decent dollar slice from a to-go joint or you can go somewhere famous like Lombardi's Pizza [32 Spring Street] for a sit down meal. I personally love to grab a slice from Rosa's Pizza [1 Pennsylvania Plaza] and Pasta in Penn Station after a long shift at work. You can ask around when you get here, but I warn you New Yorker's are opinionated about our bagels and our pizza, so you may get an earful of suggestions. Other options for lunch and dinner that I can recommend include S'MAC [157 East 33rd Street] for amazing macaroni and cheese or one of the several Bareburger [535 LaGuardia Place] locations for quality burgers and fries. A stroll around the Hell's Kitchen and the Theater District area to find something new is great for the adventurous type. You'll find, BBQ, Vietnamese, Indian, Thai, French, Italian, Brazilian, etc. Basically a safe rule is if it's small and crowded, then the food is worth the wait. Likewise, strolling through Little Italy or Chinatown can offer some tasty treats as well.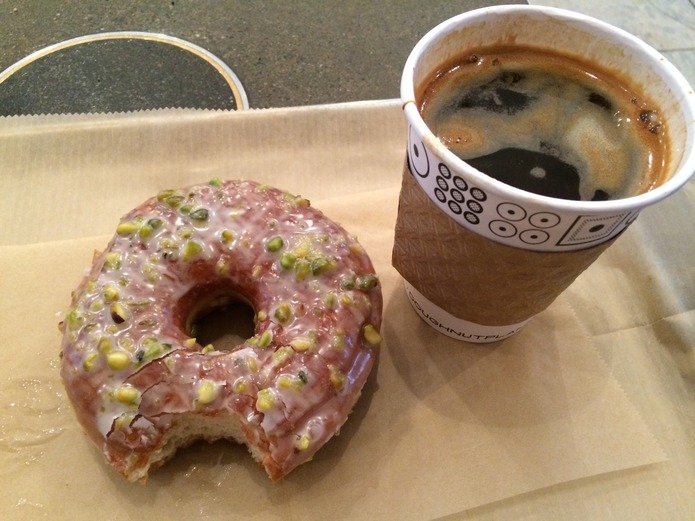 When you're looking for a sweet treat or a cafe you may want to check out Doughnut Plant [379 Grand Street] for some of the freshest donuts you'll ever have. With unique flavors like Creme Brulee filled, carrot cake or vanilla bean and blackberry jam filled a trip to any of their three locations is worth the time. Alice's Tea Cup [102 West 73rd Street] is another great place with three locations. You can't go wrong with a pot of tea and a delicious scone. For the chocolate lovers the frozen hot chocolate at SERENDIPITY 3 [225 East 60th Street] is legendary for good reasons. Max Brenner [841 Broadway]'s is another chocolate lover's dream come true.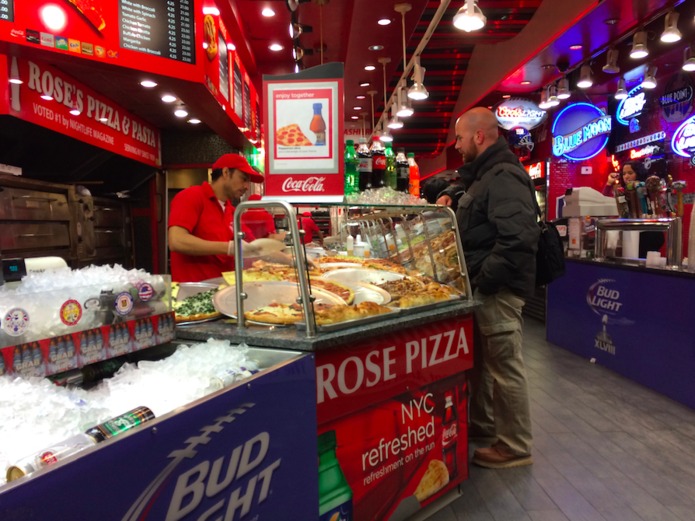 One thing New York City is never short on is a good bar. You're bound to find something enjoyable wherever you go and everyone you meet is going to have their personal favorites. Mine happen to be St. Andrews [140 West 46th Street] bar in midtown Lunasa [126 1st Avenue] Bar and Restaurant downtown and The Standard Biergarten [848 Washington Street] near the High Line. Lunasa is great with a few friends because they have a stack of board games on the bar. Nothing wraps up a good day like a pint of Guinness and a round of Candyland.
Craft
When looking for a place to craft in the city, I'm a huge fan of being outdoors. Sketching in Central Park [], grabbing some food and relaxing with a journal in Union Square [Union Square E] or setting up with a project while sitting somewhere along The High Line [] are all great locations.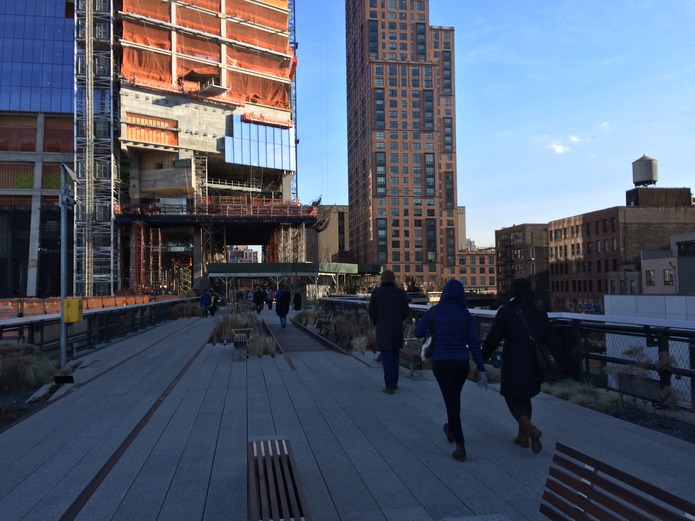 A city as large as New York typically has something for everyone. When it comes to clubs, organizations and the likes, your best bet is to contact a specialty store or do an online search based on the particular craft you are looking for. I've seen bead stores offer classes, museums with memberships and special events, and places such as Make [195 Chrystie Street #402] Workshop that offer classes mostly focused on sewing and fabric arts.
If you're looking to find some crafty people in the area you may want to check out a Paint Nite activity. They host painting events at bars with instructions on a specific painting for the evening. You can see their schedule of events on their website at www.paintnite.com. You may want to follow @CraftyDrinksNYC on Twitter to for posts about crafty events in the city as well.
See Something Special
When it comes to the quirky or the odd in New York City, I genuinely believe you just have to keep your eyes open and wonder around. You never know when you are going to find a street performer, a little park, a building with some architectural oddity or a little museum you never noticed before. Strolling in Little Italy one time, my friend and I happened upon the Italian American Museum [155 Mulberry Street] so we popped in. I've walked past Fashion Institute of Technology [227 West 27th Street] a few times and noticed they have a free museum that I plan on going to next time I'm strolling by with a few minutes to spare. Take the opportunity to explore and you're sure to find something.
If you need a bit more structure to your schedule then I'd suggest pursuing an activity such as kayaking on the Hudson River with Manhattan Kayak Company [555 12th Avenue] where you can book in advance, or try to get in for free kayaking opportunities with The Downtown Boathouse. Finding a new way to see the city is great for perspective.
When it comes time to leave, you may want to take a more traditional touristy souvenir home, in which case, you can't go wrong with and I Love NY t-shirt. They are sold in souvenir shops all over the place. If you're looking for something a bit more eclectic than I'd have to suggest a copy of the book Humans of New York by Brandon Stanton. The book is a collection of his photos and interviews with people on the streets of NYC. It's an awesome sampling of the fantastic people that make up the population. Lastly, I'd also suggest finding something of fashionable interest, a vintage purse, a trendy new pair of shoes, something unique that screams, "Look at me!" If you can manage that then you're really taking home some of the NYC vibes.
Inspiration
New York City is an absolute gold mine for inspiration. Some of the most popular museums include The Metropolitan Museum of Art [Metropolitan Museum of Art] (often referred to as The MET), The American Museum of Natural History [Central Park W & 79th St] and the MOMA (The Museum of Modern Art [11 West 53rd Street]). These are all very worthwhile stops, however, especially if fine art is your thing, then I highly recommend The Frick Collection [1 East 70th Street].
If you're looking for something out and about then you can't go wrong with a stroll along The High Line []. This is a raised 1.45 mile long park built on an elevated section of an old railroad line along the west side of Manhattan. It offers great views of the city featuring murals, sculptures and gardening. The website www.thehighline.org offers a schedule of events for performances and activities that take place there.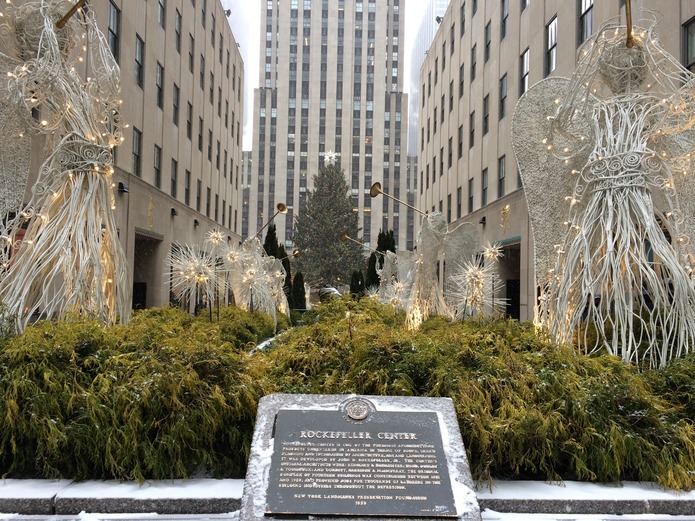 Traditional non-craft related attractions in the city include going to the top of the Empire State Building [350 5th Avenue] or visiting Top of the Rock in Rockefeller Center [45 Rockefeller Plaza] for panoramic views. Rockefeller Center is also famous for it's Christmas tree and Ice Rink. Nearby St. Patrick's Cathedral [5th Avenue] offers a beautiful contrast to the surrounding skyscrapers and luxury stores along 5th Ave. Then a walk a few blocks away to Times Square [Manhattan, NY 10036, United States] offers a show of lights, billboards and people. The 9/11 Memorial [Grand Street, Jersey City, NJ 07302, United States] and 9/11 Memorial Museum [180 Greenwich Street] are also sombering and awe inspiring places to visit. Hopping on the ferry to the Statue of Liberty [Liberty Island] and Ellis Island [Ellis Island, United States], are great slices of Americana. If sports pique your interest than you may want to look into heading up to the Bronx for a baseball game at Yankee Stadium [1 East 161st Street, Bronx].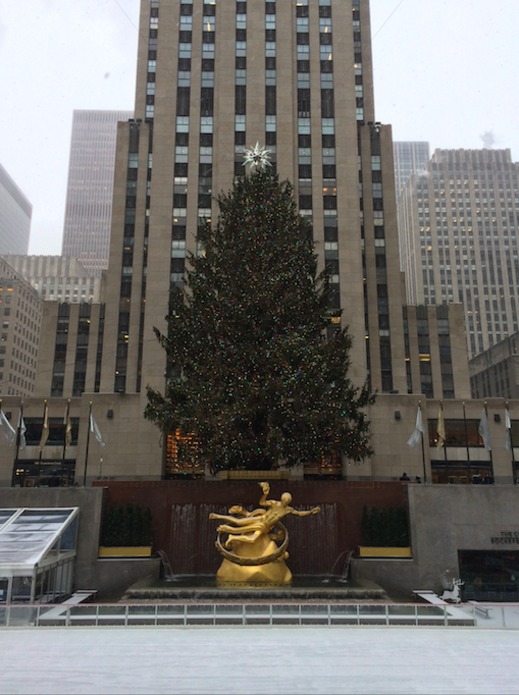 You can make a quick loop through midtown just for traditional photo opportunities alone. Start in Times Square [Manhattan, NY 10036, United States] then head east to Rockefeller Center [45 Rockefeller Plaza] and then down to Herald Square [1 Herald Square] to get a picture with the Empire State Building in the background. Once in Herald Square you can hop in the subway and navigate back uptown to Central Park [] for a walk and more photo opportunities along the paths.