" The best thing about living in McMinnville, Oregon or Mac as we like to call it is Historical Downtown McMinnville aka 3rd Street. There is something for everyone downtown. "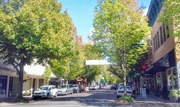 Shop
There is a wide variety of shops along 3rd Street ranging from restaurants to art galleries, we even have a small dine-in theater that serves amazing hand-tossed pizza and shows new movies with very comfy seating. If you are looking for a more up to date shopping experience we have plenty of those as well. But I have to say that my favorite thing about my home town is Homeward Bound Pets, this place holds a very dear spot in my heart as I volunteer out there and help to care for the cats and dogs that are waiting for their fur-ever homes. It's also a place where I get a large dose of my art inspiration as I paint the animals there.
My favorite places to shop are The Merri Artist and Passion Vine. I love going to The Merri Artist [421 Northeast 3rd Street]. They have a wide selection of various art supplies, the staff if always friendly and very helpful. If you are unsure how to work with a medium they either know the information or will look it up for you. A new favorite place of mine is Passion Vine they carry a very wide assortment of arts and crafts that people in and around McMinnville have made, things such as Paintings, Jewelry, Bags, Woodwork, Cards just to name a few. And they really help out the artists in our community to sell their work.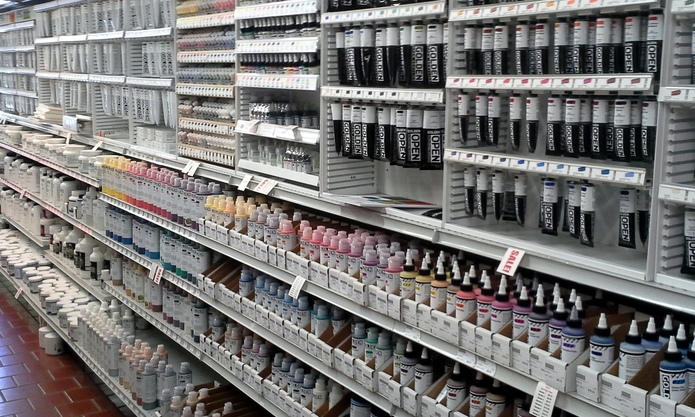 A few of the other places to shop in Mac are Jo-Ann Fabric and Craft Stores [1401 N Highway 99W].They have a wide variety of sewing products and fabric along with a few other craft items such as jewelry making. Another store for fabrics or sewing machines and notions is Boersma's Sewing Center Inc [203 Northeast 3rd Street], they have over 11,000 bolts of quality fabric and they offer sewing machine repair services as well. Boersma's has been a staple in McMinnville since 1935. For those who like to make jewelry there is a store called Jack of All Beads [618 Northeast 3rd Street]. Also, we have a flea market at the Yamhill County Fair & Rodeo [2070 Northeast Lafayette Avenue].
There are several places other than Passion Vine that will sell crafters handmade items. Places such as Currents Gallery [532 Northeast 3rd Street] for fine arts. Also, The Inner Oasis [448 Northeast 3rd Street], NW Food & Gifts [445 Northeast 3rd Street], Eagles Nest, and for those who want "Alpalca everything" then you want to go to Alpaca Naturally where you can find blankets, bears, hats, and so much more.
Eat & Drink
A couple of my favorite places to eat are Kame Japanese Restaurant [211 NE Third St] and Shari's Restaurant [1200 Northeast Baker Street]. Shari's is a busy place so there are times that you may have to wait a while to be seated and to get your food, but it is worth the wait because the food is delicious.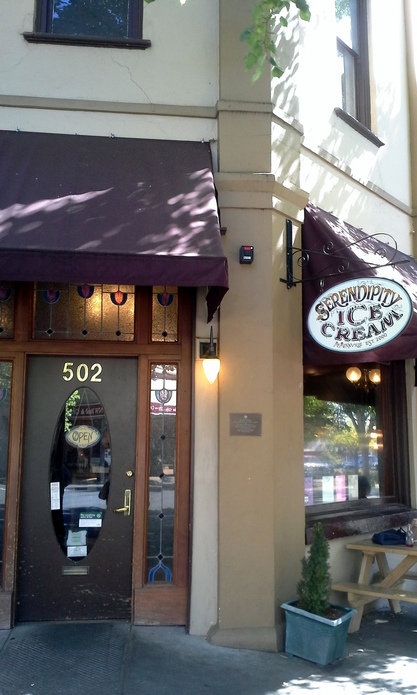 Serendipity Ice Cream [502 Northeast 3rd Street] is a wonderful little building in Historic Downtown, the building was built in 1886 as a hotel, it has since been remodelled and the front entrance was turned into the ice cream shop, they serve soup as well.
If you want to grab a drink in one of Macs local bars I suggest checking out The 411 Eatery and Lounge [411 Northeast 3rd Street] or Heater Allen Brewing [907 East 10th Avenue]. Both of these places have good food and drinks and have received several five star ratings from patrons.
Craft
The best places to sit down and craft while enjoying the town would be any of the many parks we have, as well as Cornerstone Coffee [216 Northeast 3rd Street] or Union Block Coffee [3 Northeast 3rd Street].
The McMinnville Public Library [225 Northwest Adams Street] has a lot of groups (including drawing classes) for teens, baby play groups, and also book groups for adults.
See Something Special
There are a few quirky events and places to visit as well. In May we have we have a UFO Festival and The Alien Days Parade where people dress up in all sorts of costumes and walk or ride a float down 3rd Street. The Festival is our way of remembering a little history in our town. A couple in the 50's said they spotted a UFO and took photos. One of the photos is in McMenamins [310 Northeast Evans Street], which is a restaurant and hotel in Downtown McMinnville. McMenamins decor is pretty quirky and fun as well. And in July we celebrate Turkey Rama. Vendors sell their goods on 3rd St, there is also Music and Entertainment, and a Carnival, along with many other things to do and see.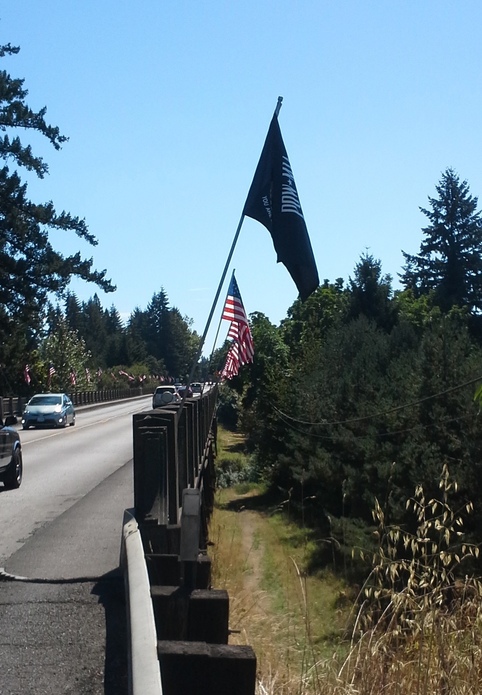 Before you leave McMinnville you have to stop and pick up a souvenir. McMinnville is part of the Willamette Valley, so I suggest going to the Willamette Valley Vineyards on 3rd Street and getting a t-shirt that says, "It's Willamette Dammit!"
Inspiration
There is a lot of inspiration to be found in Mac. There are 18 parks around town of various sizes and amenities. Rotary Nature Preserve at Tice Woods, Galen McBee Airport Park, and Kiwanis Park are three beautiful nature parks that are perfect for getting inspired by the outdoors. There are several beautiful historical buildings scattered around town, Pioneer Hall at Linfield College is a stunning building that was built in 1882. There is also a wonderful historical museum called Yamhill County Museum [605 Market Street].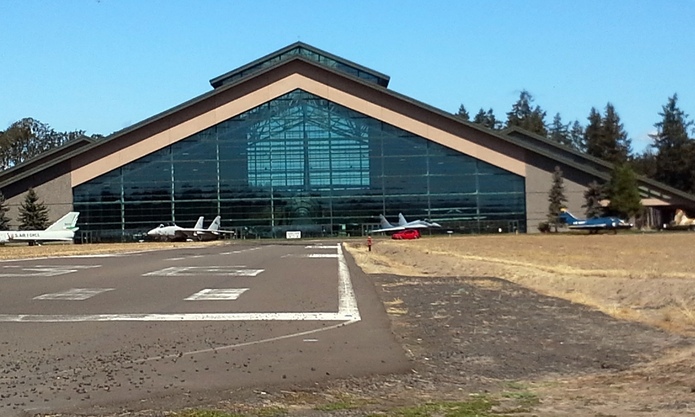 A few non-craft related attractions that you can check out in McMinnville is The Evergreen Aviation & Space Museum [500 Northeast Captain Michael King Smith Way] and the Wings & Waves Waterpark [500 Northeast Captain Michael King Smith Way]k which is right next door. One of McMinnville's claims to fame is The Hughes Flying Boat commonly called The Spruce Goose, which was built during World War II and is entirely made of wood due to wartime restrictions on metals. The Spruce Goose only flew once for 60 seconds. The plane is the main attraction at the Evergreen Aviation & Space Museum [500 Northeast Captain Michael King Smith Way]. The Gallery Theatre [210 Northeast Ford Street] is also a major attraction available, it is a live theatre and locally run.
There are many great places that you simply must stop at and take a photo of. At the top of my list are the statues around downtown. It's been a project of mine to snap a photo of all the statues and as of today I have captured 14 of the 22 out there. Several stores along 3rd Street (including The Merri Artist) have pamphlets that you can pick up to get a map and location of all the statues that are a part of the Public Art Walking Tour. If you happen to come to town when the flags are flying (such as Memorial Day) the bridge near Joe Dancer Park displays two rows of flags one row for each side of the bridge.