" The best thing about living in Portland is the quirky culture. People are friendly and helpful and appreciate good design and great food. Plus, it's a well-kept secret that the summers here are fantastic, and the rainy winters really aren't that bad. "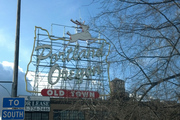 Shop
My favorite shops in Portland are Flutter [3948 North Mississippi Avenue] (gifts and accessories), Pistils Nursery [3811 North Mississippi Avenue] (indoor and outdoor plants), Paxton Gate [4204 North Mississippi Avenue] (beautiful natural curiosities), Powell's Books [Powell's Books] (not just the main location downtown--the ones on Hawthorne are great, too), Schoolhouse Electric [2181 Northwest Nicolai Street] (beautiful home goods), Cargo [81 Southeast Yamhill Street] (imported treasures), Shop Adorn [4120 Northeast Fremont Street] (clothing and accessories), Alder and Co [616 Southwest 12th Avenue] (housewares and gifts), House of Vintage [3315 Southeast Hawthorne Boulevard] (tons of clothing, furniture, and knick-knacks), The Red Light [3590 Southeast Hawthorne Boulevard] (vintage clothes), Radish Underground [414 Southwest 10th Avenue] (women's clothes from local designers), Frances May [1003 Southwest Washington Street] (high-end clothes), Backtalk [3962 North Mississippi Avenue] (women's new and vintage), Sloan Boutique [738 Northwest 23rd Avenue] (women's clothing), Grand Marketplace [1005 Southeast Grand Avenue] (huge space full of vintage furniture and accessories), Animal Traffic [429 Southwest 10th Avenue] (vintage clothes).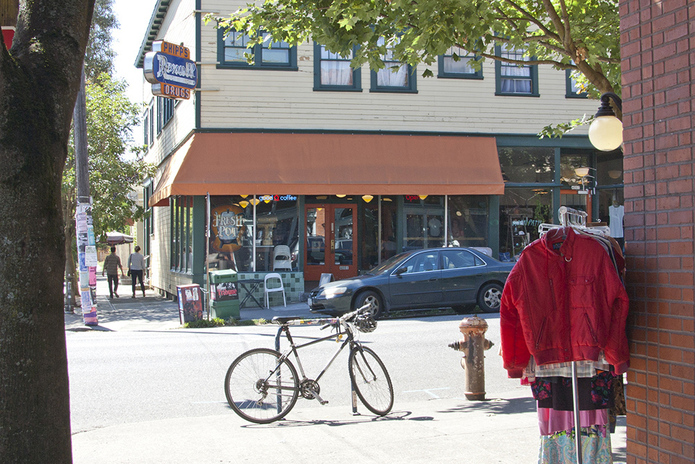 SCRAP [2915 Northeast Martin Luther King Junior Boulevard] is the first place I look for many craft supplies. They're a non-profit creative re-use store. For miscellaneous supplies (paint, paper, jewelry, stamps, washi tape), I go to Collage [1639 Northeast Alberta Street]. For general art supplies, Columbia Art & Drafting [1515 East Burnside Street] or Muse [10940 Southwest Barnes Road] are good. For fabric, try Mill End Store [4955 Southwest Western Avenue, Beaverton], Modern Domestic [1408 Northeast Alberta Street], Bolt [2136 Northeast Alberta Street], or Fabric Depot [700 Southeast 122nd Avenue]. I really like Dava Bead [2121 Northeast Broadway Street] for beads and jewelry-making items.
The Crafty Wonderland [808 Southwest 10th Avenue]shop and the Portland Flea are the first places that come to mind for crafters to sell their crafts, though tons of local shops (and even some national chains) sell locally-made items alongside their other offerings. Portland has a long tradition of supporting local makers with the Portland Saturday Market [2 Southwest Naito Parkway] (both days of the weekend, despite the name), though it skews to the older generation. There are also seasonal fairs (like Crafty Wonderland) that spring up for holiday gifts, and during the summer the streets are crowded with vendors hawking handmade items at Last Thursday on Alberta.
Eat & Drink
This is a tough one, because there's a ton of amazing food in this town. From food carts to fancy restaurants, it's hard to go wrong. Here's a variety of places I'd happily eat any day of the week: Natural Selection [3033 Northeast Alberta Street], Screen Door [2337 East Burnside Street], Brass Tacks [3535 North Vancouver Avenue], ¿Por Qué No? [4635 Southeast Hawthorne Boulevard], Irving St. Kitchen [701 Northwest 13th Avenue], Produce Row Cafe, Le Bistro Montage [301 Southeast Morrison Street], Prasad [925 Northwest Davis Street], Sizzle Pie [624 East Burnside Street], Biwa Restaurant [215 Southeast 9th Avenue], Ava Gene's [3377 Southeast Division Street], Lovely's Fifty Fifty [4039 North Mississippi Avenue], PBJ's Grilled [1204 SE Hawthorne Boulevard]
Brunch: Jam On Hawthorne [2239 Southeast Hawthorne Boulevard], Gravy [3957 North Mississippi Avenue], Miss Delta [3950 North Mississippi Avenue], and a bunch of the above places (especially Screen Door, but the wait is epic) also do amazing brunches.
If you're looking for coffee or a sweet treat, Salt & Straw [838 Northwest 23rd Avenue], Blue Star Donuts [1237 Southwest Washington Street], Ruby Jewel Scoops [3713 North Mississippi Avenue], and Pix Patisserie [2225 East Burnside Street] are all delicious.
Top bars to hang out in include the Bye and Bye [1011 Northeast Alberta Street], Victory Bar [3652 Southeast Division Street], Doug Fir [830 East Burnside Street], Radio Room [1101 Northeast Alberta Street], Rontoms [600 East Burnside Street], Dig A Pony [736 Southeast Grand Avenue], White Owl Social Club [1305 Southeast 8th Avenue], McMenamins Kennedy School [5736 Northeast 33rd Avenue], and Ground Kontrol [511 Northwest Couch Street] are all good places to start.
Craft
I'm not really sure--I do most of my crafting at home. But this town is so DIY-friendly that crafting would be welcome at most any park or cafe, and it would probably be a great conversation-starter.
The only one I'm aware of is the Rose City Yarn Crawl (http://www.rosecityyarncrawl.com/), which has a pretty epic reputation.
Practically anywhere in the city is great for making friends! You can't throw your knitting needles without hitting somebody crafty around here. Taking classes in a medium you'd like to learn would be a great way to meet other crafters, though. Many of the fabric stores around town have sewing classes, Collage [1639 Northeast Alberta Street] has classes in a lot of different techniques, and Dava Bead and Trade [2121 Northeast Broadway Street] has metalworking classes that I've taken.
See Something Special
Portland has its own incredibly popular urban goat herd. They even have their own blog (http://thebelmontgoats.org/), and they keep multiplying, having adorable little kids two at a time. Visiting them is really fun, since most of them are pretty friendly, and if a caretaker is around, you can even go into their pen. They currently live on an empty lot in SE Portland, but sometime soon they'll be moving to a new location that will still be publicly accessible. There's this weekly tradition here called "Zoobombing," where people ride tiny bikes down a steep hill near the zoo and into the city, screaming on the way down. Between rides, their tiny bikes are kept locked up on a tower downtown as an art piece. There are a lot of more traditional sculpture pieces and fountains around town that are fun, too. There's a cool retro-futuristic aerial tram that you can ride from the waterfront to the top of the hill where Oregon Health & Science University [3181 Southwest Sam Jackson Park Road] is located, though I still haven't ridden it! If you're a fan of the show The Simpsons, you can keep your eyes peeled for streets that Matt Groening named characters after--just google "Simpsons map of Portland" for ideas.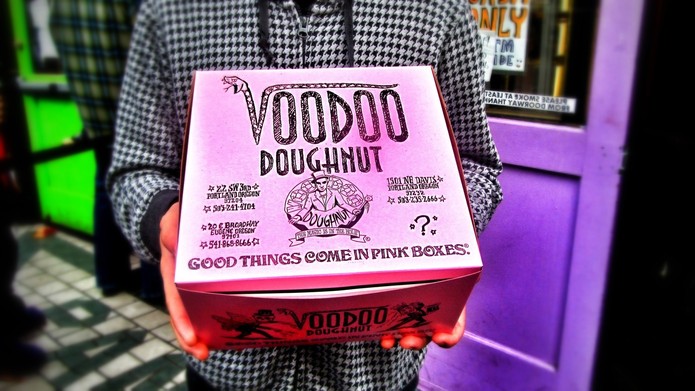 Voodoo Doughnut [22 Southwest 3rd Avenue]s are a pretty popular souvenir, as are local beers or spirits. For a more long-lived memento, support the designers here and bring home some Portland-made art, clothing, housewares, or accessories.
Inspiration
For inspiration I recommend going to The Portland Art Museum [1219 Southwest Park Avenue] which is fairly small, but has interesting events and art. Oregon Museum of Science & Industry [1945 Southeast Water Avenue] (OMSI) is fun, especially if you like science or have kids. For some gorgeous architecture, drive through the West Hills Village [5711 Southwest Multnomah Boulevard] and look at the houses perched precariously on the hillside. Long city walks through cute neighborhoods (the Laurelhurst [Laurelhurst], Overlook [Overlook], and Ladd's Addition [Ladd's Addition]) are a fun way to discover new inspiration. The downtown Multnomah County Central Library [801 Southwest 10th Avenue] is lovely, and has inspired at least one song (by the Decemberists).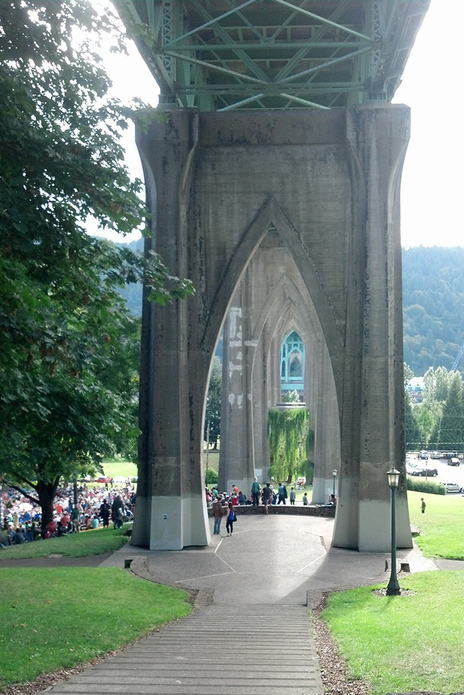 Taking a stroll downtown, or down one of the big retail streets (Hawthorne, NW 23rd, Mississippi, or Alberta) is always great for shopping and people-watching. And if you leave Portland without visiting Powell's Books [Powell's Books], you've made a terrible mistake. There are some fantastic parks within city limits. Some of my favorites are Cathedral Park [Cathedral Park], Peninsula City Park [700 North Rosa Parks Way], Forest Park [Forest Park], Mount Tabor City Park [Southeast Salmon Street], and Laurelhurst Park [3756 Southeast Oak Street]. The Portland Japanese Garden [611 Southwest Kingston Avenue], Portland Rose Gardens [400 Southwest Kingston Avenue], and the Lan Su Chinese Garden [239 Northwest Everett Street] are all super photogenic and wonderful to visit. You can also drive to the Oregon coast in less than two hours and see tidepools or foggy vistas, or visit the Columbia River Gorge and look at the many spectacular waterfalls. Multnomah Falls is a must-visit if you've never been, but Oneonta Gorge and Beacon Rock are a couple of spots I've visited recently that are great.
The bridges (any of 'em!) are pretty photogenic, but the most iconic Portland things to take photos of are probably the Made in Oregon sign [] and views of Mt Hood [Mt Hood, Oregon City, OR 97045, USA]. It's only visible on clear days, and on extra-clear days, you can see Mt. St. Helens.