" Nashville and East Nashville have all the amenities of a big city (food trucks, skyscrapers, mild winters and long falls and springs, urbane lifestyle with coffee shops and a whole lot of bbq if you dig that sorta thing- but also some of the best vegetarian fare in the nation) with a small hometown personality. Plus Predators NHL! Hey we even have a football team I hear? "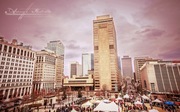 Shop
Logue's Black Raven Emporium [2915 Gallatin Pike] is not only a shop, but bar, movie house and art venue. There's the monthly art shows at Hi Octane Records [2808 Azalea Place], Kustom Thrills Tattoo [1000 Main Street #107], Blackbird Tattoo & Gallery [2506 Franklin Pike] and Foobar [2511 Gallatin Avenue]. OMG Old Made Good [3701B Gallatin Pike] in East Nashville is the vintage spot for good conversation and sassy help, buy awesome art and furniture- stay for the occasional craft classes and sassy conversation. Virgin to Vintage [1006 Fatherland Street #205] is planning a fundraiser for Robyn's Nest animal rescue and East C.A.N. and the show is Inspired on the East Side, happening at the end of this month, and plans to be an annual event. They even go the adoptable pets to do art for a silent auction.
For fine art supplies I got to Plaza Art Supplies [633 Middleton Street] on second avenue. Just getting there is an adventure through some funky parts of town! Another local favorite is chain Jerrys Artarama [5361 Mount View Road, Antioch] down in Antioch/south Nashville.
Boheme Collectif [919 Gallatin Avenue #8] sponsors art events gallery style and craft fairs like the one ones produced by Erabellum. Porter Flea is also a great outlet and well liked- it does have a wait list so apply early?
Craft
Grab a book from East Side Story, and head to Bongo Java Roasting Co [107 South 11th Street] or Fido [1812 21st Avenue South] for the best coffee in Nashville (yeah I said it, and no I do not get free coffee from them or work for them - wait will this plug get me free coffee???) Swing in the park benches and draw, make photos of the architecture, models, and stars.
To make new crafty friends, check out festivals like the Tomato Art Festival, Nashville Cherry Blossom Festival, and many many more are great places to meet crafty new friends, be inspired and soak in the atmosphere!
Several art groups call Nashville home. Untitled Nashville, Tennessee Art League, Plowhaus Art, many meet up groups like Nashville Creative Group . Find out about them all on Art Talk Nashville google group.
See Something Special
Parthenon in Centennial Park [2500 West End Avenue], Belcourt Theatre [2102 Belcourt Avenue] in Hillsboro villiage, catch a concert at Marathon Music Works [1402 Clinton Street], the Exit/In [2208 Elliston Place] ( they have a board with every act that has ever played there from Jimmy Hendrix to My Morning Jacket), or of course- The Ryman Auditorium [116 5th Avenue North], mother church of country music. Nashville is know as music city because we literally have sopranos, cowboys with guitars and folk groups like Mercy Child singing on the streets :) Not a country fan (aw why not?) Be sure to grab tickets to one of the thousands of local indie bands like local favorites The Features, or The Delta Saints. Low on cash? See one for free at the many free concert series here like Live on the Green sponsored by our independent music station Lightening 100 http://www.liveonthegreen.net/
Y'all do not want to leave Nashville without some local arts, crafts, a Hatch or Nashvegas Tee Shirt... and heck maybe a cowboy hat you picked up at one of the honky tonks on Second Avenue!
Inspiration
Personally I go to nature for inspiration - Nashville is centered around amazing city parks and surrounded by miles and miles or forest, trails, reserves, lakes and waterfalls. Indoors visit the Frist Museum [919 Broadway], or the Tennessee Art League [219 5th Avenue North]. See the Seed Space at The Arcade for first of the month gallery crawls, and one of the many 'one night only' art show venues. Don't worry about finding them- there are art posters all over town to enjoy that will give you the break down on when where and how. The more daring can be sure to check out the star studded Music City Burlesque -MCB puts on a spectacle, a real show full of surprises and sparkle. Hatch Show Print [224 5th Avenue South] will not disappoint, their collection of show posters for great music and art lines the walls of the authentic letterpress printer shop. Hatch also has cats!!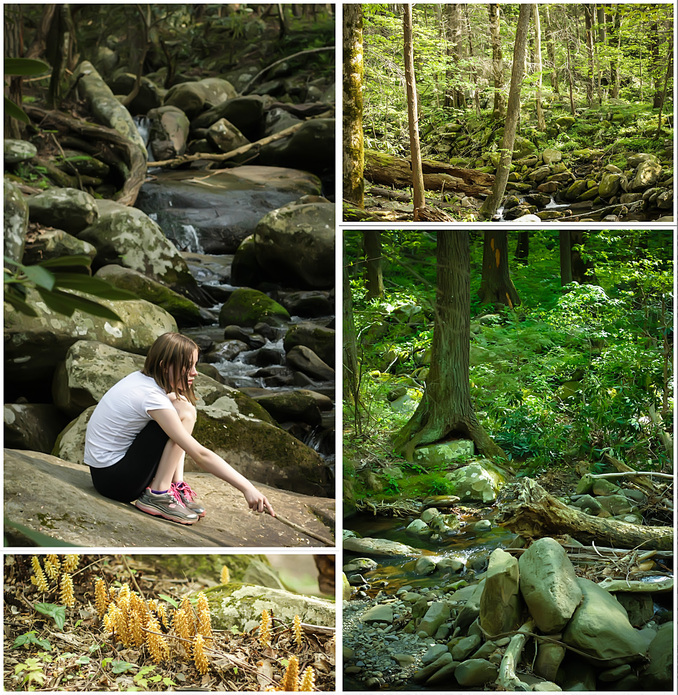 My favorite non-crafty thing in the city has to be the parks - Centennial Park [2500 West End Avenue] with its Parthenon, Percy Warner Park [7311 Highway 100] for the woods, Shelby Park [Shelby Avenue & S 20th St] for photo shoots and biking, Radnor Lake [Radnor Lake, Oak Hill, TN, USA] for wildlife, Bicentennial Park [350 1st Avenue North] by the farmer's market for history and great portrait photography, a short car ride to various spots for amazing waterfalls, and ya know I think I heard of some giant hotel off Briley Parkway that all the CMA stars stay at for fantastical indoor greenhouses-wink wink. Best part- those are all free or just a few bucks to park.
Take photos of the Nashville Murals! Several adorn our walls and structures: Beth English designed and painted McKendree Churchsh [523 Church Street] rooftop tree mural, Marathon Music Works [1402 Clinton Street] has vintage murals, the Jonny Cash mural near the Country Music Hall of Fame [222 5th Avenue South] then go inside for the classic: "The Sources of Country Music" by Thomas Hart Benton. Vintage airline postcard murals, the dragon in Hillsboro Village, Andee Rudolf's school and SkyPac murals in nearby KY, my personal favorite - Twist Art Gallery [73 Arcade]'s collab surreal pop mural out behind a parking lot on the Viridian.