" Houston has a lot to offer as a city in which to live and as a tourist destination. We have lovely fall, winter and spring weather. The months of July, August and September can get extremely hot and humid. "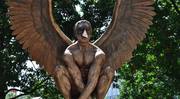 Shop
Houston is a very cosmopolitan city. People from many different origins live here. We have very large Hispanic and Asian populations especially. Houston even has its own Chinatown. Street signs in this area are in both English and Chinese. Every cuisine is available in restaurants here – from Ethiopean to Swedish.
There is a vibrant theater scene here. There are a few large theater venues such as the Alley Theatre [615 Texas Ave], Stages and TUTS and many small intimate locations, for example Theatre Southwest [8944 Clarkcrest St # A], Theatre Suburbia [4106 Way Out W Dr], The Stage Door [2307 Shaver St, Pasadena, TX 77502, United States] and Catastrophic Theatre [3400 Main St #285]. It is amazing how many talented people live here. We have a world-class medical center that attracts people from all over the US and the world. Houston is home to Rice University [6100 Main St], the finest university in the southern United States. And of course, most importantly, Houston is a shopper's dream location. Stores, big and small, carry everything anyone could wish for.
Houston's Chinatown: It is roughly bounded by Fondren, Beechnut, State Highway 6, and Westpark, west of Bellaire in the Alief area. Many street signs are in English and Chinese.
My favorite shops are the many thrift stores in Houston. I like to upcycle clothing that I purchase there. Plus I get ideas for things that I'd like to make. In the higher end thrift stores I have the opportunity to study various designer brands. I took a photo at The Blue Bird [615 W Alabama St] store of a pair of pants that which were much too small for me but were of an interesting design. They were sweat pants with parts of jeans appliqued onto them. I'm going to make a pair of my own. They look so trendy and comfortable. I also shop at The Charity Guild Shop [1203 Lovett Blvd], Sunshine Resale Shop and various locations of Goodwill [2030 Westheimer Rd] thrift stores. The Galleria [5085 Westheimer Rd] Mall is home to wide variety of high end stores, such as Neiman Marcus, Tiffany's and Saks Fifth Avenue.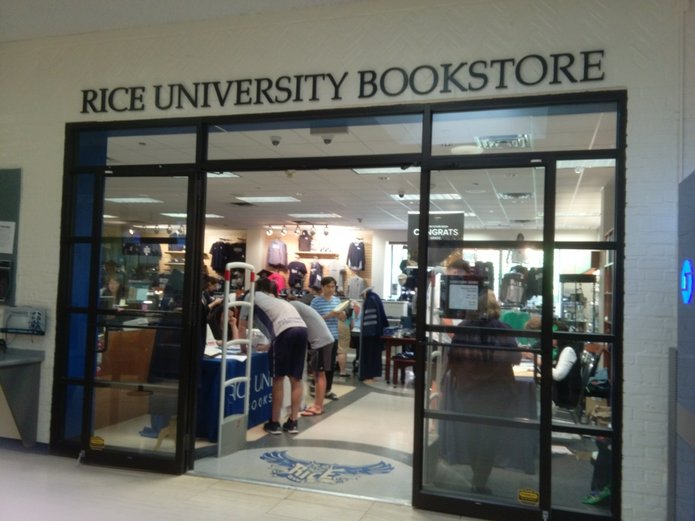 I find many of my craft supplies at the thrift stores from buttons to fabrics. Hobby Lobby [8715 W Loop South] is the store I most often frequent for supplies that I need for specific projects. I bought grommets there for a soft book that I was making for a little girl. My favorite store for buying fabric is Hancock Fabrics [5867 Bissonet, Bellaire, TX 77401, United States]. A locally owned store that carries upholstery and drapery type fabrics is Calico Corners [1845 W Alabama St]. I have purchased oilcloth from a cute little store on 19th Street in the Heights - Casa Ramirez Imports [241 W 19th St]. Southern Importers [4825 San Jacinto St] is my go to store for costume supplies. I make myself a new Halloween costume every year.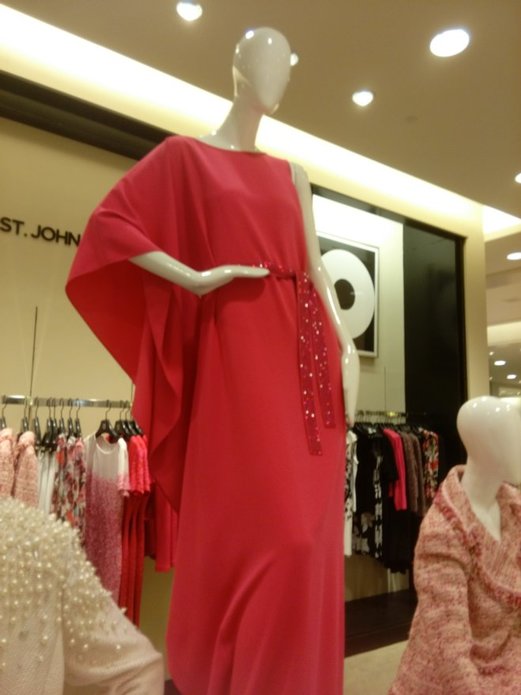 Crafters sell their wares most often at the many craft fairs in Houston. There is one every month at the First Saturday Arts Market [540 W 19th St]. Other monthly markets are the Yuppie Arts Market at 2203 Durham Drive, Houston TX 77007 and the Rice Village Flea [5505 Morningside Dr]. There are zillions of neighborhood craft markets during the holiday season.
Eat & Drink
There is every possible international cuisine available in Houston. One of my favorites is Al Aseel Grill and Cafe [8619 Richmond Ave], also known as the "Taste of Bethlehem,". It's a "hole in the wall" type place but has great food. I especially love their grilled gyro meat and musakhan chicken.
For Mexican food I especially like Tacos La Carreta Asaderos [8619 Richmond Ave]. I love their grilled chicken breast covered in onions and green peppers then topped with cheese.
The burgers are juicy and the fries crisp at Bellaire Broiler Burger [5216 Bellaire Boulevard, Bellaire]. The place looks like it hasn't changed since it opened in the 1950's with its red vinyl booths and brass plates hanging on the walls.
A popular neighborhood place for breakfast is the New York Coffee Shop [9720 Hillcroft St].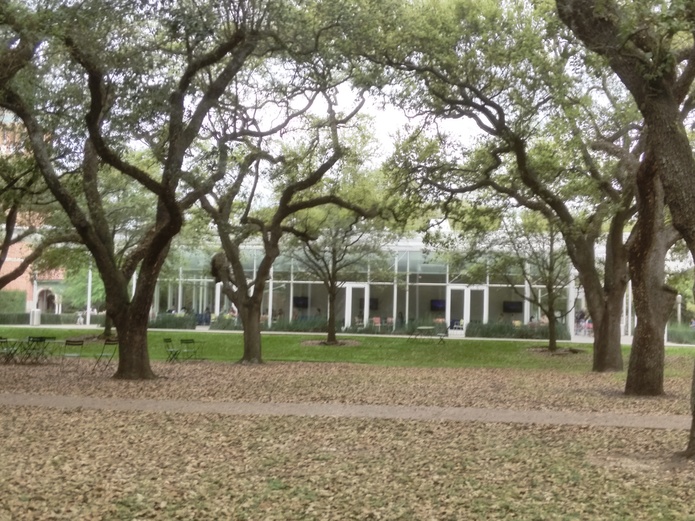 My favorite spot for sweet treats in Houston is The Empire Café [1732 Westheimer Rd]. On Mondays you can purchase a large slice of cake and get another slice free. The Dessert Gallery [3600 Kirby Dr] offers a scrumptious array of cookies and cakes. Both of these eateries also offer a selection of coffees and teas.
Rice University [6100 Main St] has its own pub that is very popular with students (over 21 years old), faculty and staff. It is called Valhalla and is located in the basement of one of the academic buildings.
Craft
Lots of the libraries offer spaces for crafting organizations. I attend the Inner Loopers' Group on the second Saturday of the month at the Eleanor Freed Library [4100 Montrose Blvd].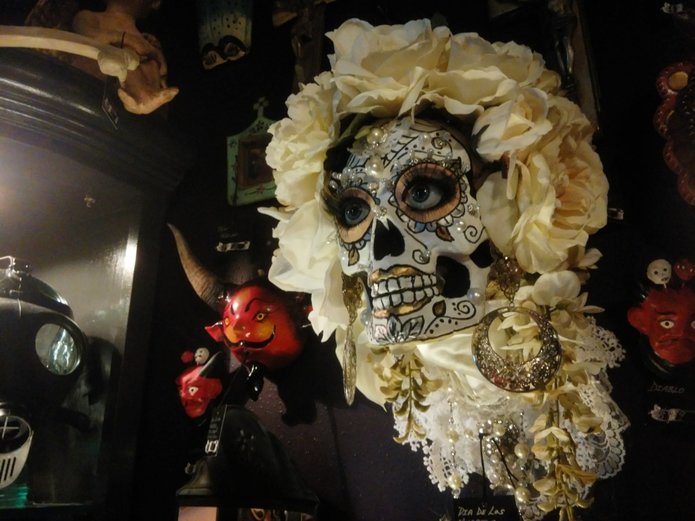 I'm a member of American Sewing Guild [9660 Hillcroft St # 510] which has its headquarters in Houston. I attend the Inner Loopers' Group on the second Saturday of the month at the Eleanor Freed Library [4100 Montrose Blvd]. There are many other ASG groups that meet at various times and places around Houston. We sit and sew at meetings or have a member demonstrate one of her craft techniques.
Houston also has lots of meetup groups for crafting. There is a crafters group that often meets at the Multiplicity Store located at 1306 Avenue A, Katy TX 77493.
Quilts Inc [7660 Woodway Dr Ste 550] is headquartered in Houston. Every year in the beginning of November it puts on the International Quilt Festival which is the largest quilt show in the USA.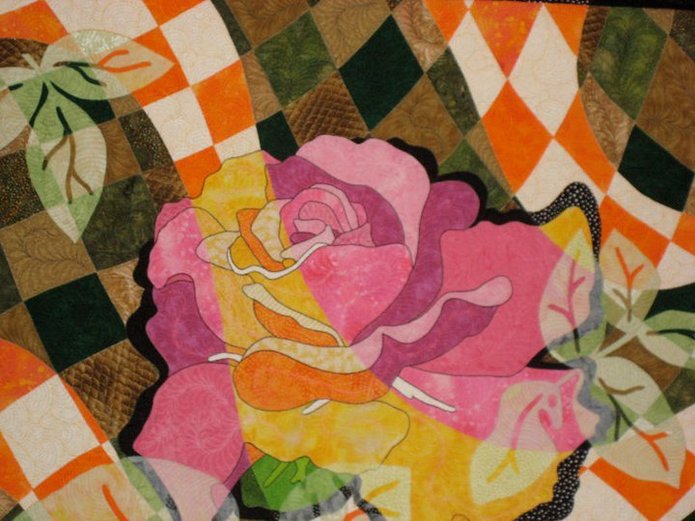 There are plenty of "meet up" groups in Houston that bring together crafting friends. I have been a member of the group, Stitch "n Bitch for knitters. There are many groups in the American Sewing Guild that hold meetings around Houston. Also, there is a very active Quilt Guild of Greater Houston that has many bees that meet around town.
See Something Special
There are a couple of weird locations in Houston that a visitor shouldn't miss: The Beer Can House [222 Malone St] is a small house is covered with beer cans and bottles. The Orange Show at 2402 Munger St, Houston, TX 77023 was transformed by the owner as a tribute to his favorite fruit in the 1960's and 1970's. It is now the Orange Show Center for Visionary Art and is an important site of American folk art
The National Museum of Funeral History at 415 Barren Springs Drive Houston, TX 77090 has a collection of historic hearses, fantasy coffins and an exhibit on the history of embalming. During the Halloween season they also have a haunted house type exhibit. It actually is much less morbid than it sounds and is pretty interesting. Many of the buildings in downtown Houston are connected with a 2-mile tunnel system. The tunnels provide a walkway out of the hot sun and also contain shops and eateries. It's very crowded during the workweek. Places will be closed but for an interesting walk go as a tourist on a weekend.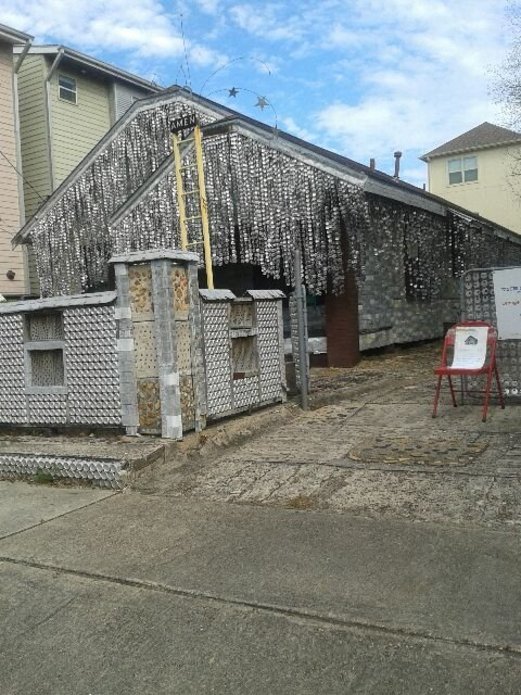 Every year Houston has a huge rodeo event that attracts many visitors. It is held at NRG Park [1 NRG Park] located on the Interstate Loop 610 between Kirby Street and Fannin Street. The mostly popular food eaten at the rodeo is Texas barbequed beef. If you don't wear a cowboy hat entering the rodeo, you will end up buying one at a vendor's booth before you leave. Also for sale are kinds of cowboy western wear - bandanas, belts, chaps, etc.
A visit to Houston is not complete without some cowboy gear as souvenirs.
Inspiration
Houston is home to many beautiful museums. They are chock full of crafting ideas. There is the Museum of Fine Arts [1001 Bissonnet St]. My favorite is the Contemporary Art Museum [4848 Main St]. Both of these museums have nifty gift shops.
Another great place is the Houston Center for Contemporary Craft [4848 Main St]. Their store, The Asher Gallery carried my "glitter critters" jewelry for a couple years.
Art Cars originated in Houston. There is a parade of art cars every year. You can see many art cars year round in the Art Car Museum [140 Heights Blvd], fondly known to locals as the "Garage Mahal".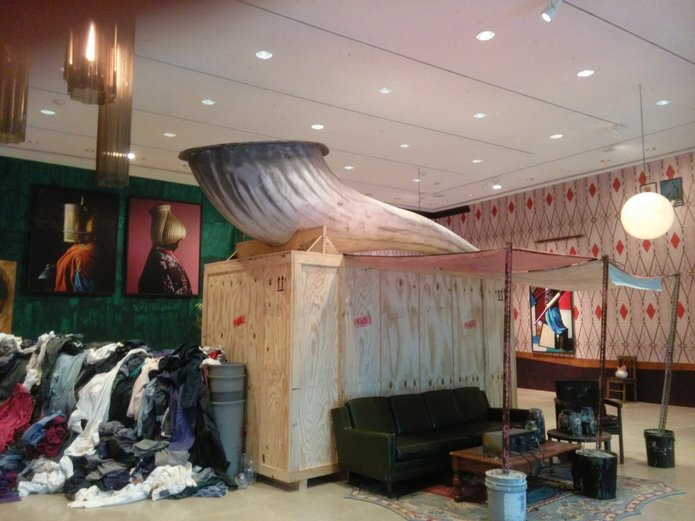 Some of my non-craft related attractions are located on the campus of Rice University [6100 Main St]. There is James Turrell's "Twilight Epiphany" Skyspace []. As the sun goes down, visitors sit inside the installation as colorful hues cycle in a loop . A huge brass barn owl by Geoffrey Dashwood is located by the student center. Also there is "Mirror" by Jaume Plensa that are 2 colossal statues made of white coated steel letter facing one another as if in conversation. Also, there is Rice Gallery [6100 Main St] in Sewall Hall. It is a large scale, site-specific installation from global artists. I work in the Anthropology Department in Sewall Hall so I get the opportunity to watch the installations as they are built. My favorite installation was "Unwoven Light" by Soo Sonny Parks. I have included a photo of this beautiful artspace.
Houston is a very modern city. Personally I do not care for most of the architecture here. Houston has a proclivity to tear down the older buildings and replace them with new ones or even parking lots.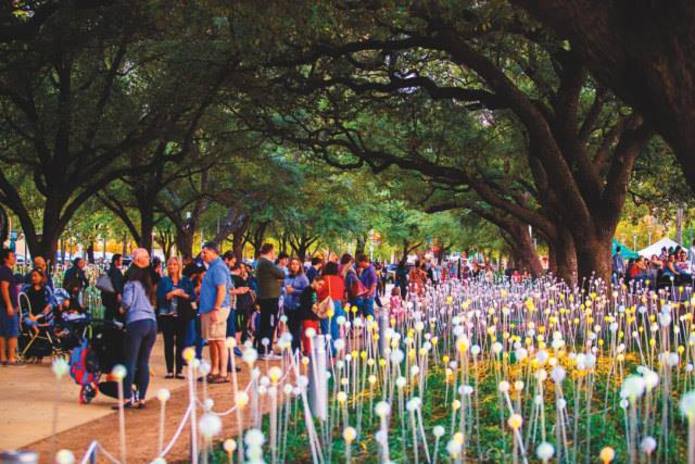 Many visitors love to have their pictures taken with some of the art pieces at Discovery Green [1500 McKinney St], a park in Downtown Houston. Waterwall Park [2800 Post Oak Blvd] near the Galleria that is another popular photo spot. Also I see brides having their photos made at Mecom Fountain in Hermann Park [6001 Fannin St] and also by Lovett Hall on the Rice University campus.