" Bellingham is a magical land of bicycle lanes, many wonderful parks, endless amounts of hiking trails, second hand-shops, and a plethora of artisan coffee shops and local breweries. If you ever lacked a place to get your creative juices flowing, come to the inspiring hodge-podge of a city that is Bellingham. It's not just my home, it is one of my favorite places in the world. "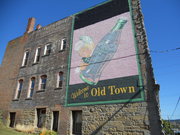 Shop
Ah, Bellingham, Washington. Coined, The City of Subdued Excitement, it truly lives up to its name. Located in the saturated Pacific Northwest we are just a two-hour drive north of Seattle, a thirty-minute drive south of the Canadian border to British Columbia, right on Bellingham Bay looking upon the San Juan Islands to the west, and a beautiful view of Mount Baker to the east. Bellingham is a magical land of bicycle lanes, many wonderful parks, endless amounts of hiking trails, second hand-shops, and a plethora of artisan coffee shops and local breweries. Not to forget our lovely South Side/Sehome district with Western Washington University's lovely brick campus covered in beautiful sculptures, and the quaint area of Fairhaven. We are also home to The Upfront Theater, owned and operated by Ryan Stiles of the television show, Who's Line Is It Anyway? If you ever lacked a place to get your creative juices flowing, come to the inspiring hodge-podge of a city that is Bellingham. It's not just my home, it is one of my favorite places in the world.
My all-time favorite shops in Bellingham are Village Books and Paper Dreams in the Fairhaven District. Located on 11th Street, Village Books [1200 11th Street] cozy three stories sell both new and gently used books. Looking for a cool gift for someone who might not be a book fan? Fret no more, for Paper Dreams [1206 11th Street] is right through the open doorway between the two shops. Find a locally made treasure, a novelty item, delicious candies, or that perfect card. Don't forget to stop in to the attached Colophon Cafe [1208 11th Street] for a bite, and sit outside on the Village Green while you read your newly purchased treasure.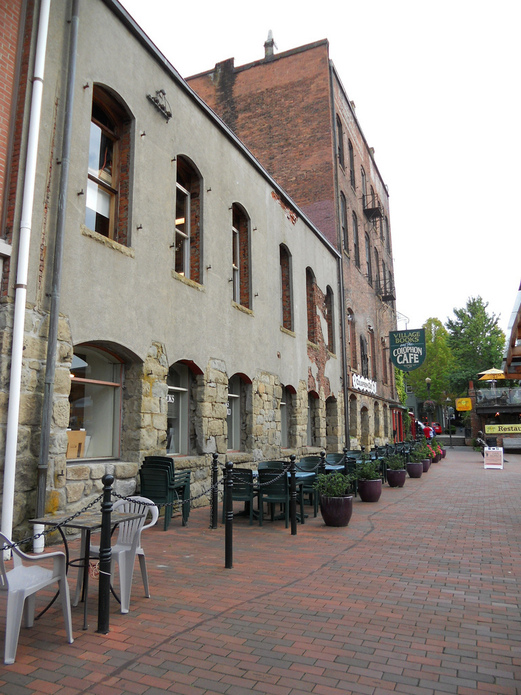 One wonderful place for yarn-related goods is NW Handspun Yarns [1401 Commercial Street], a locally owned, and full of knowledgeable & helpful staff. Not only do they have a luxurious selection of fluffy lovely yarns, you can also spin your own fibers AND wind up your purchase into a handy center-pull ball using their fancy wooden ball winder. They also have classes available for your knitting, crocheting, weaving, spinning, etc. needs to become the ultimate yarn ninja. Our leading Craft Supply stores would be the chain stores, Michaels [4383 Meridian Street] and Jo-Ann Fabrics [1125 E Sunset Dr Ste 125]. If you're looking for that specific finishing piece for your super-secret project before unleashing it upon the world, those are your sure-fire places to find what you are looking for. My favorite places to buy crafting supplies would be in consignment and charity shops. I spend an embarrassing amount of time digging around the second-hand shops of which there is an abundance of in Bellingham. You simply cannot go wrong, and will almost always find a treasure.
The most wonderful place to be on a Saturday between the months of April and December is the Bellingham Farmers Market [1100 Railroad Avenue]. Local crafters of soap, scarves, bags, shirts, trinkets, cakes… you name it, are spread about. Sign up for a booth to sell your handmade goods, listen to street performers, and sample the many flavors of local restaurants. If outdoor markets are not your thing, try browsing any locally-owned shop to see locally-made items, especially small consignment shops. Many of our local cafés and restaurants happily sell local art as well.
Eat & Drink
If you're visiting the Pacific Northwest, you must try the local seafood. One of the top places to go for fresh, local, seasonal seafood is Anthony's [25 Bellwether Way] on the harbor. Not only is the food fresh, but it has an amazing view of the bay that can be seen from any seat in the restaurant. Because they can be a bit pricey, I recommend going during lunch hour. One place I almost never fail to go when in the mood for pasta is Cascade Pizza [2431 Meridian Street] on Meridian Street. Try their lasagna. I like mine with meat sauce and pepperoni. More of an artisan pizza fan? Try La Fiamma Wood Fire Pizza [200 East Chestnut Street] on Railroad Ave. I recommend the Major Grigio. Looking for something a little different? Try some frog's legs down at the Bayou On Bay [1300 Bay Street]! Vegan or Vegetarian? Fret not. Almost all of Bellingham's local restaurants have vegan and vegetarian options. Even Rocket Donuts [306 West Holly Street] features Vegan donuts!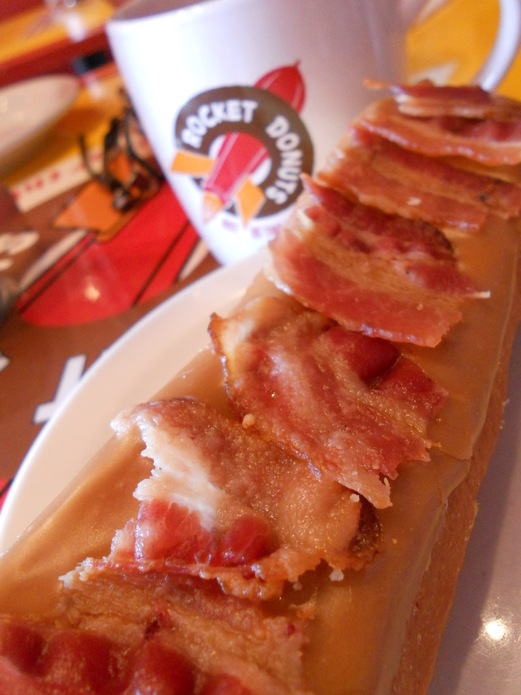 If you visit the Bellingham/Fairhaven area, you are simply failing to experience its greatness if you pass by the treasure that is Rocket Donuts [306 West Holly Street]. With two locations (Downtown Bellingham on Holly St, or Fairhaven on Harris Ave), Rocket Donuts is a local gem full of Sci-Fi flare featuring fresh, handmade doughnuts. Classic Sci-Fi movies play in the background while retro posters and replica movie props keep you company. I highly recommend the Bacon Maple Bar. If you're not a sufferer of Lactose intolerance like me, do yourself a huge favor and stop in to Mallard Ice Cream [1323 Railroad Avenue] on Railroad Avenue in downtown Bellingham. Hand-crafted ice cream in ever-changing flavors. If you're with a large group, there are board games galore to play so you can pace yourself through ice cream without brain freeze. Remember a napkin, and stop by an ATM, as it is Cash only. Less of a doughnut and coffee person, and more for tea and tiny sandwiches? Why not wander down 11th street in Fairhaven to the tiny cobbled street behind Skylark's [1308 11th Street] Hidden Café, and open the magical door to the neighboring The Abbey Garden Tea Room [1312 11th Street]? Get your fill of sweet cakes and savory sandwich wedges while eating off fine china, and drinking from delicate floral tea cups. The only place in Bellingham for a proper tea. Feel like being creative with your tea? Hop up the stairs to CreativiTea [1312 11th Street] and paint away while you enjoy your Cuppa.
Craft
Head out to Fairhaven and sit on one of the many benches along the boardwalk of Boulevard Park [470 Bayview Drive]. Stop by The Woods Coffee [470 Bayview Drive] before heading out to sit with your crochet, and enjoy the breeze in your hair, the gentle curves of the islands off in the distance, and watch the sail boats float by. A beautiful place to find some peace for crafting is Lake Padden [Lake Padden, Samish Hill, WA, USA]. Take a walk around the lake, then find a cozy spot to rest your legs, and get some crafts done. Or, why not have a picnic at Whatcom Falls Park [1401 Electric Avenue]? Once you wander its trails, gander upon the falls, visit the fish hatchery. Relax next to the pond while watching the Mallard ducks bobbing for food; you'll always want to come back.
I am not a part of any craft clubs, but there are often hosted crafting groups by local yarn stores, and at the Libraries. Once in a while, if you keep a watchful eye, you can find 21 and over events for crafters, too. Aside from local crafting stores like NW Handspun Yarns [1401 Commercial Street], and Apple Yarns [1780 Iowa Street], cafés are always a great place to start making new crafty friends! Craft in public! It's a great way to get a conversation started.
See Something Special
There aren't many places in Bellingham that don't have an element of quirkiness or oddity to them. I think that's part of what makes Bellingham great, and part of what makes people keep coming back. If you're out for entertainment, catch a movie at the Pickford Film Center [1318 Bay Street]. If you're more for live entertainment, have a laugh at The Upfront Theatre [1208 Bay Street], owned by Ryan Stiles. Looking to get your nerd on? Stop by Dark Tower Games [1431 Railroad Avenue] and play some Warhammer, or Magic the Gathering.
Stop by The Lucky Monkey [312 West Champion Street] before you leave the area. You won't leave empty handed!
Inspiration
Bellingham itself is a great source of inspiration. There are so many antique and junk stores located downtown that are great for finding quirky things to inspire. I personally love going to places like The Lucky Monkey [312 West Champion Street] and Paper Dreams [1206 11th Street] to fawn over other people's creative talents.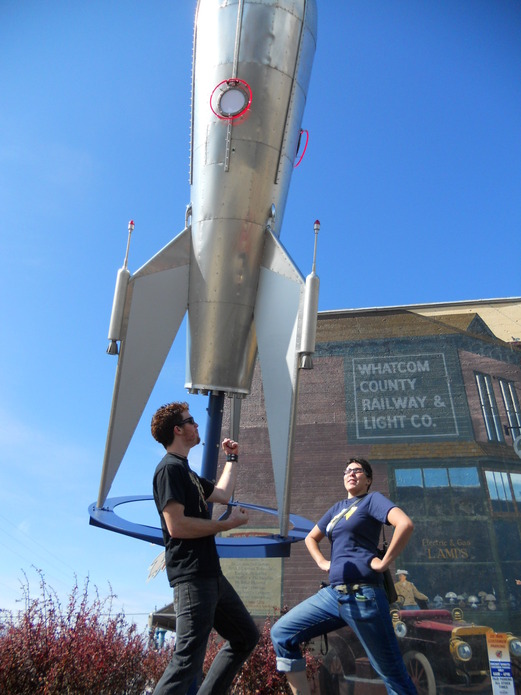 We have so, so, many parks in Bellingham: Boulevard Park [470 Bayview Drive], Whatcom Falls Park [1401 Electric Avenue], Cornwall Park [Cornwall Park], and many more. And beaches, though ours are the rocky kind, not sandy – but that doesn't make them any less beautiful. If you're an outdoor adventure, don't pass over the hiking trails to places like Raptor Ridge [Raptor Ridge Trail], or, if you're not up for that big of hike, the Sehome Hill Arboretum [Douglas Fir Trail]. If you're down on the Harbor, make a visit to the Marine Life Center [1801 Roeder Avenue] to their Touch Tanks and see the local aquatic wildlife. Or you could even go whale watching.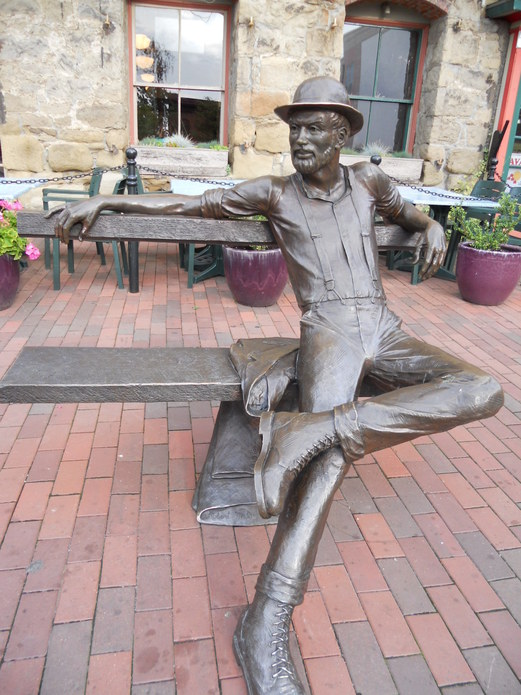 Here are three things you should probably get your picture taken with: One: Sit with the statue of the historical Dirty Dan Harris on the Fairhaven Village Green [1207 10th Street]. Two: Walk around the corner from Rocket Donuts [306 West Holly Street] to the giant rocket ship. Pose in an epic stance below. Take picture. Post on your favored social site. Three: Pose in front of the falls at Whatcom Falls Park [1401 Electric Avenue].