" Vancouver, Washington, the original Vancouver." You see, Vancouver, Washington was founded in 1857, and Vancouver BC was founded 1886. Now the best thing about my city is that we embrace the epitome of elegance and surrender to the rougher blue collar parts of ourselves. Vancouver has excellent museums, historical landmarks, and natural areas galore, but it also has cinema, bars, and a healthy car enthusiast population. "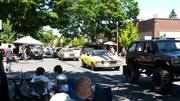 Shop
I'm a story treasure hunter by nature, and I seek and forage for ideas in my local thrift shops. Goodwill [1943 Southeast 6th Avenue, Portland] is an easy favorite because it has clothes, furniture, and trinkets which all have a tale to tell. The patrons of thrift shops are often great characters themselves, and I glean quirks and traits for future use. Thrift shops are also outstanding places to find bags of yarn, crochet hooks, and all kinds of craft gear at a significant discount.
Not all of my crafting gear is second hand because when I go to a craft store like Michaels [12255 N Starlight Ave, Portland] Crafts, Jo-Ann Fabric [3900 S.E. 82Nd Ave, Ste #1000, Portland], or Craft Warehouse [13503 Southeast Mill Plain Boulevard], I know that they will have specific supplies I'm looking for. If you want a source of all things, crafters need, I would suggest Michaels. Not only do they have all the supplies I want and need, they also have dozens of areas to tempt me into trying my hand at other crafts like wood working or beading.
There has been a big push since the early 2000s to grow and buy local food and wares. Vancouver makes it really easy by hosting an outdoor farmers market beginning in March and concluding in November with an indoor holiday bazaar. You can apply to be a vendor in the market and join the ranks of those who bake, sew, or sell local produce. There are mini fairs, bazaars, and community garage sales where it's easy to buy handmade crafts, and to connect with localized crafters.
Eat & Drink
Few restaurants can tempt me to eat away from home, but Jerusalem Cafe [516 Southeast Chkalov Drive #45] is certainly one. The cuisine consists of Mediterranean food, hummus, babaganooj, and all the Turkish coffee you can drink. A friend of mine introduced me to the restaurant a few years ago in the downtown portion of Vancouver and to my delight, another café opened on my side of town a few years later. The food is delicious, but the owners are so friendly and treat you like family from day one. The atmosphere feels authentic with the wonderful murals and native music.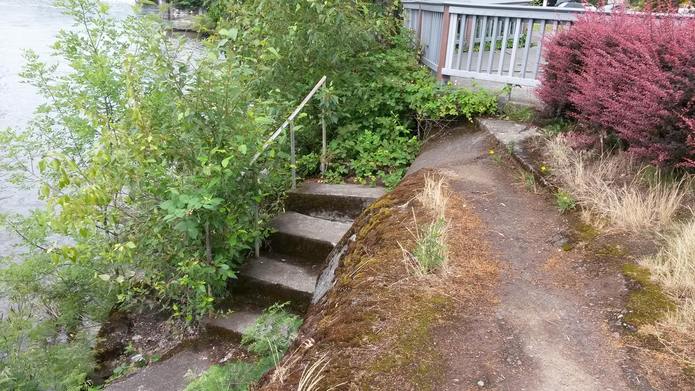 I don't consume many sweets, but there are so many places in Vancouver that give you every excuse to indulge in something sweet. My dessert weakness, Menchie's [19171 Southeast Mill Plain Boulevard #107], is a frozen yogurt shop on the edge between Vancouver and our neighboring city Camas. A few of the attractive qualities of this dessert palace are the brightly-colored walls and the tables, reminiscent of a 50s malt shop. Choosing among the appealing flavors of yogurt is hard enough, but then you have a buffet of amazing and some downright silly toppings to complete your dessert.
Craft
Most of my crafting is done inside, but every so often I enjoy crocheting out in the open. I like to go to any of the parks Vancouver has to offer, whether it's Esther Short Park [415 West 6th Street] or the small neighborhood park at First Place. There are plenty of benches and tables to put keep your supplies secure. It can be fun as strangers, who are naturally curious about what you're creating, will strike up a conversation about how they craft or stories about relative who craft.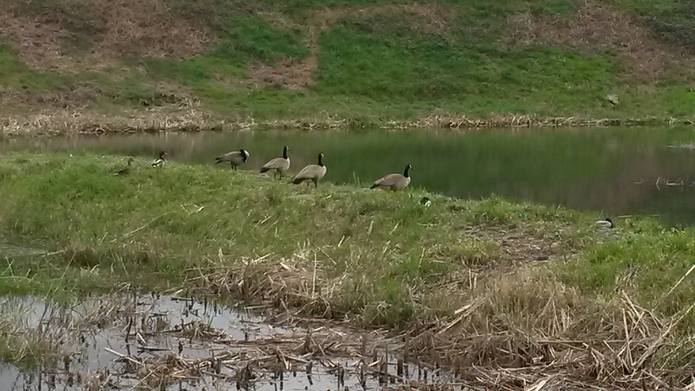 There are many ways to combine crafting and building a better community. I love to crochet baby blankets, but I don't always have a recipient in mind for the finished project, this is where Project Linus comes in. When I complete a blanket I hand it into my local Vancouver chapter, and they make sure it gets to a family in need. Sometimes when I finish with a project, I end up with yarn remnants, and I can't see the sense in throwing them away, then I found out about the Warm Up America project. The project requires blocks knit or crocheted 7"X9" in any color or kind of yarn, and since the local Michaels Crafts is a partner in the project I can make my blocks and drop them off to be sewn together and donated to those in need.
Crafting solo can be lonely, but in Vancouver, there is a thriving community of crafters in the local scene. I just recently signed up to be a part of the Knit Wits. (Don't you just love clever craft names?) The fun thing about this group is that they move the venue each time they meet up. A few of the meeting places seem really great like Chuck's Produce & Street Market [13215 Southeast Mill Plain Boulevard], and a beach getaway. I can't wait to learn new stitches and to be around like-minded artists.
See Something Special
In the historical portion of Vancouver, there are several murals and installations of art, which represent the city whose motto is, "Proud past, promising future." That doesn't mean we don't have our quirks, and Vancouver's eccentricity is represented in multiple murals recently added to the cityscape. There are maps, which will guide travelers where to find the oddest and most playful of them all, which I call Rainbow Rider, but the true title of the piece by Jon Stommel is "Bicycling in Vancouver."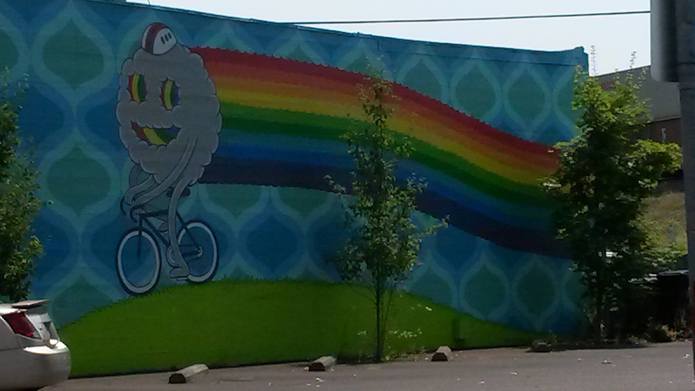 There are three things I would recommend taking with you from a visit to Vancouver, Washington: First, take some sand from the Columbia River home in your shoes to remind you of Vancouver's natural beauty. Second, remember the smells of the Farmers Market from the scrumptious smells of Gyros to the delicate scent fresh-cut flowers. Third, take with you the open welcome and kindness the citizens of Vancouver have in abundance and the sincere desire to return.
Inspiration
If I'm feeling the urge to create, but lack the artistic direction, I take a quick drive to the local Dog Park [Northeast 172nd Avenue]. There is no place as silly and fun as a dog park. The playground is full of laughing, adventurous children and the fenced in dog portion is overrunning with agile and playful dogs. I can't help but be inspired by the energetic vibe of the dog park.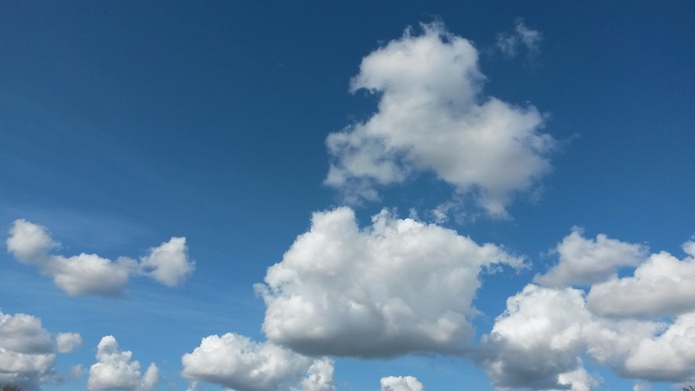 An excursion to Vancouver cannot be considered complete until you have explored Fort Vancouver [1501 East Evergreen Boulevard], Pearson Field Airport [1115 East 5th Street], and strolled along the Columbia River. Each site in its own way tells a piece of how Vancouver came to be. The fort encompasses buildings of historical significance. Several times during the year festivals and historic reenactments are held to remind us of our past. Pearson airport is a few blocks east of Fort Vancouver and is the place where the famous test pilot Valery Chkalov landed his plane after taking off from Moscow and flying over the North Pole. To collect your thoughts after imbibing all that the fort and airport have to offer, I would suggest strolling over the land bridge to visit the peaceful trek along the Columbia River. Not only will you be delighted with the lovely views of nature, but you are within easy walking distance of cafes and restaurants, which dot along the path.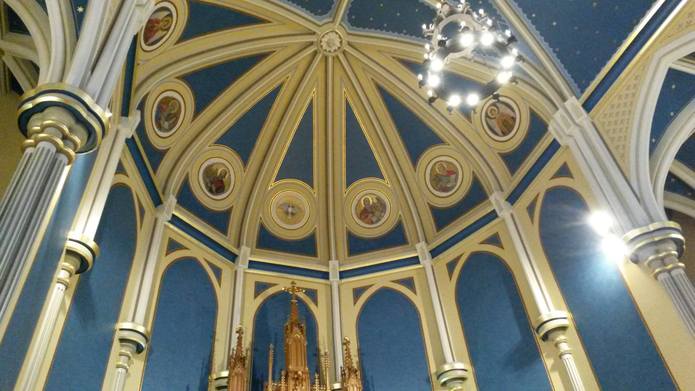 If you enjoy architecture, there are plenty of buildings, which will fulfil that need, St. James Cathedral [1315 Southwest Park Avenue, Portland] is a gorgeous example of a gothic style cathedral. I recently went on a tour of the cathedral and was delighted by the artistry and craftsmanship of the early Vancouver settlers. Outside the city portion of Vancouver lies quieter more natural scenes, which will make you pull out your camera quick to capture the moment. There are several species of flora and fauna, which are easy to spot and ready for you to capture forever in a picture.